On November 19, Amorepacific signed an MOU for the supply and use of chemically recycled plastic starting 2022 with Eastman.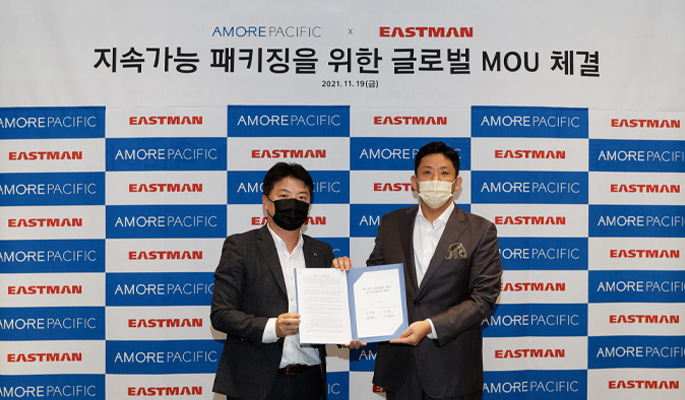 Eastman Chemical Company is an American petrochemical company that produces product packaging materials, advanced materials, and fiber. Amorepacific agreed to the supply of high-quality recycled plastic produced by Eastman through the MOU.
In June 2021, Amorepacific announced its five commitments of 2030 Sustainable Management Goals and declared to apply recycled or bioplastic in 30% of all plastic packaging by 2030 as one of the targets to achieve 'Coexisting Responsibly with Nature.'
The MOU is one of the ways to achieve the commitment of Amorepacific as the company laid the foundation to accelerate sustainable management and customer satisfaction by ensuring high-quality recycled plastic.
The recycled plastic received International Sustainability and Carbon Certification (ISCC) Plus, which is a certification that proves the sustainability of eco-friendly bio products.
ISCC is an international certification that complies with the most stringent Renewable Energy Directive of the EU, which is known as the organization with the highest authority in green certification due to its transparent review criteria and strict certification procedures.
Amorepacific Development & Purchasing Division head Jeong Chang-uk said, "after contemplating on sustainable measures to improve the issue of plastic packaging and reduce the use of plastic, we decided to enter into such a meaningful MOU with Eastman" and added, "Amorepacific will continue to dedicate to building A MORE beautiful world as a responsible corporate citizen based on a deep connection with customers, society, and nature."