Sustainability
Innovation
Providing Advanced Beauty Solutions through Unrivaled Technology
Amorepacific declared its 2025 Vision based on its founding spirit of 'contributing to mankind through beauty and health' and a mission of 'We make A MORE beautiful world.' Through this, the company expanded its business into 'life beauty' that encompasses every moment of our lives and strives to provide 'hyper-personalized beauty solutions' customized to every individual based on accumulated customer data and digital technology. We introduce to you a few of our core beauty technologies recognized globally and loved by many around the world.
CES 2022 Innovation Award Winning Customized Technologies
'Mind-linked Bathbot' and 'Myskin Recovery Platform,' which are customized technologies developed by Amorepacific, won the Innovation Award of CES 2022, the world's largest consumer appliances and technology trade show. This award is a great accomplishment as Amorepacific wins the CES Innovation Award for three consecutive years.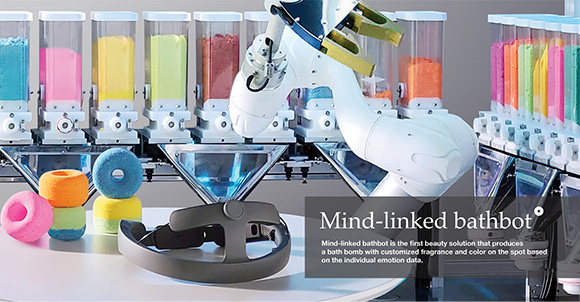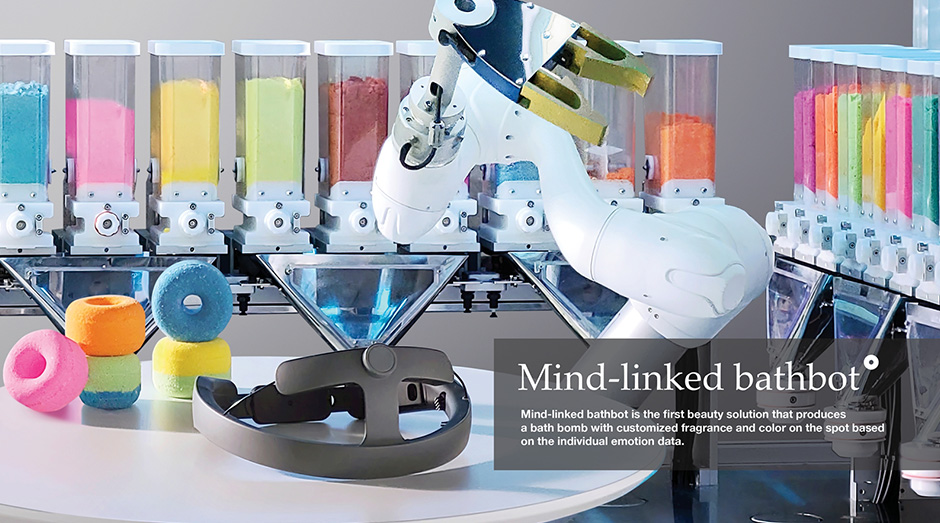 'Mind-linked Bathbot' is a solution delivered by robot analyzing the feelings of customers by reading their brainwaves and creating a bath bomb of a fragrance and color that reflect the analysis on the spot. When a consumer wears the headset equipped with 8 sensors, the robot measures real-time brainwaves and finds the most optimized fragrance and color by analyzing data. Consumers can watch as the robot creates a customized bath bomb in less than a minute using analyzed data. 'Mind-linked Bathbot' service was unveiled at Amore Store Gwanggyo and The Hyundai Seoul.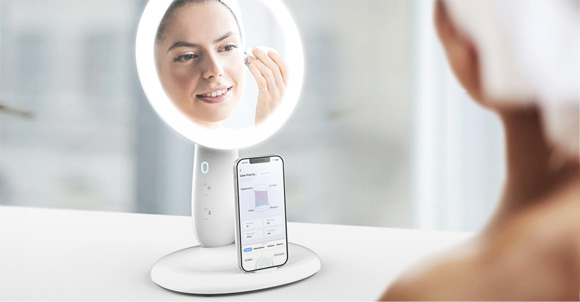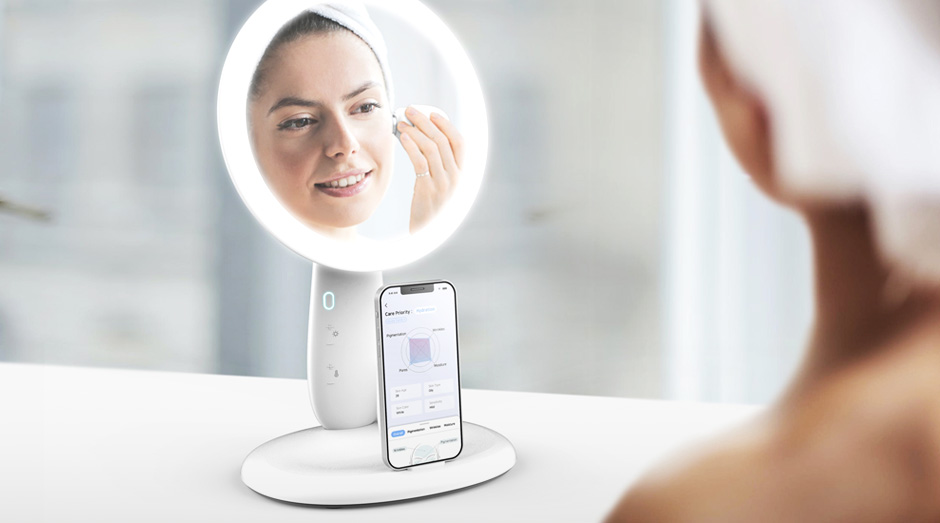 'Myskin Recovery Platform' is a comprehensive platform that measures daily skin conditions and provides customized solutions, helping customers monitor skin improvement effects. Customers can use their smartphone camera and a lighted mirror to diagnose changes in skin surface, while measuring moisture and firmness levels of the skin using a small sensor. The platform is a next-generation customized service that utilizes AI to analyze the data and provide a cosmetic solution, while offering continuously updated solution to improve skin conditions.
CES 2021 Innovation Award Winning Customized Technologies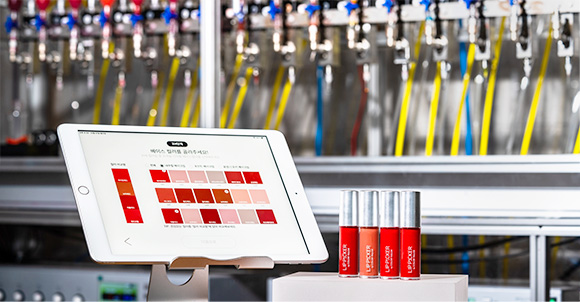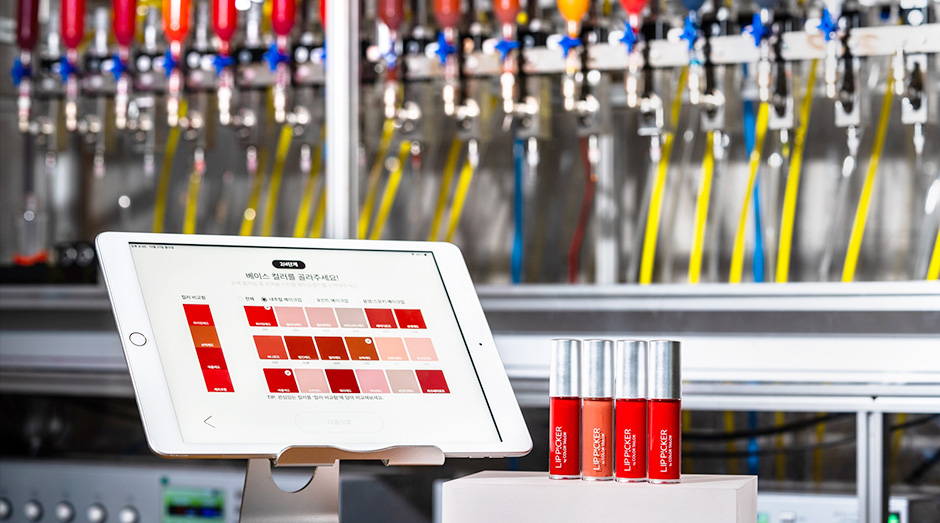 'Lip Factory by Color Tailor Smart Factory System,' which won the Innovation Award of the Health and Wellness category at CES 2021, is an online and offline linked customized technology that recommends the best lip color to customer skin tone using AI and makes a lip makeup product on the spot. The system can create more than 2,000 colors applying an advanced technology that combines and manages various pigments with precision, producing a lip makeup product quickly and accurately with just a few simple touches of a button. The service is currently available at Amore Seongsu.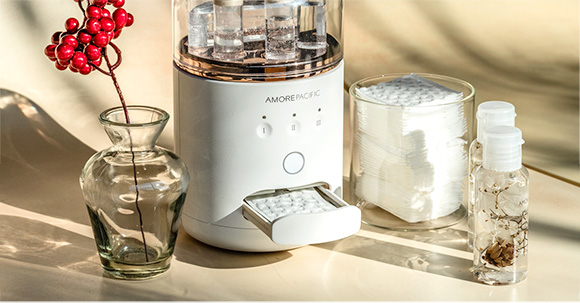 'Formularity-Instant Active Toner Blending Device' also won the Innovation Award of the Health and Wellness category at CES 2021. The device creates toner on the spot using effective ampoules customized to different skin concerns. The toner is then absorbed into cotton pads, adjusted to the perfect temperature for the skin. This device enables customized skincare per different areas of the face using ampoules that contain various effective ingredients and is also hygienic as it creates a toner on the spot for every single use.
Customized Foundation Service, BASE PICKER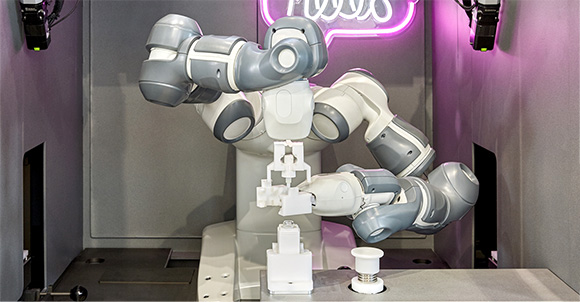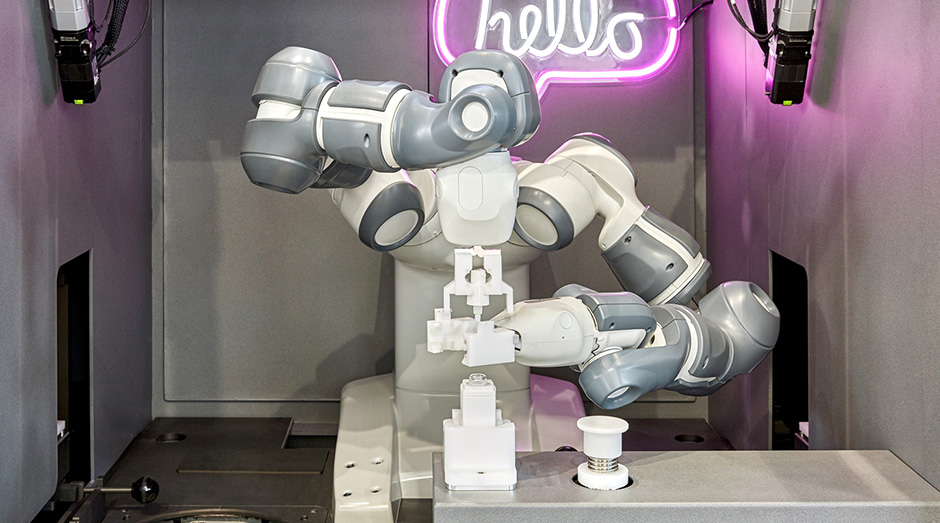 By using 'BASE PICKER,' a service that manufactures customized foundation and cushion product, customers can find the color that fits them perfectly out of a total of 100 base makeup colors combining 20 different brightness and 5 different tones. The service was developed based on joint research with KAIST on customer skin tone and foundation color for three years. Customers can choose from 100 colors, two textures and two different product types to find the perfectly customized foundation and cushion for them.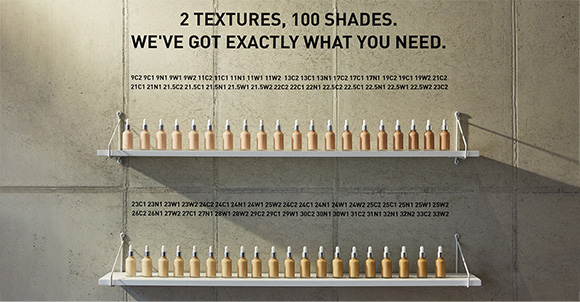 At the 'BASE PICKER' service station in Amore Seongsu, a skin tone measuring program powered by KAIST's patented technology along with consultation from a makeup expert is provided. Customers can choose the perfect color and texture (glow/semi matte) and purchase customized foundation and cushion made on the spot. Amorepacific's patent pending robot provides personalized products through fast and hygienic processing on site.
Customized 3D Mask and Serum
In May 2020, Amorepacific's lab-based high-functional brand IOPE renewed and opened 'IOPE LAB' in Myeong-dong that provides skin genetics analysis and innovative service experience including the customized 3D mask. Customers can experience the customized 'Lab Tailored 3D Mask' and 'Lab Tailored Serum' at IOPE LAB.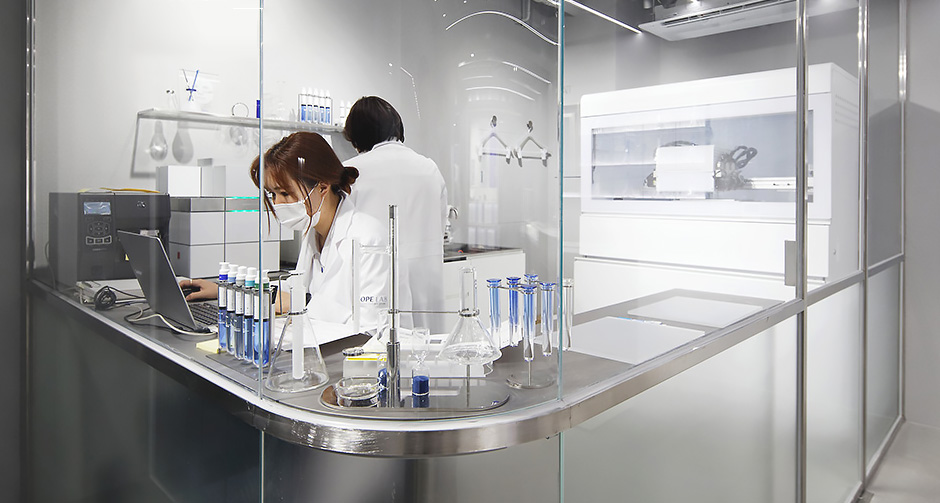 'Lab Tailored 3D Mask,' which won the CES 2020 Innovation Award and was selected as 'Special Mentions' in 'The 100 Best Inventions of 2021' by the American magazine Time, is a personalized hydrogel mask made by measuring different areas of the face with an application and by using 3D printing technology. The mask is designed to fit different face types, fitting perfectly on the skin, and can apply six different effective ingredients for different areas such as the forehead, around the eyes, nose, cheeks, and lips. 'Lab Tailored Serum' is a customized serum made on spot by combining optimized ingredients per skin type and concerns, offering a total of 20 different types of serums.