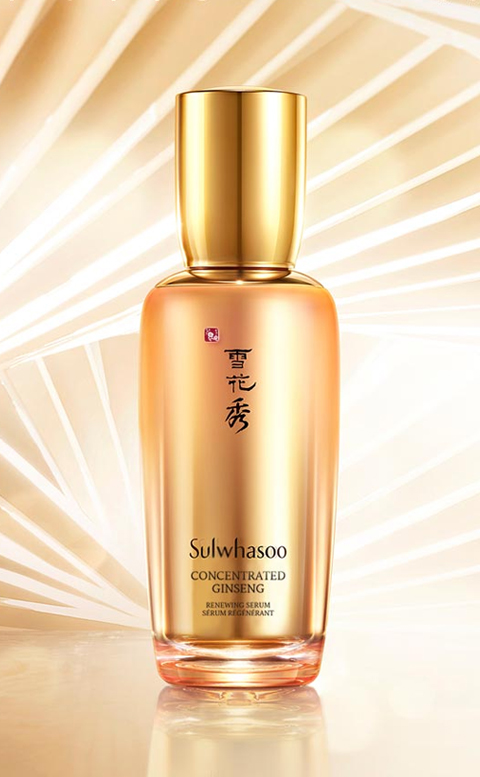 Material Technology: ginseng-derived ginsenoside's anti-aging material
Sulwhasoo Concentrated Ginseng Renewing Serum is an anti-aging essence containing a combination of anti-aging ingredients from different parts of the ginseng gained based on the unequaled ginseng research of Sulwhasoo.
Compound K
Sulwhasoo enabled mass production of ginsenosides, highly effective ingredient that only exists in extremely low quantity in the roots of ginseng, using Sulwhasoo's patented bioconversion technology. Compound K promotes the synthesis of collagen, a component of the dermis.
Ginsenoside Rd
We cultivated the uncommon and rare leaves and stems of ginseng in an optimized environment of aquiculture, and extracted Ginsenoside Rd of a high purity in high concentration, creating the unique anti-aging ingredient of Sulwhasoo. This strengthens DEJ protein, which plays the role of the pillar in building skin firmness, delivering a strength of firmness that comes from deep within the skin.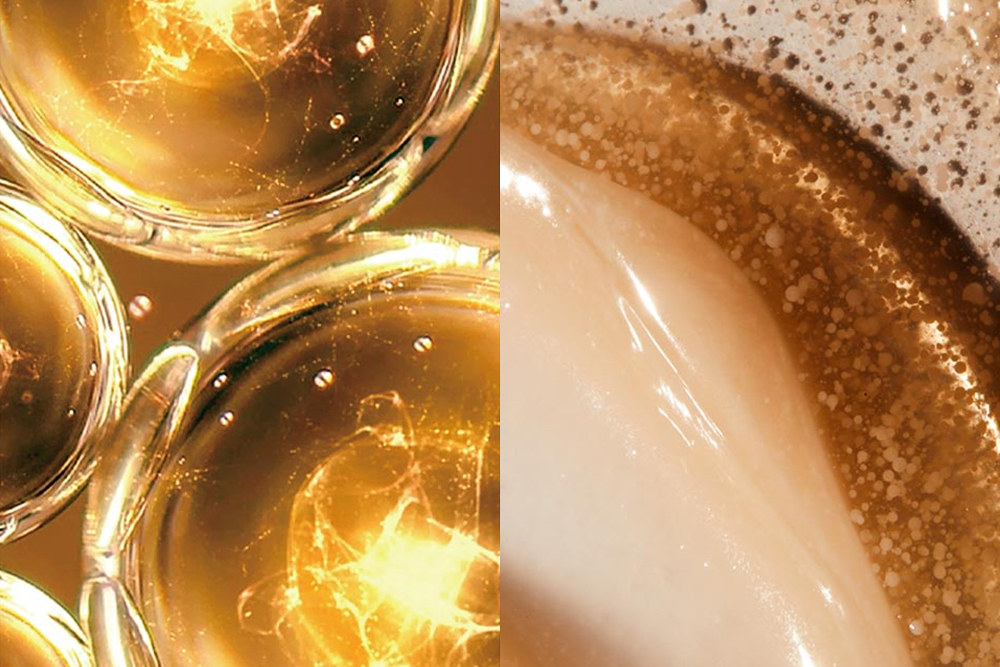 Formulation Technology: self-associating emulsion capsule technology through crystallization control
Sulwhasoo Concentrated Ginseng Renewing Serum comes in a formulation created in itself, making the capsules of a more delicate and softer cream texture (Ginsenisphere™), not an artificial capsule. It is an essence formulation of a new concept that delivers moisturized texture and non-sticky moisturizing effect at the same time. The common capsule cosmetic product requires a tricky manufacturing process, or has a foreign texture due to the solid capsules and imbalanced particles, and it is difficult to stabilize the effective ingredients. Concentrated Ginseng Renewing Serum, however, ensures a stabilized capsule construct of good compatibility based on crystallization research depending on the combination of ingredients to overcome the limits of capsule formulation mentioned above. Through this, Sulwhasoo created a spherical emulsion capsule that contains the concentrated effective ingredients of ginseng from its roots to its seeds. This allows for the capsules to stabilize without changing even in high temperature, while achieving a formulation that makes the minute capsules break for them to smoothly absorb and apply at skin temperature.
Clinical Efficacy: the clinical efficacy of anti-aging properties of Sulwhasoo Concentrated Ginseng Renewing Serum
Sulwhasoo Concentrated Ginseng Renewing Serum has been proven for its anti-aging benefits through clinical trials.
Clinical trial of 21 women in the ages between 36 and 49 who used the serum for 8 weeks found:
1. Wrinkle analysis results: reduced by 6.20% in 4 weeks, and by 17.99% in 8 weeks
2. Firmness analysis results: increased by 1.47% in 4 weeks, and by 3.19% in 8 weeks
3. Skin moisture amount analysis results: increased by 1.20% in 4 weeks, and by 2.90% in 8 weeks
4. Skin volume analysis results: increased by 16.66% in 4 weeks, and by 23.98% in 8 weeks
5. Dermal compactness analysis results: dermal compactness in the cheeks and between the eyes in 4 weeks and 8 weeks into using the product / dermal compactness around smile lines, forehead and around the eyes in 8 weeks into using the product significantly increased (increased by 2.32%-5.98%)