Customer Safety
Manufacturing Quality
Amorepacific deeply shares customers' concerns about human and environmental safety, and has established and applied rigorously our own global-leading quality standards.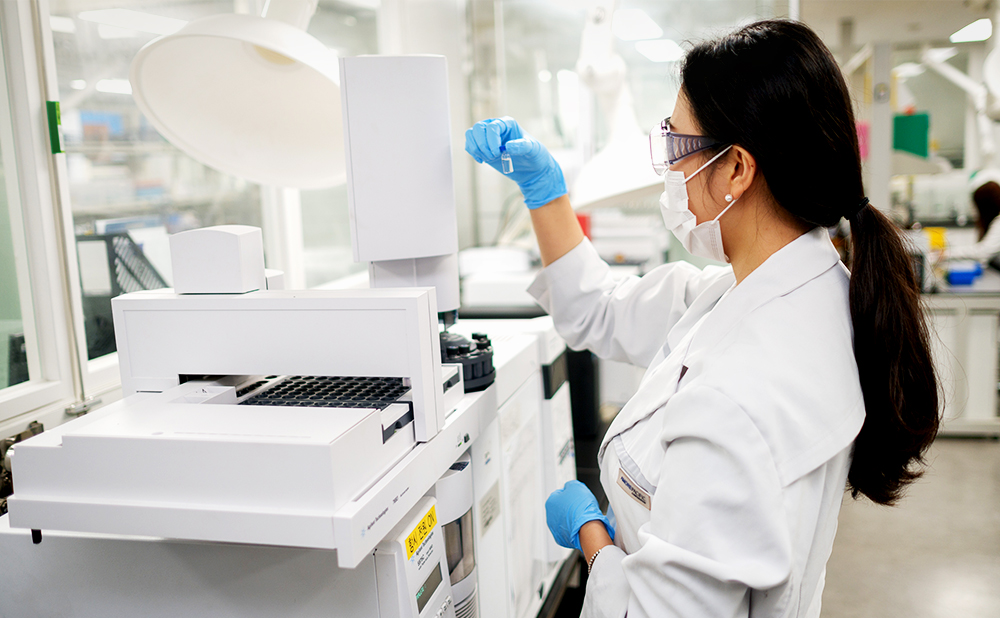 Manufacturing Quality for Customer Safety
To secure customers's trust in the safety of our products, Amorepacific adheres to our own manufacturing quality standards with a focus on three pillars; safetry, efficacy and microbial safety. We also standardize criteria, improve expert capabilities and update quality test factors constantly for quality innovation.
Technology of Quality Innovation
Amorepacific has continued to innovate and develop its own unique manufacturing process to provide the best value for our customers and satisfy their needs. Amorepacific is pursuing digital transformation in its production process to achieve a customer centric 'Smart SCM' by digitalizing, connecting, and achieving autonomy in its supply chain. Through our effort, we will provide products with no defects so that our customers can feel safe to use.
Learn more
Integration Process of Safety Quality
Ingredients
Development
Manufacturing
Safety and Quality Surveillance
1. Assessment of Ingredients
Amorepacific safety standards for ingredients
Local/global cosmetics/foods/drugs regulations
Local/global safety/environmental chemicals regulations
Specifications and testing certifications (certifications of analysis)
2. Evaluation of Raw Materials
Analysis and verification of quality/specifications of raw materials
Raw materials safety testing: cell toxicity, irritation, allergy, eye irritation, phototoxicity
Raw materials environmental safety testing: biodegradability, aquatic toxicity
Additional certifications: natural/organic, vegan, CITES
3. Development of Formula
Amorepacific product quality standards
Local/global cosmetics/foods/drugs regulations
Global quality standards
Implementation of usage preferences based on customer research
4. Assessment of Formula
Clinical tests on effectiveness and safety
Safety test: dermatological clinical test, irritation and allergy testing
Customer home-use tests for special benefits
3. Development of Formula
Amorepacific product quality standards
Local/global cosmetics/foods/drugs regulations
Global quality standards
Implementation of usage preferences based on customer research
5. Development and Assessment of Packaging
Amorepacific packaging safety standards
Quality and function tests of packaging materials
Compatibility tests with formula
6. Quality Control Tests of Raw Materials
Quality control tests and validation of ingredients on each lot
Periodic and ad-hoc inspection of ingredient suppliers
Quality management of raw materials
7. Quality Management of Manufacturing
Compliance with global GMP(Good Manufacturing Practices) standard
Quality surveillance during production
8. Inspection of Finished Products
Quality control tests of finished products
Additional stability and safety tests
Customer use and sensory tests
7. Quality Management of Manufacturing
Compliance with global GMP(Good Manufacturing Practices) standard
Quality surveillance during production
Safety and Quality Surveillance
9. Logistics Quality Control and Post Management
Control of storage and shipping conditions to preserve integrity of products
Management of optimal shipping conditions including damage prevention
Thorough management of shelf-life or expiration date
Integrated service for customer voices: real-time consultation and Q&A, VOC system and database management, customer claim analysis, self-collection inspection