Yongsan Dragons, which is a private, public and academic collective volunteer organization based in Yongsan that includes members like Amorepacific, Amorepacific Welfare Foundation, CJ CGV, Korail Networks, HDC Hyundai Development Company, HDC Shilla Duty Free, LG Uplus, National Health Insurance Service (Yongsan office), Sookmyung Women's University, and Yongsangu Volunteer Center, has set out to raise awareness on the abolishment of 'Right to Take Disciplinary Action (Civil Act Article 915)' to prevent child abuse.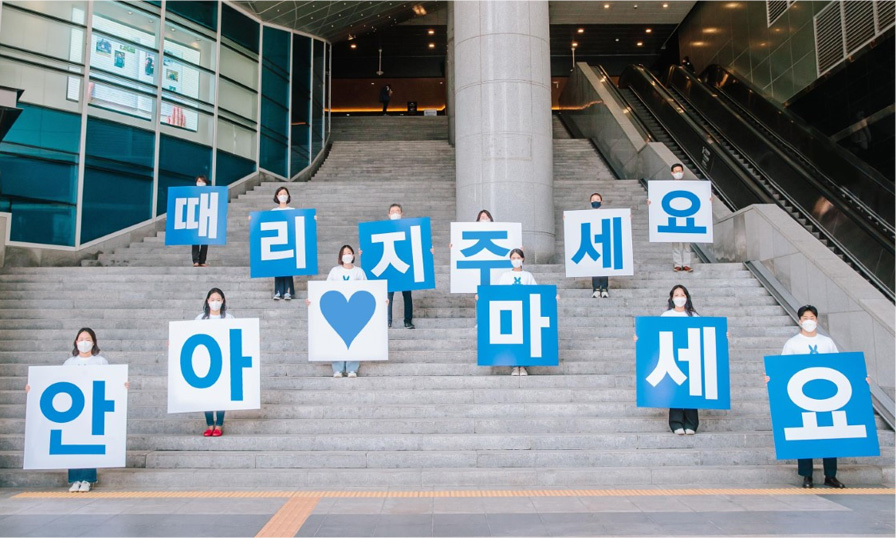 The number of child abuse cases is growing every year, leading to a need for respecting children and an awareness on building a good child rearing culture. Article 915 of the Civil Act, which stipulates that 'a person of parental authority may, in order to protect or educate his or her child, take necessary disciplinary action against the child,' was abolished in January this year and a campaign was designed to raise awareness of the fact.
Designers of Amorepacific and Sookmyung Women's University took part in the 915 T-shirt campaign in collaboration with Seoul's Design Governance project, and jointly created a symbol design for the prevention of child abuse since June and has applied it to T-shirts in the campaign.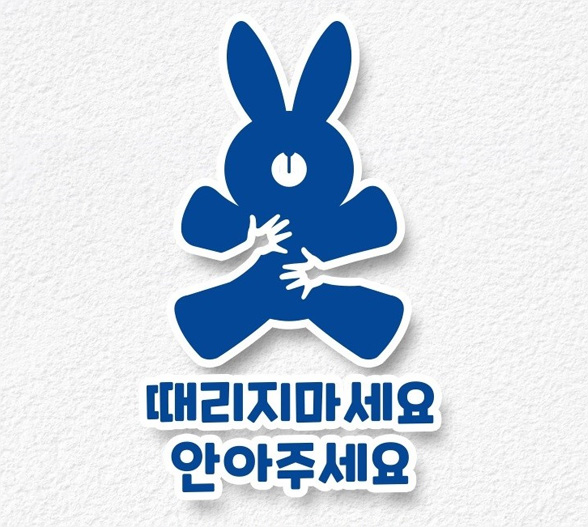 A total of 1,070 employees of 10 member companies of Yongsan Dragons wore the T-shirts to work on September 15 to join the campaign and emphasize the meaning of abolishment of the Civil Act Article 915. And on 9:15 am, they shared content on the abolishment of the article online and committed to lead in building a culture of non-violent 'good child rearing.' In-house daycare centers of member companies and Yongsan-gu's public daycare center also took part in the 915 T-shirt campaign, raising awareness on the abolishment of disciplinary rights among caretakers.
Designers Lee So-yeong and Kang Ra-mi of Amorepacific Creative Center, who took part in the campaign, said "it was rewarding to be able to create the symbol design for prevention of child abuse and deliver a message on the abolishment of Article 915 and on good child rearing to many people through the T-shirt campaign."
On November 19 in celebration of 'Child Abuse Prevention Day,' Seoul Design Governance's 'Hoyatoto' dolls made to heal the hearts of the victims of child abuse and 'fabric book kits' developed by Yongsan Dragons daycare center teachers and Sookmyung Women's University students will be donated to the National Center for the Rights of the Child through employees' volunteering.
Since its establishment in 2018, Yongsan Dragons has conducted allied volunteer activities, including guerrilla gardening, mystery sharing bus, plastic cup waste Olympics and early Christmas, to solve issues of the local community. 2,000 volunteers from around 80 companies, schools, and organizations took part in the activities as Yongsan Dragons continues to strive for shared growth with the local community as a role model of collaborative social contribution.