In June 2021, Amorepacific announced its sustainable management goals, '2030 A MORE Beautiful Promise,' and has committed to achieving five promises under two pillars of 'Move Forward Together with Customers and Society' and 'Coexist Responsibly with Nature.'
Reducing the use of plastic in product packaging and creating 100% reusable, recyclable, or compostable plastic packaging materials, which is one of the targets of 'coexisting responsibly with nature,' is implemented through a shared growth program that supports and develops eco-friendly technologies with small and medium-sized partners.
Starting with a project 'supporting the development of new products under the condition to purchase' that Amorepacific took part in 2019 through an agreement with the government, the company funded a total of KRW 3.1 billion to conduct research on 'reducing packaging waste and improving recyclability' in 2020. Amorepacific currently is leading four projects with four partners.
Partner 'Hana' - developing eco-friendly pump manufacturing technology
Previous pumps have metal springs, making it difficult to sort and discard. Amorepacific developed an eco-friendly pump with the metal spring removed and applied it to HAPPY BATH Grapefruit Essence Body Wash and Magnolia Essence Body Wash.
Partner 'Sinwoo' - developing paper product holders
To replace existing plastic holders, Amorepacific is in the process of developing an eco-friendly paper holder with enhanced durability to physical environment such as damages and improved productivity.
Parter 'Iconic Fusions' - developing non-PVC replacement fabric
With government regulation becoming more stringent such as the Act on the Promotion of Saving and Recycling of Resources, Amorepacific is dedicated to minimizing the use of PVCs by developing non-PVC (polyvinyl chloride) fabric as a replacement.
Partner 'Taejin Chemical' - developing digital printer
As a postprocessing method on plastic container surfaces, Amorepacific applied the printing speed of 'inking method' and used labels and films for good quality, but there were challenges in terms of recycling such containers. Amorepacific aims to develop a digital printer appropriate to use on cosmetic bottles to improve both quality and productivity as well as minimize the use of labels and shrink films.
Along with the project supporting the development of new products under the condition to purchase, Amorepacific has pursued 'sustainable packaging development (SEED)' in collaboration with its partners to improve development capacity for eco-friendly packaging technology and led a total of 37 projects by 2020. Examples include illiyoon body wash, contained in bottles that reduce residual content, illiyoon ceramide ato bubble wash and shampoo in polyethylene (PE) pouch, Sulwhasoo Gentle Cleansing Foam and primera Black Seed Scalp Relief Shampoo refill products.
Amorepacific also makes continuous effort to achieve 'diversity and inclusion across all our global workplaces and beyond, while seeking harmonious growth with all our stakeholders,' a target under the pillar of 'Move Forward Together with Customers and Society' as well as 'achieve carbon neutrality across our production sites worldwide.'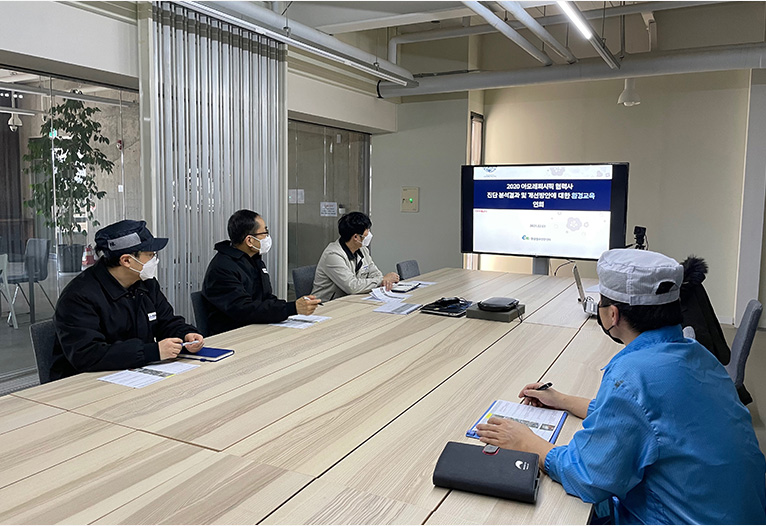 With increased interest in the environment, environmental laws and regulations can be a huge burden on SMEs. To lessen the burden on small and medium-sized partners, Amorepacific manages 'environmental laws and regulation assessment program for partners.' Since 2018, the company has assessed whether key partners comply with environmental laws applied to air quality, water quality, waste management, noise and vibration, and chemicals with environmental consultants and is offering quantified measures to improve risks.
As a result of conducting monitoring on improvement progress and providing on-site coaching to six partners that were assessed in 2019 for one year, the environmental laws violation risk of all partners that participated in the program decreased by an average of 44% compared to 2019. Sunil, in particular, saved KRW 45 million in annual cost by lowering contract power capacity from 972Kw to 772Kw by installing a 'peak power management and monitoring equipment' and achieved to reduce greenhouse gas emissions by 8%.
Amorepacific will assess the environmental compliance of 17 partners in 2021 and conduct energy assessment on 3 partners to additionally pursue an 'energy and greenhouse gas emissions reduction project' to transfer the technology and knowhows on saving energy.
Jeonghwa Oh, Senior Vice President of Sustainability Management Division, Amorepacific, said "the five promises for sustainable management 2030 are a declaration of specific commitments to beautify the world based on a deep empathy toward our customers, society and nature as a responsible corporate citizen" and added, "we will continue to make opportunities for more stakeholders to take an interest in and join our effort in achieving our commitment."