On December 7 (Tuesday), Amorepacific signed a 'MOU on renewable energy supply for carbon neutrality' with SK E&S at Amorepacific headquarters.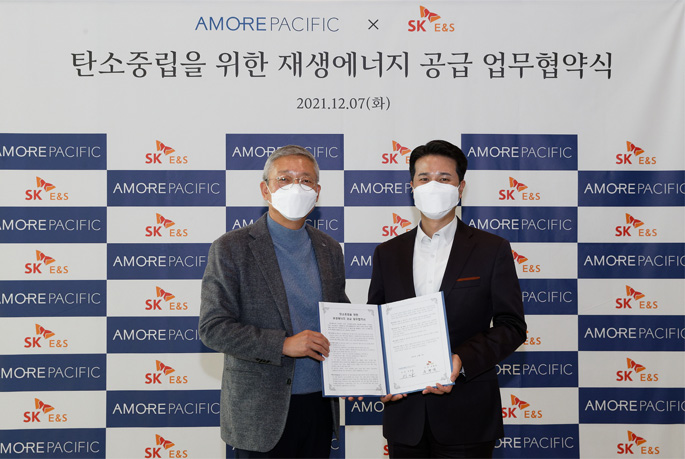 SK E&S is a global eco-friendly energy company that has established a green portfolio centered around four key areas of hydrogen, renewable energy, energy solutions, and eco-friendly LNG. It currently is developing and managing a 3GW renewable energy project in Korea.
With the MOU, Amorepacific will ensure a stable supply of SK E&S renewable energy, laying a foundation to accelerate efforts in implementing its sustainable management goals and commitments as well as achieving RE100.
Amorepacific and SK E&S will, furthermore, establish joint investment measures to promote the renewable energy market, and have agreed to come together to propose various measures to improve policies and institutions around renewable energy that will encourage companies' use of renewable energy.
In June 2021, Amorepacific announced its five 2030 sustainable management goals and declared to achieve carbon neutrality across production sites worldwide by 2030 as one of the targets to achieve 'to coexist responsibly with nature.' In addition, the company aims to increase renewable energy consumption up to 100% across its headquarters, R&D Center, and directly managed stores.
Amorepacific President Ahn Sae-hong said, "Amorepacific will be able to minimize impact on climate by reducing greenhouse gas emissions generated by our production activities with this MOU with SK E&S" and added, "as a responsible corporate citizen that leads to coexist responsibly with nature, Amorepacific will continue to reduce greenhouse gas emissions responsibly across all levels of our products and services."
SK E&S President Choo Hyeongwook said, "we look forward to both companies becoming leaders in achieving carbon neutrality in Korea through active cooperation with Amorepacific" and added, "we will provide innovative solutions to companies that wish to join RE100 based on our eco-friendly energy portfolio."