On Friday, October 8, Amorepacific Group innisfree Moeum Foundation (Chairman Lee Jin-ho) selected 16 'Tangerine Scholarship Students 2021' at the SULLOC Tea Research Institute in Seogwipo-si, Jeju, and delivered a total of KRW 26 million in scholarship.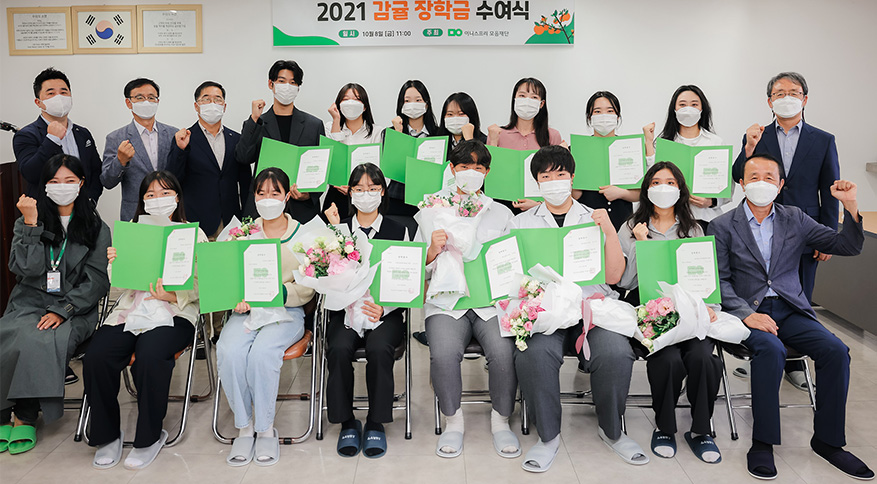 The 'Tangerine Scholarship,' which celebrates its 3rd anniversary this year, is a public service program implemented by innisfree Moeum Foundation to identify and foster talents in the field of tangerine agriculture of Jeju to enhance the competitiveness of tangerine farming. The program provided scholarships to a total of 58 students in the amount of KRW 86 million as of 2021.
innisfree Moeum Foundation received recommendations for outstanding students from deans of universities leading the field of tangerine research as well as principals of high schools specializing in agriculture. The foundation reviewed criteria, including academic performance and motivation, and selected 16 finalists including Kim Se-yeon at Jeju National University.
Hong Ha-rim, a student taking a master's course in Horticultural Sciences at Jeju National University, said, "I am happy to receive the scholarship that will help me focus on research instead of having to earn money working part-time jobs" and added, "I will always work hard to develop tangerine varieties of high-quality that are easy to cultivate and distribute to many farms."
innisfree Moeum Foundation is a public foundation established in 2015 through a donation agreement of KRW 10 billion over 5 years by Amorepacific Group's affiliated company innisfree. The foundation implements various public services for Jeju's nature, culture, and talents.