On November 4, Amorepacific held a 'Amorepacific Next-Generation Researcher Awards' ceremony at the 2021 International Conference of the Korean Society for Molecular and Cellular Biology (KSMCB).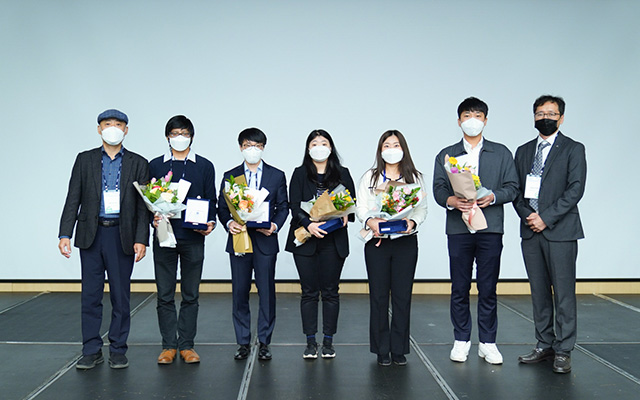 The Amorepacific Next-Generation Researcher Award, established in 2015, selects five researchers in the field of molecular and cellular biology in Korea every year and provides a total of KRW 10 million in research funds. The award is given to researchers with doctoral degree or lower and graduate school students enrolled in master and doctorate courses who have published a paper on research achievement in their respective fields in the recent one year as lead authors. Candidates are recommended by members of the society and winners are reviewed and selected by the KSMCB.
The 7th Amorepacific Next-Generation Researchers Award winners are Park Jang-hyeon (KAIST Graduate School of Medical Science and Engineering), Park Ji-hye (Yonsei University College of Medicine), Park Han-hui (Aju University College of Medicine), Im Hui-jin (Daegu Gyeongbuk Institute of Science and Technology), and Hendry Susila (Korea University College of Life Sciences and Biotechnology). Selected winners delivered presentations on their research achievement at the Amorepacific next-generation researcher session the same day.
Director Park Won-seok of Amorepacific's Basic & Innovation Research Lab said, "we hope that the Amorepacific Next-Generation Researcher Award contributes to enhancing the capability of promising researchers in the field of basic life sciences in Korea" and added, "Amorepacific R&D Center will continue to conduct various research in collaboration with research institutes and academic societies to provide personalized solutions for customers and implement activities to improve research environment in basic sciences."