Naturalism cosmetic brand innisfree will be opening a pop-up exhibition called 'HOME SWEET HOME' at its upcycling store (Gong Byeong Gong Gan) in Seoul, delivering a message of the value of sustainable recyclable paper and the importance of practicing recycling starting from February 4.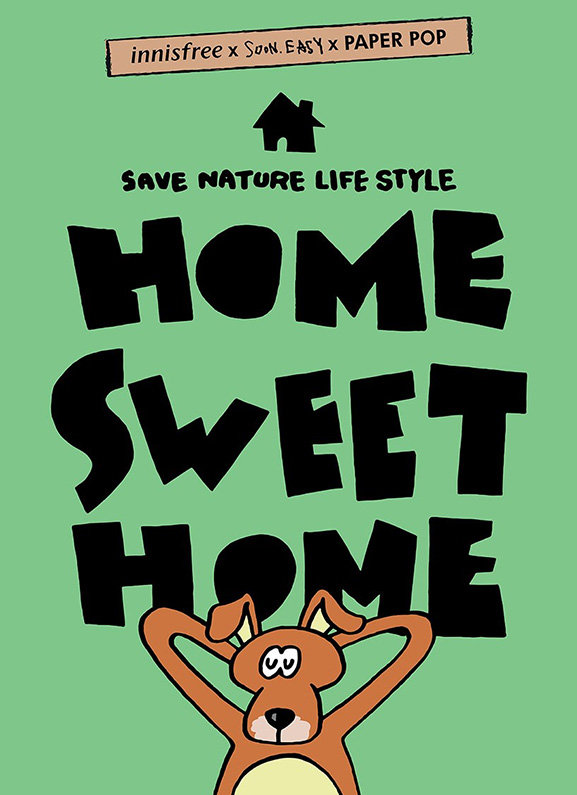 The 5th exhibition to be held at innisfree's upcycling store until March 31, 'HOME SWEET HOME,' unveils a special love towards sustainable resources and effort to protect our planet by innisfree, which is leading recycling efforts and utilizing recycled packaging, as well as PAPERPOP, a brand that uses more than 70% recyclable paper in making furniture to resolve the issue of discarded furniture being thrown out. In addition, the exhibition combines illustrations of artist SOON.EASY, who is gaining much popularity among the MZ generation for bubbly and colorful humor, creating a sensuous and delightful exhibition.
There is a space for the home of Mr. Daengdaengi, one of SOON.EASY's characters of a dog who loves our planet and pursues 'Save Nature Lifestyle' at the upcycing store. It is filled with small items and furniture including cabinets and stools made of paper by PAPERPOP. Visitors can enjoy Mr. Daengdaengi's house to see paper-made furniture and experience the unlimited ways of using and transforming paper.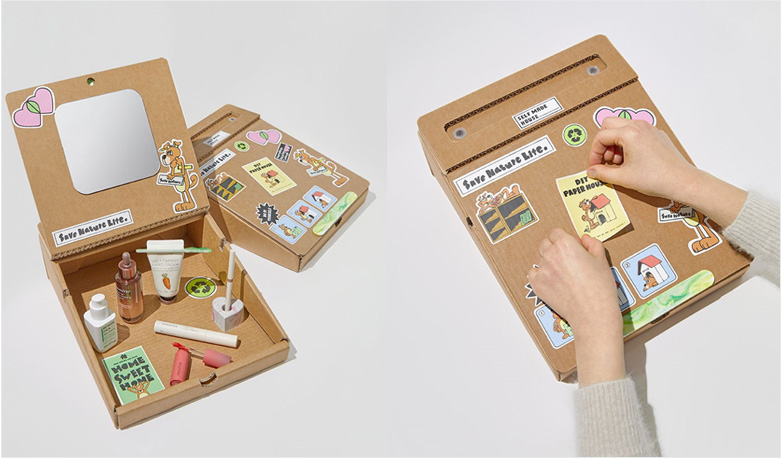 During the pop-up exhibition, innisfree's upcycling store will be selling a limited offer of 50 'DIY Ssuktorages,' which are upcycled storage boxes with more than 70% of recyclable paper and waste plastic. It can also be used as a tablet stand by closing the lid, or as a multi-purpose box for various items as it also comes with a mirror inside. Customers can decorate the box with an enclosed set of Mr. Daengdaengi stickers. Customers who purchase the 'DIY Ssuktorage' will also receive a reusable 'rebox band,' which is a recyclable box packaging string.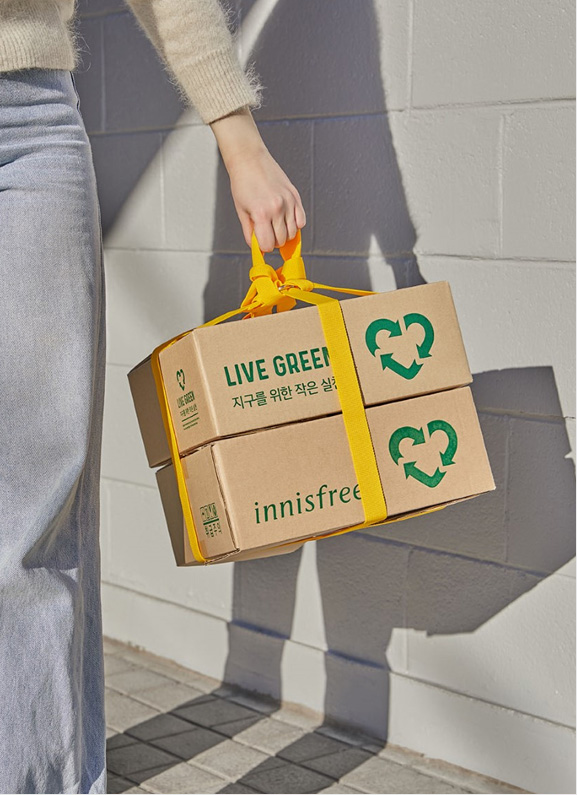 A member of innisfree in marketing said, "we curated the exhibition with PAPERPOP and SOON.EASY, inspired by the small efforts for our planet by practicing recycling using paper, a material that is easily found in our everyday life and used commonly by anyone" and added, "we aim to prepare various products and enjoyable exhibitions so that our small actions and efforts can gather to protect the Earth like how small paper furniture gather to create a small home that products our planet."
Through its Used Cosmetic Bottle Recycling Campaign launched in 2003, innisfree has transformed collected plastic bottles into cosmetic bottles and interior finishing materials and has implemented various activities including creating upcycled plastic goods. innisfree's upcycling store opened in June 2017 at Sogyeok-dong, Jongno-gu in Seoul to share the value of resource circulation and is made with finishing materials created by crushing used bottles. In May 2021, the store was renewed into a space with more experience-oriented content under the theme 'small effort for the Earth' and visitors can experience the entire process of upcycling from collecting used bottles to creating tube squeezers using crushed plastic. In November 2021, innisfree shared the message of plastic recycling through an exhibition with Kim Ha-neul, a furniture designer who works with using discarded face masks in making furniture.
More details on 'HOME SWEET HOME,' an exhibition where visitors can experience the efforts and amazing pieces of 'innisfree, PAPERPOP, and SOON.EASY' that created paper home for Mr. Daengdaengi and our planet using sustainable paper, can be found at innisfree's upcycling store and innisfree's official social media channels.