Amorepacific concluded '2021 Love the Earth Eco Influencer Course', its outreach education on resource circulation for schools conducted for 3 months from September 2021, and organized a completion ceremony on November 20 (Saturday) for the college students who supported the course as teachers.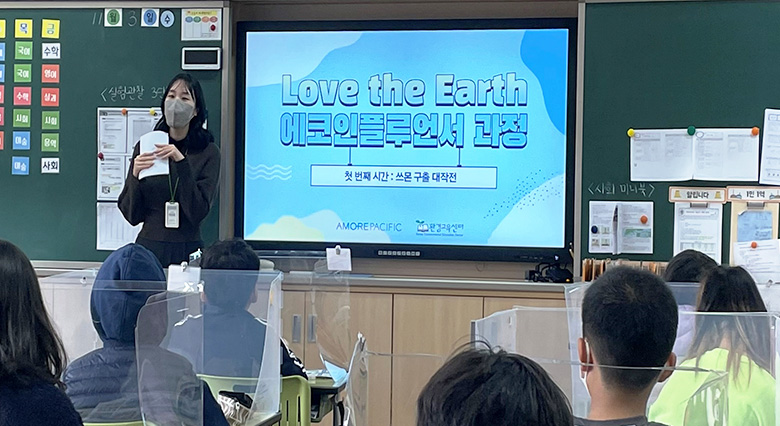 '2021 Love the Earth Eco Influencer Course', launched this year, was planned to discuss environmental issues with elementary school students and inform them of the concept of resource circulation.
Out of 22 schools applied for participation after the public announcement in early July, 9 elementary schools and 902 elementary school students joined the course starting from Geumyang Elementary School to Hansan Elementary School both in Seoul.
Amorepacific also developed its own workbook, 'Environmental Education for A MORE Beautiful Earth, Love the Earth Eco Influencer Course' and syllabus together with the Korea Environmental Education Center for the course.
Based on the syllabus, the elementary school students learned how to reduce the use and purchase of disposable goods during the first session of the course as well as daily practices to ensure the circulation of disposable goods as resources through play. In their second session, students learned how to be 'Eco Influencers' who can promote their practices to others around them such as friends and family.
A student from Hansan Elementary School participated in the Eco Influencer Course said, "I learned that I can reduce plastic waste only by bringing containers to buy food. I was surprised to learn that elementary school students can send a letter to companies to ask them reduce plastic waste.'
A completion ceremony was organized at the headquarters of Amorepacific for college student who served as mentors and teachers throughout the course. As mentors of digital environmental camp, they communicated with elementary school students directly so that the children can enjoy online classes. They also led offline classes at schools as teachers for resource circulation.
Son Min-ji, a winner of the Best Supporter Award and a junior at Sookmyung Women's University, said, "I joined the program because I thought there should be more environmental education for children that can teach them the importance of environment. Participating in the resource circulation education as a teacher was a rewarding experience that allowed me to offer environmental education for elementary school students while communicating with them myself."
Amorepacific plans to expand its environmental education for children by visiting more elementary schools from 2022.