On October 6, Amorepacific signs an MOU on the preservation of biodiversity and the utilization of biological genetic resources with Korea Arboreta and Gardens Institute (KoAGI).

KoAGI is an organization that specializes in managing Baekdudaegan National Arboretum and Sejong National Arboretum under consignment. Both Amorepacific and KoAGI agreed to strengthen partnership to faithfully implement ESG management. The two organizations plan to conduct various joint research to preserve biodiversity and make efforts to restore them. They will share libraries to ensure and utilize species and varieties and develop and commercialize materials using forest resources of Korea. Both companies also aim to contribute to enhancing the competitiveness of Korean indigenous species such as by conducting research on growing and cultivating rare and endemic plants of Korea.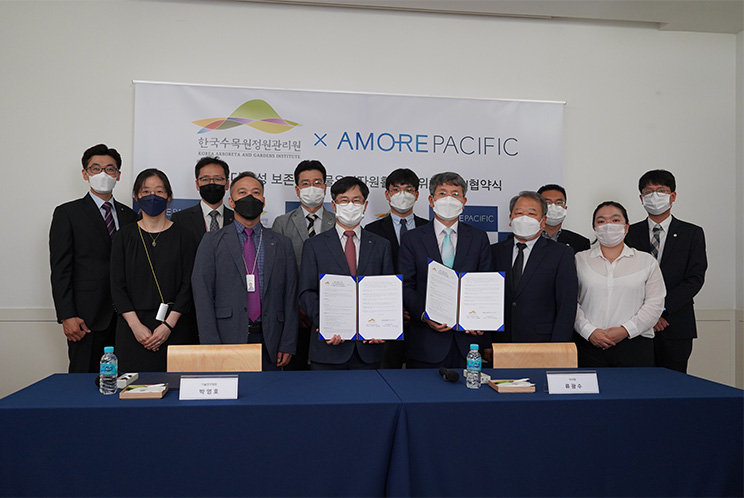 Based on its mission 'We make A MORE beautiful world,' Amorepacific announced five sustainable management commitments to 'move forward together with customers and society' and to 'coexist responsibly with nature.' The MOU agreement was designed to fulfill the fifth commitment to 'invest KRW 10 billion into biodiversity conservation efforts and increase the use of Roundtable on Sustainable Palm Oil (RSPO)-certified palm oil to 90% or more by 2023.'
Amorepacific has continued research on preserving and utilizing indigenous species. It focused not only on ginseng, green tea, camellia, and Asian seed, which are key ingredients in its products, but also identified Korea's native and indigenous species and developed new varieties. Amorepacific also restored the endangered White Chrysanthemum that only remained in Dongui Bogam ("A Precious Mirror of Eastern Medicine") and used it as cosmetic ingredient. It also studied hundreds of varieties of Korean soybeans that were almost useless because of their taste and identified flat beans with effective benefits for skincare. It restored endangered Jeju wildflowers and used Rose of Sharon and green tea, which are ingredients with great skincare benefits, in cosmetic products. In addition, the company collaborated with Everland, which develops various rose varieties, on conducting research on their skin benefits and fragrances, along with many other activities aimed to preserve biodiversity.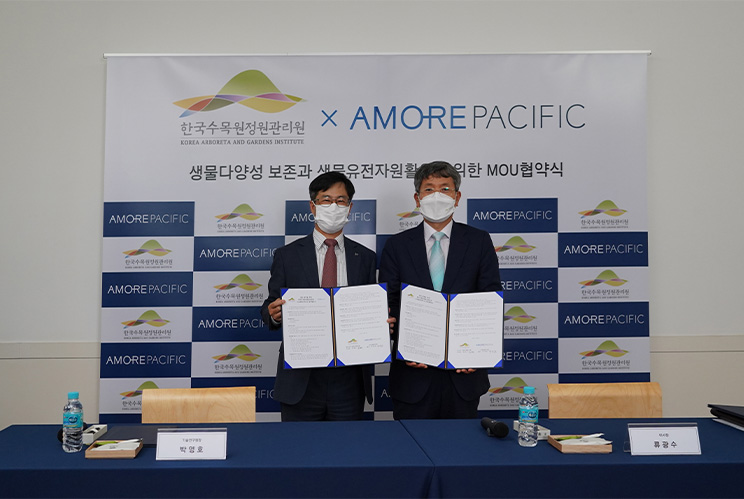 Head of Amorepacific R&D Center Park Young-ho said, "we look forward to the synergy effect created with the business philosophies of both companies that prioritize the environment" and added, "Amorepacific will continue to lead ESG management by studying ways to help people and nature become healthy and more beautiful with KoAGI."