Amorepacific offered gifts of encouragement to healthcare workers fighting COVID-19 under scorching heat. It offered red ginseng gift sets to medical teams and epidemiological investigators in Yongsan region through Yongsan Volunteer Center.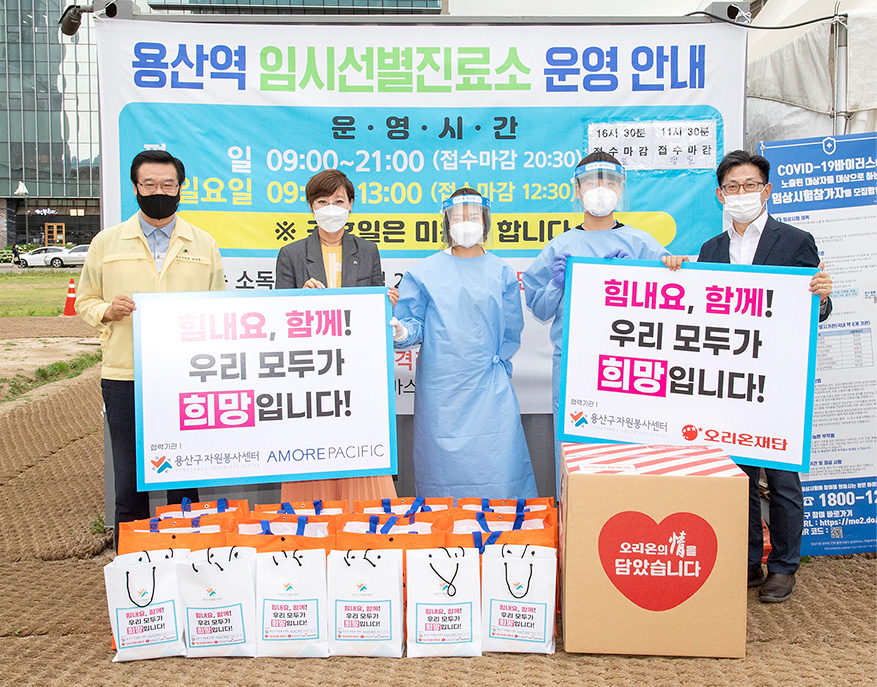 Currently, there are about 400 healthcare workers, epidemiological investigators, and volunteers working at Yongsan-gu Health Center, temporary screening clinics, and vaccination centers in Yongsan, Seoul. Amorepacific delivered VITAL BEAUTIE Red Ginseng Gel sets worth around KRW 20 million to these facilities, including the Yongsan Station temporary screening clinic, together with a local allied volunteer group, 'Yongsan Dragons.' Members of Yongsan Dragons, including Samil PwC, Orion Foundation, Korail Networks, National Health Insurance Service Yongsan Office, and LG Uplus, also sent masks, energy bars, sandwiches, and drinks.
Jeonghwa Oh, Senior Vice President of Sustainability Management Division, said "healthcare workers burnout is a serious situation as they struggle in the summer heat with a heavy workload since social distancing was elevated to level 4" and added, "we prepared red ginseng gift sets hoping healthcare workers recover their health and energy."
Yongsan Dragons is an allied volunteer group of about 900 volunteers from around 70 companies, schools, and organizations since it was established in 2018. It showed leadership in solving issues of the local community through activities such as guerrilla gardening, mystery sharing bus, and plastic cup waste Olympics. It plans to take part in Seoul Design Governance project aimed to prevent child abuse in the second half of this year, continuing shared growth activities with local communities as a role model of collaborative CSR.
Separate from this contribution, Amorepacific will also be delivering 10,000 AESTURA Atobarrier moisturizing cream to 73 medical institutions of Korean Nurses Association through Hope Bridge Association of the National Disaster Relief.