Amorepacific Group set as its 2021 management policy 'Winning Together' and declared its commitment toward overcoming the crisis.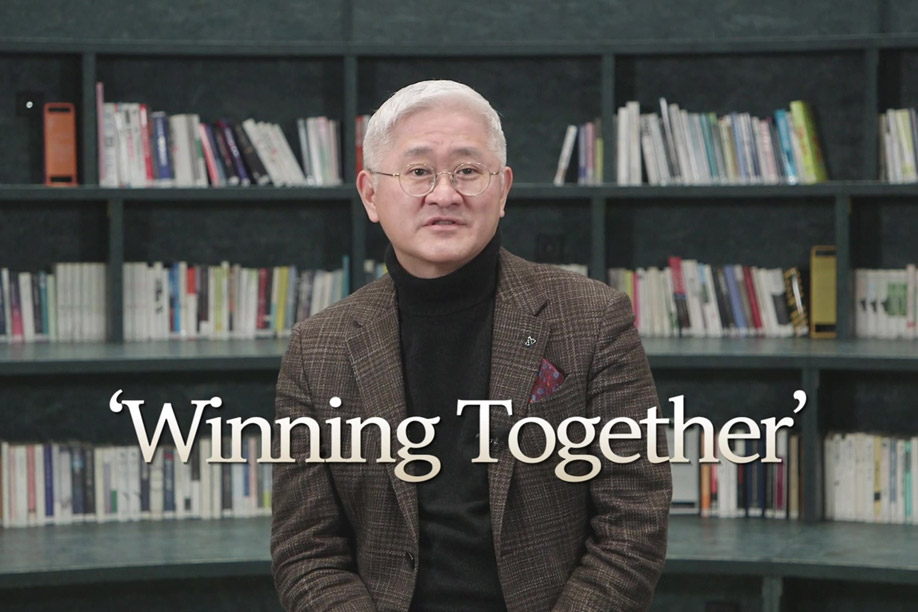 Amorepacific Group Chairman & CEO Suh Kyung-bae's 2021 New Year's Message Video
On the morning of Monday, January 4, Amorepacific Group held a New Year's kick-off meeting for the Year of the Ox. This year's kick-off meeting was held via an online broadcast as an 'untact' meeting. In his New Year's message video, Chairman & CEO Suh Kyung-bae said, "The time requires us to make a shift in perspective of customers and changes in distribution" and emphasized "we must return to our customer-centric value and accurately understand and reflect the changes in our customers."
Under the management policy of 'Winning Together' this year, Amorepacific Group plans to implement its three core strategies of 'strong brand', 'digital transformation', and 'innovating business fundamentals'. On this, Chairman & CEO Suh Kyung-bae said, "we must remember that seeing before anyone else, starting before anyone else, and succeeding before anyone else is how we win the hearts of our customers and move forward in any environment", as he set forth key objectives.
First, the group aims to focus on developing 'Engine Products' that reflect the unique values of each brand and the spirit of the times. Through this, the company plans to build strong brands that are extraordinary and unrivaled. In addition, the group will accelerate its efforts in a swift 'digital transformation'. Not only will it pursue to engage with customers through content optimized to each platform, but also reexamine its way of work to obtain the competitive advantage in the digital age. Amorepacific Group also aims to improve business fundamentals to enable profitable growth. It will reduce unnecessary costs and hidden inefficiencies, improving its profit and loss structure, while innovating the fundamentals of offline stores to build a new success model.
Lastly, Chairman & CEO Suh Kyung-bae continued, "we will be able to take today's circumstances as a foundation for success if we prepare for the post-COVID-19 world" and delivered his determination saying, "we will provide opportunities to help members of the group grow into promising talents of today and create a path for members to grow feeling joy and sense of achievement at work." He then demonstrated his commitment saying, "we will begin our journey of building a higher level of business ecosystem where our growth leads to the growth of customers, stakeholders, and society."
In 2021, Amorepacific Group plans to build a year of 'Winning Together' by pioneering a new future through the forward-looking challenging spirit of 'Asian Beauty Creator' and the positive courage of 'Team AMORE'.