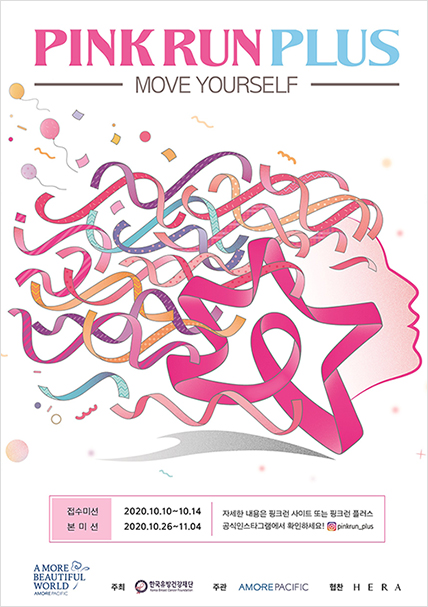 Amorepacific begins to receive application missions in order of application for its 'untact' running festival 'Pink Run Plus' held to prevent and raise awareness of breast cancer starting Saturday, October 10.
Pink Run, a key program of Amorepacific's Pink Ribbon Campaign which has been held for the past 20 years to raise awareness of breast cancer and early detection, adopted an untact running method named 'Pink Run Plus' considering the safety of participants this year due to the COVID-19 pandemic.
Pink Run Plus will take place in two parts – through application mission and main mission. The missions are expected to raise awareness on the importance of exercise in everyday life as a way to protect breast health.
First, application mission is to prove on participants' personal Instagram accounts that they've run at least 3km from October 10 (Sat) to 14 (Wed) via 'RunDay' app. To certify for the application mission, the date, time, and distance of the run on the screenshot of the RunDay app along with hashtags (#PinkRunPlus, #2020PinkRun, #PinkRibbonCampaign) are required.
500 selected applicants received in order of application among those who've completed the application mission are given the opportunity to apply for the main mission on Pink Run website from 10am on October 16 (Fri) to 6pm on October 18 (Sun).
The main mission is to verify on Instagram using the screenshot of the distance measuring app that participants have completed a workout of running or riding a bicycle for more than 3km during the 10 days from October 26 (Mon) to November 4 (Wed). To certify for the main mission, participants must include a photo of themselves wearing the Pink Run t-shirt along with hashtags (#PinkRunPlus, #2020PinkRun, #PinkRibbonCampaign).
A sports shirt with a Pink Run logo as well as a pink anti-droplet mask considering COVID-19 safety guidelines will be provided for main mission participants. Participants can also give up to 4 people excluding themselves Pink Run t-shirts as gifts, sharing the good intention of the Pink Ribbon Campaign.
A congratulatory medal for campaign participation and mission completion along with HERA suncream and Nike hip pack and socks are provided to participants who complete the Pink Run Plus main mission.
The entire entrance fee of KRW 10,000 per person will be delivered to Korea Breast Cancer Foundation to be used in support for surgery and treatment for breast cancer patients in low-income group.
Amorepacific Communication Unit Head Executive Director Lee Hee-bok said, "We've organized the 'untact' Pink Run Plus to continue healthy habits in our everyday lives to prevent breast cancer despite the challenging COVID-19 circumstances" and added "we hope that many people will love and take care of their body through exercise and take part in sharing by helping cancer patients in need of financial support."