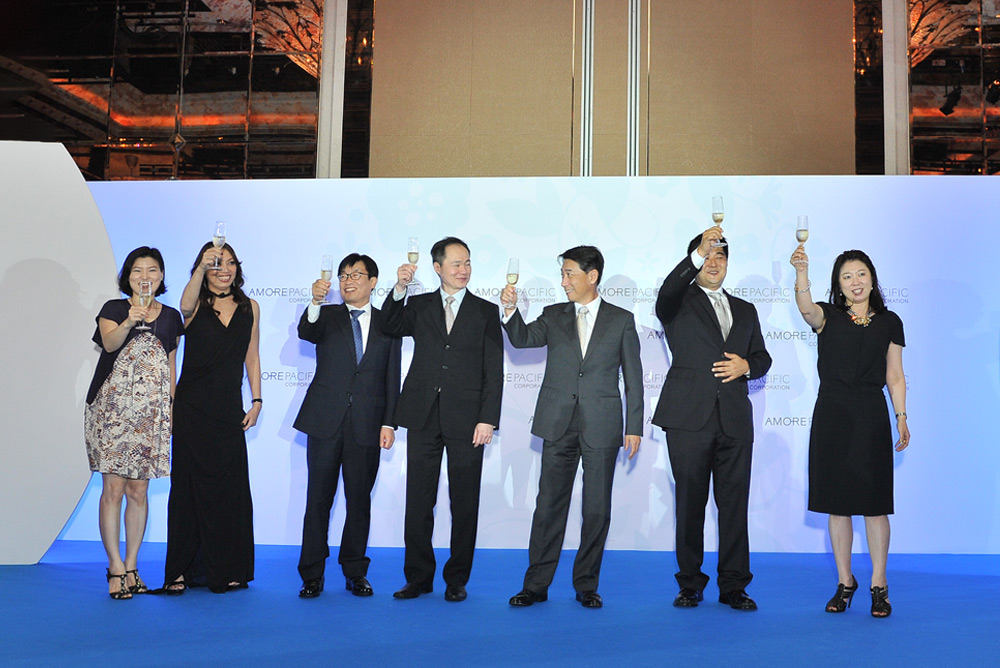 4 December 2012 - AMOREPACIFIC CORPORATION, Korea's no.1 cosmetic company, celebrated its inaugural Gala Dinner at the St. Regis Singapore in grand style.
The event was hosted by AMOREPACIFIC CORPORATION ASEAN Regional Headquarters to heighten the awareness of our organization and the brands, and strengthen our foothold in the ASEAN region. The successful launch of Sulwhasoo (Korea's no. 1 cosmetics and luxury holistic brand) in Singapore (September 2012) and Thailand (October 2012) was testimony of AMOREPACIFIC CORPORATION's established reputation and we aspire to forge an even deeper impact in the Beauty trade within the ASEAN region in 2013. 
Themed "An Evening of Pure Symphony", AMOREPACIFIC CORPORATION showcased the symphony of brands in its organization, presenting some of Korea's top beauty brands coming together in perfect harmony to pursue Beauty and Health. Specializing in Asian ingredients coupled with the largest number of patents for Korean traditional herbs using highly sophisticated research and technology, AMOREPACIFIC CORPORATION will continue to strive to give our customers only the best in Asian skincare as we proudly take on the role as a true Asian Beauty Creator. 
The impressive turnout saw many key industry movers and shakers including the trade retailers, mall developers, and influential media from Singapore as well as from our ASEAN counterparts (namely Malaysia, Thailand, Vietnam and Indonesia) mingling together.
We were honored to have His Excellency Oh Joon, Ambassador of the Republic of Korea in Singapore as our Guest of Honour that evening. We also had our second Guest of Honour, Mr Quek Swee Kuan, Assistant MD – Singapore Economic Development Board, to grace the event.  In addition, several key Management Executives from the AMOREPACIFIC CORPORATION headquarters in Korea were present that evening namely, Mr Kwon Young-So (EVP, Chief Marketing Officer), Ms Park Soo-Kyoung (SVP, Chief Customer Officer), and Ms Jeon Jin-Soo (SVP, Luxury Brand Manager).
At the foyer, guests were greeted by a talented Korean musician playing the Gayadeum alongside huge picturesque scenes conveying AMOREPACIFIC's corporate values and Mission. Guests were also pleased to pose at the photo wall to take home their photograph encased in a specially-designed acrylic photo frame as a special memento of that evening.
The night began with greetings from Mr Kwon Young-so, Chief Marketing Officer of AMOREPACIFIC Corporation; Guests-of-Honor His Excellency Oh Joon, and Mr Quek Swee Kuan, Singapore Economic Development Board each delivered inspiring and encouraging speeches; and Mr Edward Lee Sang-hoon, Managing Director of the AMOREPACIFIC Corporation ASEAN Regional Headquarters gave the closing speech. The night culminated with a grand toast to the continued success of AMOREPACIFIC Corporation in Asia.
The heartwarming story of the humble beginnings of AMOREPACIFIC was related through a video screening, and guests were also given a preview of some of the many brands carried by AMOREPACIFIC through the corporate videos aired during the dinner. The guests were entertained by two beautiful performances of the Nulhui Dance Troupe, a team of five lovely Korean dancers who were specially brought in from Korea for this special evening. As a befitting tribute to an evening of Pure Symphony - Singapore's first ever Electronic String Trio, San Nikkis gave an electrifying rendition of classical tunes.
A delectable fusion dinner menu was specially created to reflect AMOREPACIFIC's key values – one of harmony and balance; even to the finest detail of including Korean Ginseng, a key ingredient of Sulwhasoo, in the soup – a "Double Boiled Superior Broth with Three Treasures and Ginseng".
The contented guests left with many fond memories of the event and a heightened awareness of the Asian values and distinct beauty that AMOREPACIFIC has created and stood for, over the past 67 years in its role as the 'Asian Beauty Creator'. To complete the night in perfection, the guests were presented with generous gifts from the host to bring home.
In the parting words of Mr Kwon Young-So (Executive Vice President, Chief Marketing Officer), "In AMOREPACIFIC, we have a dream to create new Beauty, and this new Beauty will change the world. We are the Asian Beauty Creator. Everyone here is our valued partner towards the success of our dream. I thank you in advance for your support to embrace and spread this Asian Beauty Creator together with us, to bring to customers in your countries."