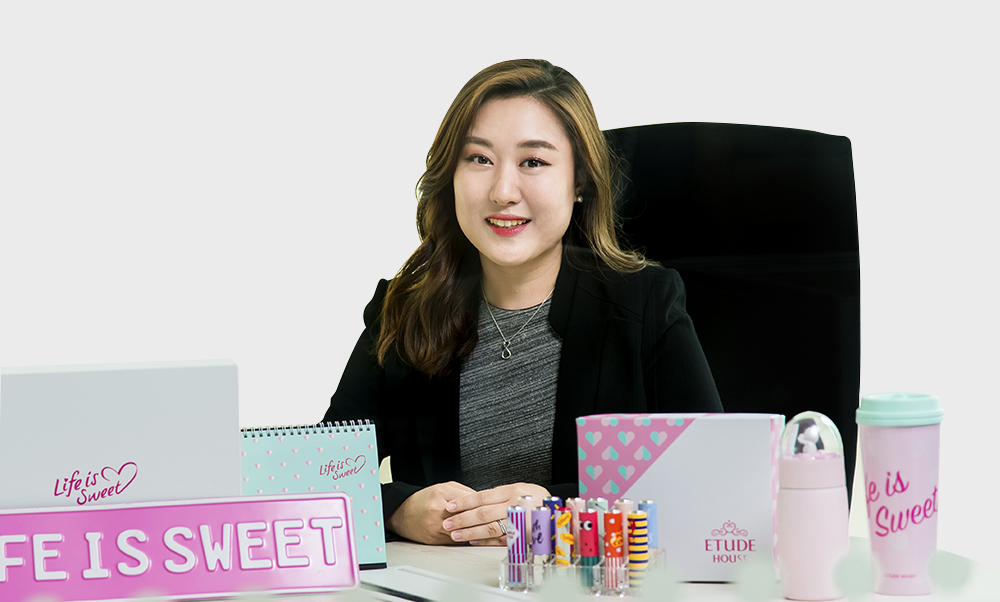 When did you join Amorepacific Malaysia?
I joined Amorepacific Malaysia on 19th June 2017.
Why did you choose to join Amorepacific Malaysia?
I always had a passion for cosmetics and being in the Trade Marketing position in Etude House has been the perfect fit for me in pursuance of my career in the beauty industry.
Share with us your journey in Amorepacific Malaysia, from when you started till now. How the company has grown and your experience with the company?
I am the only Korean who is a permanent staff in Amorepacific Malaysia. I was previously working in Hong Kong and I got married to a Malaysian so we decided to move to Malaysia. While preparing to move to Malaysia, Amorepacific Malaysia caught my eyes and I submitted my application. I was happy to be accepted into the company and started in June 2017. Everything was new to me, not just the work environment but also my job scope in cosmetics marketing. I got a lot of help from my superiors and colleagues who guided me and taught me a lot about the Malaysian beauty market and also how to become a good marketing personnel. Now I can proudly say that I'm good at my job and I've successfully executed all the in-store promotions and CRM activities. I'm truly thankful for this wonderful opportunity.
What do you like most about your job?
I love the time when all my teammates gather around to discuss about our upcoming promotion and marketing activities. We were all very cooperative and we have such strong team bonding. Whenever we are together, it is always so lively and fun. This positive feeling motivates me to work every day.
What is your proudest moment / key achievement in Amorepacific Malaysia?
My proudest achievement in Amorepacific Malaysia so far is the ability to take charge of all the product In & Out plans and work independantly to execute in-store promotions. It has not been that long since I took on this role, so I'm proud of capabilities within this short period of time. But all this is possible with some help from my team and my superior.
How do you find the working culture in Amorepacific Malaysia?
It's a friendly working environment. Everyone is helpful and nice so it's easy to approach anyone from the office to casually chat and ask them for their opinions. Everyone here is also open to expressing their ideas and sharing info. I also feel valued and heard as my ideas and opinions are taken seriously by my colleagues.