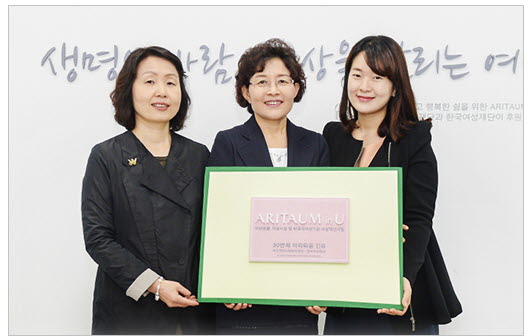 AmoerPacific Welfare Foundation (Director Bae, Dong-hyun) held the opening ceremony of "ARITAUM in U" at Anyang YMCA located in Dongan-gu, Anyang, Gyeonggi-do, Korea, on September 29th, as part of its project to improve facilities for women in 2014.
"ARITAUM in U" is a project that aims to improve facilities for women, which has been jointly managed since 2009 by the AmorePacific Welfare Foundation and the Korea Foundation for Women. The project's goal is to revamp old and dilapidated facilities for women into "women-friendly spaces wherein beauty and comfort coexist." This project is a representative social contribution activity of the foundation that makes use of the design manual of Aritaum, a total beauty solution store of AmorePacific, to further refine the facilities.
Anyang YWCA, which managed the opening ceremony, is a nonprofit women's activist group that handles issues involving women, consumers, and the environment. Aside from this, it also manages diverse programs for the welfare of women and children of Anyang. The existing office space of the group, which has been used since 2003, was small and had an inefficient use of space that it often limited the group's activities. However, as an effect of the improvements made through the "ARITAUM in U" project, the once limited space turned into a comfortable area conducive to training. Thanks to such improvements, the group will now be able to enjoy their revamped space for better team communication.
"ARITAUM in U," a project of the AmorePacific Welfare Foundation to improve facilities for women, held a public contest last March to select and support facilities in need of the foundation's support. As such, seven facilities nationwide, including Anyang YWCA, were selected for support this year. This will add up to a total of 33 facilities nationwide having gotten support from the foundation's project since 2009.
"AmorePacific Welfare Foundation has managed diverse projects that aim to improve quality of life and promote the welfare of women in need of social care since its establishment," said Dong-hyeon Bae, director of the foundation. "The foundation will continue to work hard to improve and remodel more facilities for women, including through the 'ARITAUM in U' project, to create spaces conducive to communication, exchanges, and healing," he continued.