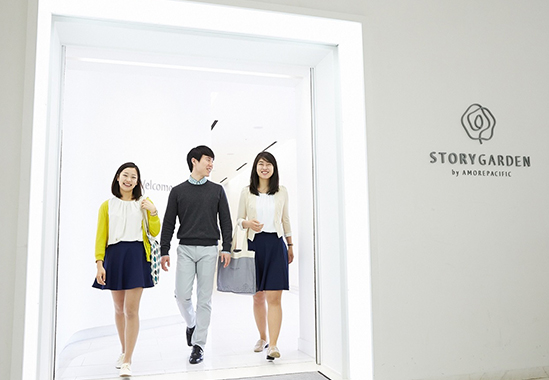 Created by Themed Entertainment Association (TEA) in 1994, the Thea Awards is an internationally recognized award that annually honors excellence within themed entertainment industry. AMOREPACIFIC Story Garden acclaimed 'Outstanding Achievement' this year for demonstrating creative concepts and innovative design that presents full, compelling experiences of the corporate brand and history.
Situated inside AMOREPACIFIC's Osan Beauty Campus in Gyeonggi-do, South Korea, Story Garden opened last year in celebration of the company's 68th anniversary. The venue takes camellia, the floral ingredient that became the company's foundation, as the main concept and creatively showcases the company's trail of finding true beauty from past to present. Organized around three central elements—story, special design, and on-site experiences— the Story Garden stages visual art pieces and video works that walk through the history of the company and provides interactive experience zones for visitors.
"We are pleased with TEA's announcement today. AMOREPACIFIC has strongly believed that beauty has the power to transform the world, and that belief is engraved in every corner of the Story Garden. We hope Story Garden continues to be an interactive space in which customers can create their own experiences of beauty through our past, present and future," said Suh Kyung-bae, Chairman & CEO of AMOREPACIFIC.
TEA officially announced the recipients of 2014 Thea Awards on Tuesday, November 18th, and the new slate of recipients includes "it's a small world" performance at Disneyland, Chimelong Ocean Kingdom in Zhuhai (China), and Diagon Alley at Universal Orlando Resort (USA). The 21st Annual Thea Awards will be formally honored in March 2015 at the Thea Awards Gala in Anaheim, California.
[Reference] About AMOREPACIFIC Story Garden
AMOREPACIFIC Story Garden showcases a theme of past, present and future of the company. In the first theme, 'Past - A beautiful journey begins from seeds of nature', the exhibition starts from the very beginning of the company's history when Yun Dok-jeong, mother of the company's founder Suh Sung-whan, began selling camellia hair oil in 1932. The second theme 'Present - Endless challenge brings beautiful blossoms' highlights AMOREPACIFIC's passion for excellence in quality and introduces the company's star products that are made with best-in-class ingredients, know-how and devotion. There is also a specialized space where visitors can experience the company's values of openness, innovation, proximity, integrity, and challenge. In the last theme, 'Future - Beauty, a gift that changes the world', the exhibition invites visitors to experience the journey of recreating a true meaning of beauty by reating photos and messages to relate themselves with 'Asian Beauty Creator'. AMOREPACIFIC Story Garden is free of charge, and tours are available Monday through Friday from 10:00 a.m. to 6:00 p.m. The center is closed on public holidays and weekends. For further information, please visit AMOREPACIFIC Story Garden's official website: http://storygarden.amorepacific.com
About AMOREPACIFIC
Since 1945, AMOREPACIFIC has had a single, clear mission: to present its unique perception of beauty – namely what it calls the 'Asian Beauty' – to the world. As Korea's leading beauty company, AMOREPACIFIC draws from its deep understanding of both nature and human to pursue harmony between inner and outer beauty. With its portfolio of nearly 30 cosmetics, personal care, and health care brands, AMOREPACIFIC Group is devoted to meeting the various lifestyles and needs of global consumers around the world: Asia, North America, and Europe. AMOREPACIFIC's research centers located in Korea, China, and France are dedicated to sustainable R&D that combine the best of natural Asian ingredients and advanced bio-technology. With its world-class products, AMOREPACIFIC is acclaimed for the innovative ways in which it is transforming global beauty trends.