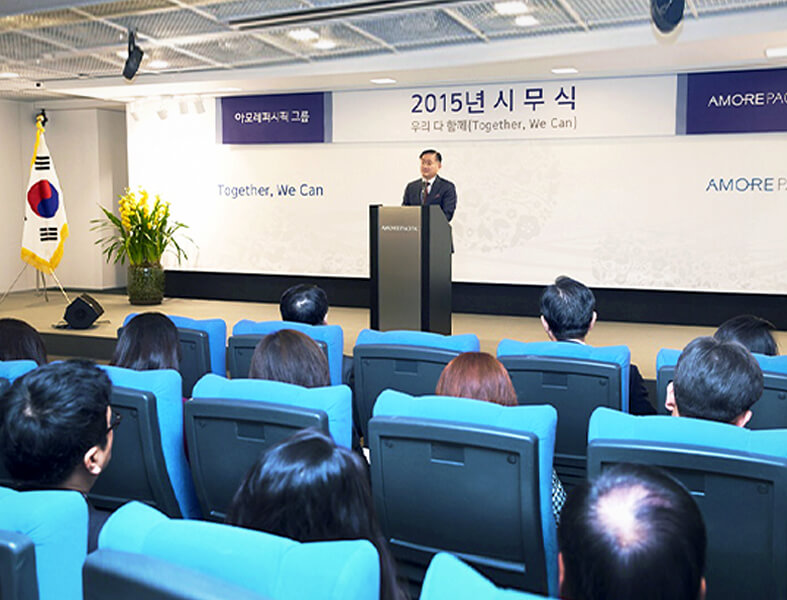 AMOREPACIFIC Group set 'Together, We Can' as the company's management principle for 2015, the year the company celebrates its 70th anniversary. Under the new slogan, AMOREPACIFIC aims to achieve its vision of becoming a 'Great Global Brand Company' by responding to various industrial changes in home and abroad. In 2015, the company will focus on establishing strategies for global business expansion; digital IQ enhancement; retail capability reinforcement; employee capability development; and quality management.
"2015 is a significant year for us as it marks the 70th anniversary of AMOREPACIFIC Group. Our customer-focused, 70-year journey of beauty has reached an inflection point at which we will expand from our local beginnings and grow globally," said Suh Kyung-bae, Chairman & CEO of AMOREPACIFIC, at the New Year's kick-off meeting held at the AMOREPACIFIC headquarter located in Seoul on January 2. "Our great dream of changing the world with beauty and health has just begun. AMOREPACIFIC Group will become a Great Global Brand Company that makes the world beautiful with Asian Beauty," he added.
- Global Business Expansion
AMOREPACIFIC will focus on the expansion of its five global champion brands – Sulwhasoo, LANEIGE, Mamonde, Innisfree and Etude – by investing in consumer study in the Asia region, including China. The company will also continue to enhance its capabilities in the duty-free market, dubbed 'the 6th Continent' with the rise of inbound tourists to Asia. It will reach out to customers particularly in mega cities with population over 10 million. In addition, the company will achieve globalization of its core brands through its 'Cushion' products, and continue to spread the new makeup trends that AMOREPACIFIC has created, pioneered and led in the global beauty market.
- Digital IQ Enhancement
AMOREPACIFIC aims to bolster its digital capabilities by quickly responding to the ever-changing market brought by smartphones. To address the lower-than-ever barriers between online and offline, as well as increasing need for digital contents, AMOREPACIFIC will adopt Omni-channel strategies. The company will offer the best brand-experiences in all customer contact points, including channels like offline stores, brand websites and mobile applications. By better understanding the digital environment and making digital the company's core capability, AMOREPACIFIC plans to improve operational productivity and convenience.
- Retail Capability Reinforcement
AMOREPACIFIC will further build its retail capability with distinguished customer service and attractive store experiences. To do so, the company will establish an AMOREPACIFIC retail model with emphasis on the selection of best locations, creation of best product displays, customer service enhancement. These efforts will reinforce retail capability and nurture global competitiveness.
- Employee Capability Development
AMOREPACIFIC will also invest in the development and growth of its employees in Korea and abroad. The company will improve educational infrastructure and training programs, and further expand its 'Hyecho Program,' which has been recruiting and fostering talented individuals for leading roles in overseas business development since 2011.
- Quality-focused Management
AMOREPACIFIC will strengthen its 'Quality-focused Management', an initiative it has been emphasizing since last year, and further implement the practice both in home and abroad businesses. In particular, the company will focus on achieving qualitative growth by improving stores with deficit operation, establishing grounds for gaining revenues in advanced markets and increasing investment in R&D and new growth possibilities.