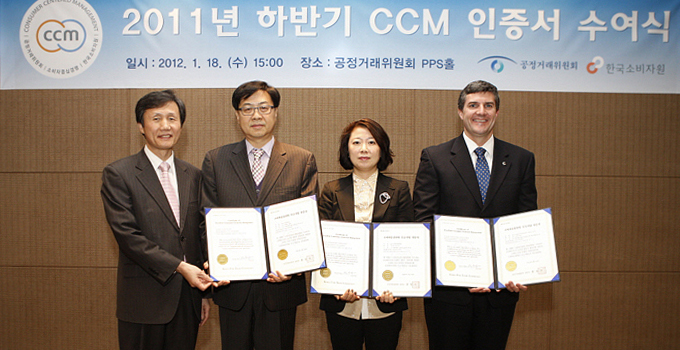 AMOREPACIFIC (President and CEO, Kyung-Bae Suh) announced on January 19 the acquisition of Consumer Centered Management (CCM) Certificate from the Fair Trade Commission.

CCM is an assessment and certification system which examines whether or not a company organizes all of its managerial activities based on consumer centered principles and improves its management on an ongoing basis going forward. The Fair Trade Commission announced this new system on September 2011 to improve the Consumer Complaints Management System (CCMS).

AMOREPACIFIC is attempting to improve ways of solving consumer complaints as part of its sustainable management policy. To enhance service at the point of customer contact, an education program in which the onsite sales staff deliver the voice of customer (VOC) and instruct on how to prevent consumer complaints, is currently being run. In addition, a preventive system was launched on March 2011 to fundamentally prevent consumer complaints at the phase of product development. By utilizing the preventive system, we are able to study the same kind of precedents and similar claim cases beforehand. In 2011, more than 120 products went through this system, which demonstrates its important role.

In addition, AMOREPACIFIC runs a management improvement program, Customer Gift for AMOREPACIFIC (CGAP) through which customer's inconvenience and dissatisfaction are gathered quickly and these information are then sent to relevant divisions to provide solutions. The objective of the system is to close the gap between the customer and the company by adopting customer complaints as if they were presents from the customer, and to establish an environment where customers can use our products safely. On November 2011 in particular, under the theme, 'Reset & Restart' a 2-day forum took place during which customers' inconvenience, complaint and compliment were listened to directly, and executives and staff were made aware of the importance of VOC.

AMOREPACIFIC's Executive Director Soo-Kyung Park, who is a customer representative, commented, "In the course of acquiring this Certificate, we were able to look into all our consumer relation systems closely once again and reorganize them." She also added, "We will do our utmost to communicate with customers in a more friendly manner – with quality products, of course." The Certificate conferment ceremony is held in the annex to the Fair Trade Commission (Banpo-dong Seoul) at 3 p.m. on 18th.

[Note] The history of AMOREPACIFIC's customer satisfaction activities
AMOREPACIFIC has long endeavored to satisfy customers: In 1961, AMOREPACIFIC opened Korea's first Cosmetics Counseling Center. In 1974, a Consumer Department was launched to take charge of customer service, a first for the cosmetics industry. In 1978, to actively collect customers' opinions, a feedback corner, 'My Suggestion', was established and operated. In 1985, by elevating the status of the Consumer Department to a Consumer Counseling Center, AMOREPACIFIC sought to deal with changes in service quality and consumer demand. In 1993, under the announcement of 'Unlimited Responsibility', AMOREPACIFIC established a Customer Service Center equipped with an online computer network through which 59 branches from all over the country could collect and register claims in real time. In 2000, AMOREPACIFIC developed its own 'Skin Forecast' to offer information on skin care like 'Today's Skin Factor' through its website and phone lines. (This service was recreated in 2011 as a smartphone skincare application, 'Skin Forecast++'). In 2006, announcing AMOREPACIFIC as the Asian Beauty Creator, AMOREPACIFIC expressed its willingness to propagate the beauty of Asia to the world. In 2009, AMOREPACIFIC acquired its CCMS Certificate, which accredits the operation of consumer complaints prevention systems in advance and deals with complaints promptly when they arise.