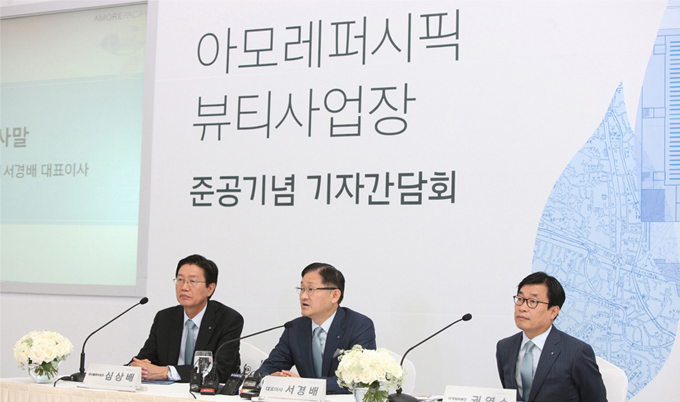 AMOREPACIFIC Corporation (President and CEO, Suh Kyung-bae) announced the company's Supply Chain Management (SCM) and global marketing strategies to grow into "One of the top seven global cosmetics companies by 2020" at the building dedication ceremony of AMOREPACIFIC's Beauty Campus in Osan, Gyunggi province on May 30th.

The newly introduced "AMOREPACIFIC Beauty Campus" is an integrated production and distribution headquarter that combines the company's skincare and makeup product centers as well as five regional distribution centers which were previously scattered across different regions in Korea into one place. It is a world-class level integrated production and distribution center that occupies 224,000 m², the size of nearly 30 soccer fields with a building area of 89,000 m². It has an annual production capacity of 15,000 tons and a shipping capacity of 15 million boxes.

From producing Camellia oil 80 years ago which was the bedrock of the company until now, AMOREPACIFIC has always procured the "highest quality ingredients", and by adding its own optimal know-how and dedication to excellence, it has presented its customers with the" highest quality products". Through its Beauty Campus which is equipped with "cutting-edge technologies", " absolute quality", and "eco-friendly" facilities, the Beauty Campus plans to jump up to the level of becoming a global beauty company that leads the world market.

The Beauty Campus is capable of optimized production to meet customers' needs through its "multi-cell line" that can process both high speed mass production and diversified small quantity production. The Beauty Campus is currently operating the "Recipe Control System" to achieve consistent product quality for strict quality control and a "Fool Proof System" to achieve zero customer claim. It has also taken up the challenge of producing the absolute highest quality products through its organic low preservative production system along with its product safety reinforcement process.

Furthermore, the Beauty Campus is operating an automated warehouse with 11 Stacker Cranes and through its innovative logistics system it is designed to be able to pick up boxes for each account and also to pick up individual items separately and thus is able to shorten the time it takes to deliver products to customers to the bare minimum.

The Beauty Campus has also implemented eco-friendly systems to achieve a harmonious relationship with the environment. The sunlight module installed in the logistic department has an annual capacity of generating 200,000 kw of electricity and thereby reduces greenhouse gases by about 90 tons. And the Chilled Water Storage System that utilizes chilled water stored over night by using midnight electricity to be used for cooling purposes during the day can save 2,000 kw of electricity daily during the summer time. In addition, by optimally utilizing natural lighting, it has reduced the consumption of energy used for lighting, and by installing streetlights powered by solar and LED lighting, it has cut down the emission of greenhouse gases. The company is also taking the lead in protecting our water resources by reducing the consumption of water and energy used for water use through a 1,400 ton capacity rainwater storage and water treatment system.

The Beauty Campus is offering field trip programs to visit its Botanical gardens and Green gallery, to promote a better relationship with customers.
The "AMOREPACIFIC Botanical Garden" is the place through which AMOREPACIFIC grows and researches its own botanical ingredients that are beneficial for our skin to provide its customers with safer and superior products. It was designed by using the "PACIFIC ginseng plantation" as a model which was created 40 years ago by Jangwon Suh Sung-whan, founder of the company who believed in the simple truth that "Good products come from good ingredients". A total of around 200 varieties of plants are being raised in the company's gardens; chamomile, rosemary, and sage are grown in the herbal gardens and peony, skullcap, and cnidium officinale etc. are grown in the Chinese medicinal herb gardens. "AMOREPACIFIC Botanical Garden" also grows flowers such as Iris, Calendula, Evening Primrose, and Hollyhock that are hard to find in urban areas and are thereby providing additional enjoyment to local residents and visitors. Miniature paintings of various plants that AMOREPACIFIC is using as ingredients are being displayed at the "Green Gallery". The works were painted by Hoon Song who is famous for miniature plant paintings. About 100 works of miniature paintings for each season will be exhibited in cycles across the four seasons. Also AMOREPACIFIC plans to expand its venues to directly interact with its customers by offering them a field trip to observe and experience the cosmetics manufaturing process.

The Beauty Campus offers various accommodations for its employees under the belief that only when employees are happy, will they produce the best products. First, the work areas on the Beauty Campus contain indoor gardens and various walking paths to view the changing scenes of the four seasons and the outdoor resting areas are designed for employees to enjoy nature while resting in comfort. Furthermore, in order to provide an environment in which employees can discover the true meaning of beauty and draw out creative ideas, famous art works by domestic and foreign artists such as Nam-Joon Baek's 'the Turtle Ship', 'Marco Polo', Sarah Morris's 'Cats Paw Knots' and 'Write clips', etc. are being displayed on the campus. The paintings of Hong-Joo Kim, Bong-Sun Moon and Marilyn Minter will be exhibited later. The Beauty Campus also offers multi-purpose halls to accommodate various sports activities, a fitness center, tennis courts, multimedia rooms, diverse types of refresh rooms, as well as a day care center and a nursing room that are built with environment-friendly materials.

Supply Chain Management (SCM) and a Global Marketing Strategy to expand into the ranks of the Top 7 Global Cosmetics Companies by 2020

AMOREPACIFIC Supply Chain Management (SCM) division is focusing on the 'strengthening of consumer care', the 'supply of sustainable products, and 'building a foundation for global leading cutting-edge technologies'.
First of all, for 'strengthening of consumer care', production information is shared throughout the supply chain including our affiliates to motivate them and enhance their ability to be meet market demands, and secure the stability of supply through supply plan management based upon demand forecasting. For 'supply of sustainable products', the company plans to build a global absolute quality process based upon safety, preservative quality and effectiveness and will continue to expand the release of customer-oriented, environment friendly and socially conscientious products. Especially, in order to expand the release of sustainable products, the company has been running the "AMOREPACIFIC Promise", AMOREPACIFIC's own certification program for sustainable products that is based upon strict guidelines that are comparable to external certification criteria (In the first quarter in 2012, 314 items were certified). 'Building a foundation for global leading cutting-edge technologies' will provide a system to discover innovative ideas and turn them into products and by fusing and combining other industries' technologies such as medical, food, IT etc. with the technologies that are unique to cosmetics, the company will vitalize the release of technologically innovative products.

AMOREPACIFIC's marketing division plans to boost the sales of AMOREPACIFIC Group from the current level of 3.9 trillion won in 2011 to 11 trillion won by 2020 by promoting its 10 global beauty brands with annual sales of over 500 billion won through aggressive market entry and deployment of country-specific differentiation strategies. (Sales basis: based upon the sales performance of AMOREPACIFIC Group including subsidiaries such as AMOREAPACIFIC, Innisfree, ETUDE and PACIFICPHARMA etc.)

AMOREPACIFIC is currently engaged in global enterprise with operations in two focus markets one being the "emerging market" centered in Asia and the other being the "developed market" in the Americas,and Europe etc. First of all, in the case of China, which is a representative of emerging markets, the top priority will be placed in the generation of performance outcome through the concentration of resources. In order to acquire profitability, the company is carrying out a multi-brands strategy that deploys its luxury brands such as Sulwhasoo and LIRIKOS with premium brands such as LANEIGE, Mamonde, innisfree, etc. all at the same time, while promoting accelerated growth in 12 major cities in China until 2020. The company has the specific goals of achieving sales of 3.4 trillion won in China by 2020 and revving up to become one of the top three cosmetics companies in China. To accomplish these goals, the company plans not only to continue to utilize its current outlet of department stores that are rapidly expanding at the moment, it will maximize other growth opportunities by also engaging in other marketing strategies such as door-to-door sales, road shops, online sales and telemarketing etc. AMOREPACIFIC is planning to meet the goal of 1.3 trillion won in sales in other Asian markets including Indonesia, Philippines, Thailand, and India except China by 2020. In the developed market in Europe and North America, the company will continue in its strategy of stabilizing its profitable growth base and transferring the know-how it has acquired through market study to other areas. At the same time, the company will continue its research to enter the post emerging markets in the South America and the Middle East regions and will decide on its launch timing while considering the expansion speed of overseas operations and its management capability.

If the company succeeds in its accelerated growth through applying this strategy, AMOREPACIFIC is expected to achieve 2.7% of the global market share by 2015, and thereby achieve the status of one of the top 10 global cosmetics companies in the world. Furthermore, it is expected to attain 3.8% of the global market share by 2020 to become one of the top 7 cosmetics companies in the word and number one cosmetics company in Asia.

At a recent press conference, Suh Kyung-bae, AMOREPACIFIC's President and CEO remarked that "mother's kitchen" is the place where the best food is lovingly prepared for her beloved family members by using the best and freshest ingredients. Likewise "global kitchen" is where top quality products are made with top quality materials. He expressed his ambition to become the "Asian Beauty Creator" who will convey the essence of Asian beauty to customers around the world through "Mizium" where Asian beauty is blossoming and through the "Beauty Campus" where Asian beauty becomes completed.