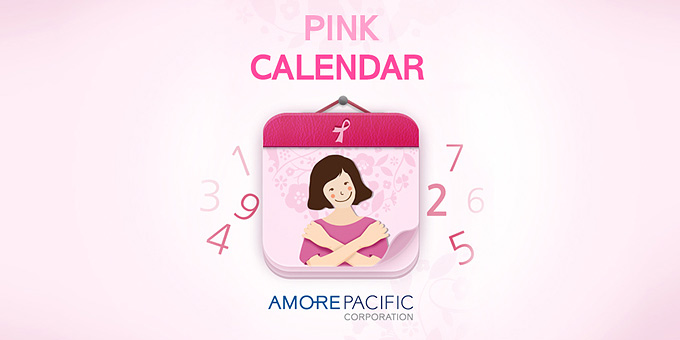 AMOREPACIFIC Corporation (President and CEO, Suh Kyung-bae) released the Pink Calendar, a mobile application for breast health, as part of its 2012 Pink Ribbon Campaign. Its concept being 'A daily calendar for breast health check up', the app was designed for women who tend to neglect the "internal" (as opposed to external) health of their breasts. The app will let the users check on their breast health more easily, helping to make the prevention of breast cancer a part of daily life. The app is available free on both iPhone and Android phones.

includes features that let app users set health goals such as yoga, the level of vegetable intake etc. on a monthly basis and will also automatically set recommended period for breast self-diagnose when the users input their menstrual periods. They can also receive yearly information on AMOREPACIFIC's Pink Ribbon Campaign events such as Pink Ribbon Love Marathon and schedules for free breast self-diagnosis seminars.

The users can also receive one to one consultation through the "breast health consultation" corner which lets them ask questions and get answers from a specialist for personal issues they were always afraid to ask regarding breasts. They can also get detailed self-diagnosis guidelines, information on their body mass index, obesity level, and a "breast encyclopedia" filled with common knowledge related to healthy breasts.

"Pink Ribbon Guinness", the first mobile donation program developed by AMOREPACIFIC in 2011, is also included in the app. Users can also help raise funding for breast cancer surgery by simply uploading a picture through the app. The entire donation will be funded by the AMOREPACIFIC Corporation.

AMOREPACIFIC Corporation will host a special event that will run until July 22nd to commemorate the app's launch. To participate in the event, smart phone users should download the Pink Calendar app and leave a review with stars on the App Store or Android Market. Then screen capture that review screen and send it to eitherpink@pinkcampaign.com or AMOREPACIFIC's Pink Ribbon Campaign official twitter (@pink_hug). One Best Reviewer will be awarded a Samsung Galaxy Tab (10.1, 32G), and two reviewers in second place will be given HERA's Age Away Twin Cake and Rouge Holic (Pink Ribbon edition) as presents. Additionally, fifty additional selected reviewers will be given HERA's 12th year commemoration Pink Ribbon Simple Set. Winners will be listed on AMOREPACIFIC's Pink Ribbon official blog (www.pinkcampaign.com) on July 24th.

Yoon Lee, Vice President of AMOREPACIFIC Corporation, commented, "I hope AMOREPACIFIC's efforts to promote breast cancer prevention through the Pink Ribbon Campaign can expand through the mobile channel so that more women can lead beautiful and healthy lives."

* Search key words for the app: calendar, breast cancer, breast, health, Pink Ribbon campaign, Pink Ribbon, AMOREPACIFIC.

============================================================
[Note] Introducing the Pink Ribbon Campaign by AMOREPACIFIC
AMOREPACIFIC Corporation, the number one cosmetics company in Korea, with the endeavor to support a healthy future for women, established the Korea Breast Cancer Foundation in 2000, the first non-profit breast cancer foundation in the nation. The foundation was entirely funded by AMOREPACIFIC, which has been hosting the Pink Ribbon Campaign for 12 years as part of its efforts to spread breast health awareness.

Under the theme of "breast health" and through various activities, the campaign aims to spread the message of self-affirmation and love among women in all age groups, from teens to eighty-year-olds, by emphasizing healthy habits and interest in their own health. It has also put effort into raising awareness of and interest in women's precious health among the whole family, including male partners. In order to do so, the campaign has taken a self-participation approach rather than a one-sided approach to broadcast its message.

Some of the Pink Ribbon Campaign's typical activities include the following. For "Pink Generation", a person from the general public acts as a key publicity ambassador to spread the message of self-affirmation and love, the meaning behind the Pink Ribbon. In "Pink Ribbon Love Marathon", all participation fees are donated to the Korea Breast Cancer Foundation and used for breast cancer prevention and treatment research. Another one is "Our Pink Ribbon Project", a contest for business ideas to spread the Pink Ribbon's message and "Pink Tour" where people can go to gain information on breast self-examination and common knowledge related to breast health.

Additional information regarding the campaign is available on the official Pink Ribbon Campaign's blog (www.pinkcampaign.com).