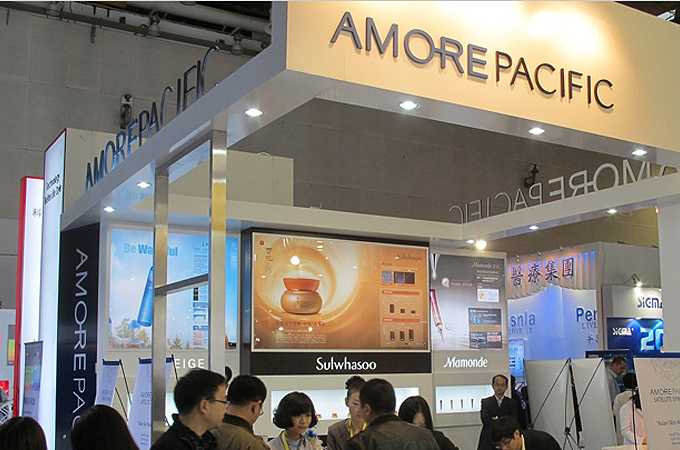 AMOREPACIFIC Corporation (President and CEO, Suh Kyung-bae) participated in the 8th Annual Meeting of Chinese Dermatologist Association, held at Suzhou International Expo Center from 9th to 11th November as Korea's representative beauty company. By exhibiting the brand's core technologies and holding a symposium on Asian Skin, AMOREPACIFIC Corporation showed its outstanding R&D competitiveness to the Chinese dermatology industry.
At the event, AMOREPACIFIC Corporation presented products from the company's popular brands such as Sulwhasoo, Laneige and Mamonde, as well as the deep seawater cosmetics brand, Lirikos, which has gained in popularity with Chinese consumers, and PACIFICPHARMA's medical beauty brand, Aestura, which is planning an upcoming launch in China. By introducing the results of dermatology research using Ginseng, which is one of the key ingredients used by the AMOREPACIFIC Corporation R&D Center, and offering comprehensive skin diagnosis and solutions to participants using AMOREPACIFIC's original skin examiner, AMOREPACIFIC has promoted its advanced technologies that lead to better customer services.
Furthermore, AMOREPACIFIC Corporation also hosted a symposium on "Asian Skin Research" with over 400 dermatologists on Friday 9th. By presenting the research results related to changes in Asians' wrinkles caused by environmental changes and research on female skin tone with regard to UV protection in six Chinese cities,AMOREPACIFIC Corporation shared its expertise in Asian skin with Chinese dermatologists.
Prior to the event, Hak-Hee Kang, CTO of AMOREPACIFIC Corporation R&D Center said, "AMOREPACIFIC Corporation plans to form a network with dermatologists in China and carry out extensive joint research to understand and fulfill the core needs of Chinese consumers. This collaboration will be the long-term stepping stone of our business in China."
The Annual Meeting of Chinese Dermatologist Association is China's largest dermatology convention, and is attended by over 4,000 individuals, including dermatologists, industry experts and global beauty companies. This was AMOREPACIFIC Corporation's 3rd successive participation in the event as a company that represents Korea's beauty industry. In addition, AMOREPACIFIC captured the attention of dermatologists from around the world with its "Asian Beauty" presentation at the 22nd World Congress of Dermatology held in Seoul in 2011. It gained a positive response by exhibiting Asia's unique ingredients such as beans, ginseng and green tea and its global brands such as Sulwhasoo, Laneige and Mamonde, as well as its oriental medicine technologies.