SEOUL, South Korea, February 27, 2023 — INNISFREE, a high-efficiency natural brand (www.INNISFREE.com), chose SEVENTEEN's MINGYU as a new model today and unveiled a teaser video for the [THE NEW ISLE] campaign.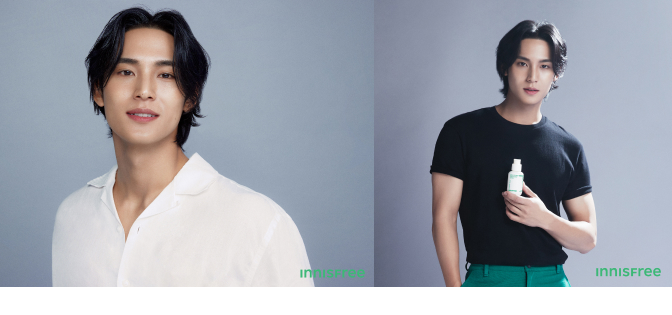 INNISFREE is reinventing itself by introducing a new BI to renew its image as a brand that is active and open to different possibilities. INNISFREE chose SEVENTEEN's MINGYU as a new model who will symbolize the brand's new philosophy and image with his positive attitude, vigor, and confidence.
With chic, urban looks as well as an unexpected charm of confidence and energy, MINGYU will introduce INNISFREE's value and high-efficiency products to customers in Korea and abroad. He is lively and full of energy, in line with the persona INNISFREE pursues, and is expected to create incredible synergy.
On the 27th, INNISFREE revealed a teaser video announcing the start of collaboration between INNISFREE and SEVENTEEN's MINGYU. SEVENTEEN's MINGYU appearing against a mysterious, dreamy background in the middle of deep forest dense with green tea trees without gravity. The teaser piques the curiosity of viewers, raising expectations for the new INNISFREE.
An INNISFREE representative said, "The confident yet energetic energy of global artist MINGYU from SEVENTEEN, with INNISFREE in helping us realize the value the brand seeks to achieve. We plan to reveal new hidden sides of INNISFREE by collaborating with MINGYU."
SEVENTEEN is a 13-member K-pop supergroup that debuted in 2015. MINGYU is a part of its Hip-hop unit. The act successfully wrapped up their 6-month world tour, "BE THE SUN" with 29 shows in 22 cities last year, boasting their powerful stage presence as a leading K-pop performer, and once again proving their global popularity
Visit INNISFREE's social media account for the new teaser featuring SEVENTEEN's MINGYU who joined INNISFREE as its new model. The main campaign video will be unveiled on February 28.