(www.innisfree.com), launched THE NEW ISLE campaign, announcing the arrival of INNISFREE's NEW ISLE.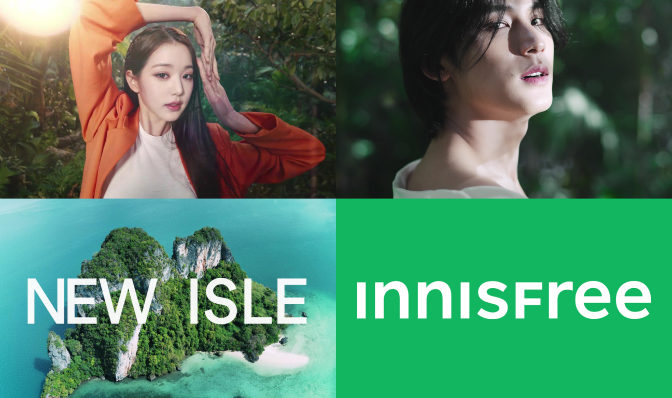 THE NEW ISLE campaign video, which signals the transformation of INNISFREE, reinterprets the brand's isle world view that carries the meaning, innis (island) and free (freedom), while pushing the boundaries of the new world view. The clip captures the spirit of pioneers, explorers, and challengers in the vast nature through the lively, energetic movements of the brand persona to convey THE NEW ISLE world view, INNISFREE's newfound isle.
With the INNISFREE isle filled with mystical energy and the infinite possibilities of nature in the background, four people including Jang Wonyoung and SEVENTEENS's MINGYU swim under the sea surrounded by the light, water, and rocks and breathe in the oxygen. At the same time, they rhythmically express active ingredients they have obtained from mother nature.
The ad conveys the message of the campaign by showing different entities that make up the isle roaming about sometimes on their own and sometimes altogether. Then, they come across INNISFREE and discover their innate, healthy beauty, which makes them complete as their true selves.
In the video, MINGYU portrays the powerful moisturization in the green tea forest, the essence of the brand and the source of INNISFREE's key ingredients. Jang Wonyong, on the other hand, effectively depicts the brightening effect as a muse of green tea enzymes that INNISFREE developed recently.
The simple set of instruments used in the background music and the lyrics that repeat the word "free" make viewers focus on the freedom of the INNISFREE isle, and the voguing dance performance that becomes fiercer as the ad progresses makes the video seem like a spectacular music video.
A marketing representative from INNISFREE said, "Instead of following the typical beauty commercial format, we made a bold decision to focus on introducing our new world view, and showing INNISFREE's new image more effectively. Our intention was to communicate with customers through INNISFREE's newly established world view and give them an opportunity to find their true self as they become complete in their search for inborn beauty."