Amorepacific Group celebrates its 77th anniversary this year.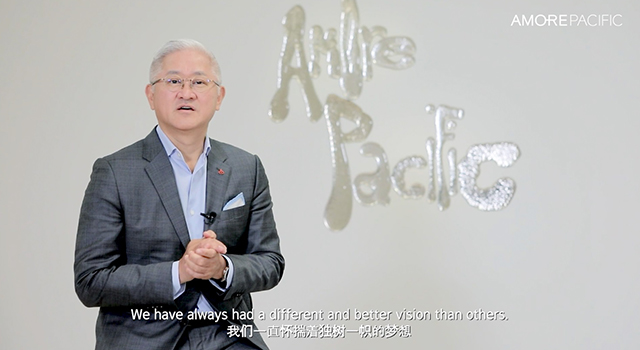 ▲ Screenshot of Amorepacific Group's 77th anniversary ceremony video_Chairman & CEO Suh Kyung-bae
At the celebration ceremony that was held online in the morning of September 2 (today), Amorepacific Group Chairman & CEO Suh Kyung-bae delivered a message saying, 'let's open a future of beauty that evolves customers, the world, and all of us.'
Established on September 5, 1945, Amorepacific Group grew into a beauty company that represents Korea based on its founding philosophy of 'contributing to humanity through beauty and health.' The company established Korea's first-ever cosmetics research lab and exported Korean-made cosmetics overseas, delivering the best products to customers worldwide. Starting from the 2000s, Amorepacific made bold decisions and has continued to enter various markets globally and is also dedicated to ESG management to fulfill its responsibilities as a corporate citizen.
At his congratulatory remarks celebrating the company's 77th anniversary, Chairman & CEO Suh Kyung-bae said, "now is the time to redefine and rebalance our business by placing the basis of all values in our 'customers'" and emphasized, "let us continue to communicate with our customers at home and abroad to help them build the lives they want in an era of infinite potential that transcends the boundaries of nations and regions."
The CEO then added, "we must expand our perspective to across the entire life of our customers, effectively use digital and data technology to reach our customers more closely, and continue our effort towards achieving 'We make A MORE beautiful world' based on our spirit of 'New Beauty' that empathizes with the challenges our customers and the world face" and expressed his commitment saying, "let us commemorate the past journey we've embarked on since establishment and reaffirm the potential of beauty as we continue our effort in making our world evolve into a more beautiful place."
In celebrating its 77th anniversary, Amorepacific Group is also conducting its 'Beautifullog Challenge' online where members of the company across the world share the records of their lives and congratulate long-term employees.