Amorepacific starts recruiting participants for its 'untact' race, '2021 Pink Run Plus' H2 competition.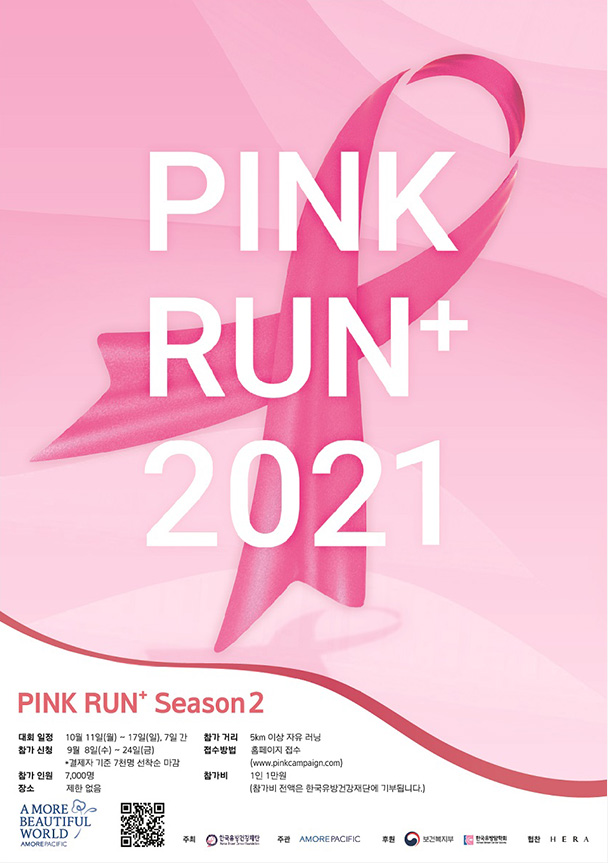 'Pink Run' is one of the main programs of Amorepacific's Pink Ribbon campaign. The race has been held for the past 20 years to contribute to raising awareness on breast health. For the safety of participants, the run has been held in an 'untact' manner starting last year. The competition for the second half of this year, which is planned to be held in October in celebration of Breast Cancer Awareness Month, will start receiving applications on September 8 through its official website.
2021 Pink Run Plus allows participants to take part in the run from anywhere across the country using the global tracking application for cycling and running, Strava. Participants can choose Pink Run Plus on the app and run for more than 5km anytime during October 11 to 17. The KRW 10,000 entry fee per person will be donated to Korea Breast Cancer Foundation and be used entirely to support surgery and treatment of breast cancer patients of low-income families.
On October 17, Amorepacific will host its '2021 Pink Run Plus Live,' a real-time visual radio broadcast, through Naver Now. The program will broadcast the best songs to listen to during stretching before running and during the run along with facts and tips on breast health. The radio broadcast is open to anyone to hear.
More details on how to apply and information on events can be found on Pink Run's official website (https://www.pinkcampaign.com) and Instagram account (https://www.instagram.com/pinkrun_plus).