On Saturday, August 28, Suh Kyungbae Foundation (SUHF) selected professors Koo Tae-yun (KAIST Graduate School of Medical Science and Engineering (GSMSE)), Yang Han-seul (KAIST Department of Biological Sciences), and Hyun You-bong (Seoul National University Department of Biological Sciences) as promising scientists of 2021.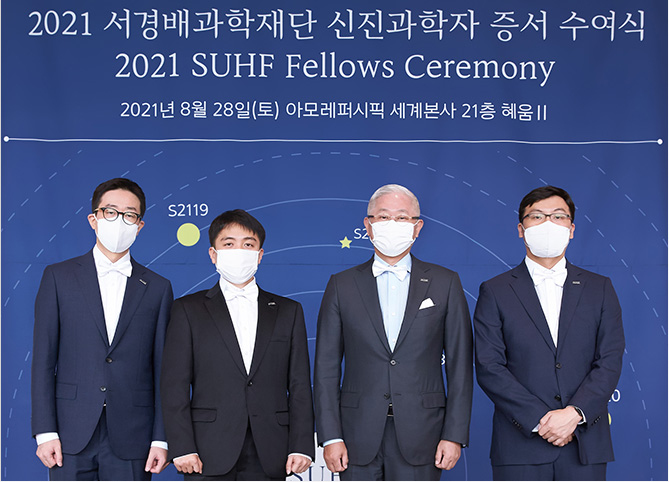 The Board of Directors of the foundation and scholars in the field of biological sciences in Korea attended the certificate giving ceremony for the three pioneering scientists, which was held at Amorepacific headquarters.
At the ceremony, Chairman Suh Kyungbae said, "we desperately felt the dignity of life and the value of basic science especially during COVID-19 pandemic" and asked the budding scientists to "support each other's research as a research community and conduct studies that will open a better future for humanity."
This year, SUHF received a total of 53 research proposals from innovative scientists in the field of bioscience, who have been appointed as professors in the recent five years. A panel of judges comprised of scholars from home and abroad conducted a written evaluation of 27 proposals that made it to the main evaluation, evaluated presentations of nine proposals and selected a final list of three based on their innovativeness and power to influence.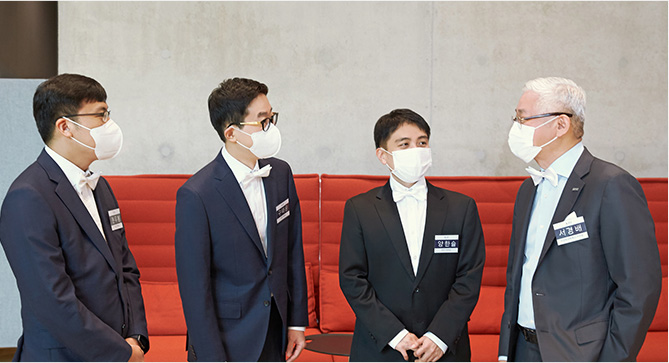 ▲ Professor Koo Tae-yun proposed a study of visualizing the complex brain network using innovative technology that transforms neurons into optical elements. The opto-connectomics Professor Koo proposed gained attention as a technology that will complete brain connectivity map and identify a new neural network.
▲ Professor Yang Han-seul focuses on the African spiny mouse, which can recover torn skin without leaving any scars, to identify the tissue regenerating mechanism that can be applied to humans. Professor Yang proposed the possibility of treating skin diseases or injuries to recover without scars by studying the spiny mouse genes.
▲ Professor Hyun You-bong plans to investigate the 'dry-wet organ movement,' where plants move as the moisture they retain reduces. This is how viola mandshurica or balsam spread their seeds far. The proposal is assessed to be a bold study that will identify the history of plant evolution from the smallest movements of flowers and apply biomimetic technology.
'SUHF Symposium 2021,' which was held in the afternoon of the same day, began with a keynote speech delivered by Professor V. Narry Kim at Seoul National University's Department of Biological Sciences followed by presentations of five promising scientists, who were selected in 2018, on their research conducted for the past three years.
The presentations on recent research findings and future research direction were delivered by Seoul National University Professor Jin-Hong Kim of Biological Sciences on 'The origin of generation signal from damaged connective tissue that specifies endogenous stem cell differentiation,' KAIST GSMSE Professor Young Seok Ju on 'Origins and functional consequences of complex genomic rearrangements in cancer cells,' Korea University Professor Jae-Sung Woo of Biological Sciences on 'Molecular structures and mechanisms of Cx43 and Cx36 gap junction channels,' KAIST Professor Inkyung Jung of Biological Sciences on 'Unraveling a principle of 3D chromatin dynamics in gene regulation,' and Yonsei University Professor Hyun Woo Park of Biochemistry on 'The Biology of Adherent-Suspension Transition.'
Director Hyunsook Lee (Professor of Biological Sciences at Seoul National University and Dean for Research Affairs) said in her congratulatory remarks, "SUHF Symposium 2021 is like the salon of biological sciences in the 21st century where scientists who move the world come together to share" and added, "I look forward to SUHF's selected promising scientists opening the history of world science beyond Korea."
SUHF is a public utility foundation established by Amorepacific Group Chairman Suh Kyungbae in 2016 with his private funds of KRW 300 billion. Under the vision of 'contributing to humanity by supporting innovative discoveries of bioscience researchers,' the foundation supports promising scientists of Korea, who pioneer new fields of research in biological sciences, every year. From 2017 to this year, SUHF selected 20 promising scientists in the field of biological sciences. Selected scientists are provided with up to KRW 500 million each year for five years. The foundation provided a total of KRW 48.5 billion in research funds to the 20 scientists until now.