Democratic Party's Carbon Neutral Special Committee Resource Circulation Division (Head of Division Eoh Kiyku) conducted an on-site visit and meeting aimed to 'promote zero-waste shops and the use of multi-use containers' on August 12 and visited Amorepacific's Amore Store Gwanggyo, which was selected as a key best practice case.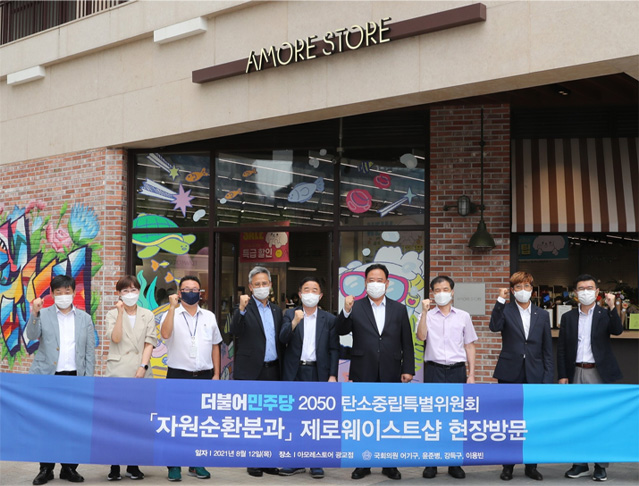 National Assembly members Kang Deukgu and Eoh Kiyku of the Resource Circulation Division as well as officials of relevant ministry, including Hong Dong-gon, Head of Resource Circulation at the Ministry of Environment, and industry members took part in the site visit.
As part of its activities to promote refills to reduce unnecessary consumption of plastic and contribute to building a circular economy, Amorepacific opened 'Refill Station,' which sells the contents of shampoo and body wash products by the unit, in Amore Store Gwanggyo in October last year.
It opened the Refill Station in line with the demand of times for refill products and a change in the method of selling products. The Refill Station is gaining positive response from customers by delivering new experience, eco-friendly value, and high-quality service.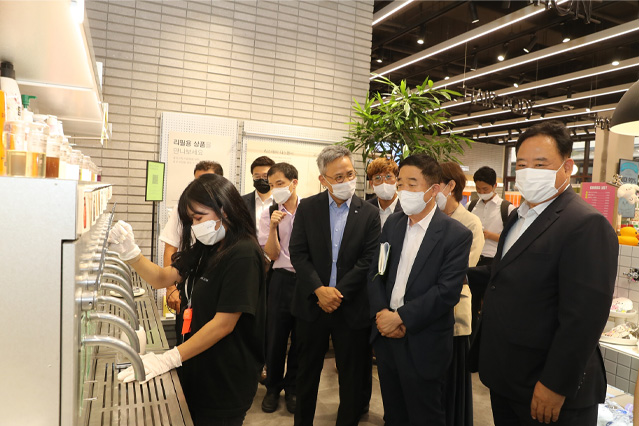 Amorepacific provided a demo of the entire process so that members who took part in the site visit can experience the Refill Station. It emphasized that the Refill Station can provide economic and eco-friendly service to customers by sterilizing coconut peel-based refill containers with LED lamp and filling up the containers with the amount of content consumers need.
Jeonghwa Oh, Senior Vice President of Sustainability Management Division, Amorepacific, said "along with refill service, we are conducting various 'Less Plastic' activities unique to Amorepacific to reduce unnecessary consumption of plastic and encourage recycling and reusing of resources" and added, "it is an honor to be selected as a best practice company for resource recycling with this on-site visit, and Amorepacific will continue to make the world more beautiful as a responsible corporate citizen."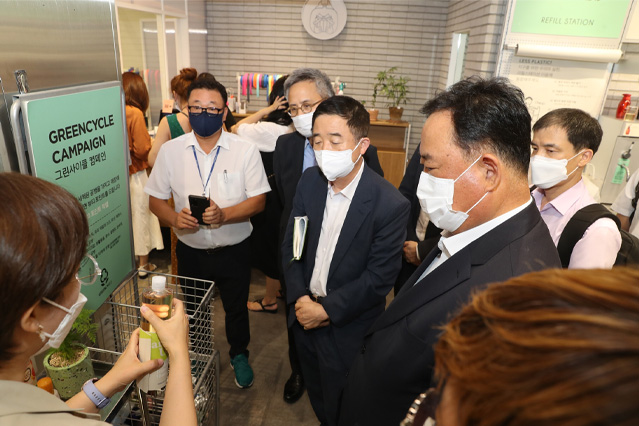 Amorepacific recently announced its 2030 A MORE Beautiful Promise, which contains five promises for sustainable management 2030. It is a commitment to continue efforts and practice with all Amorepacific members to beautify people and the world as well as a promise with stakeholders the company aims to pursue for the next decade. It sets five goals under two pillars of 'Move Forward Together with Customers and Society' and 'Coexist Responsibly with Nature.' The Refill Station as well as activities to reduce the use of plastic fall under the 'Coexist Responsibly with Nature' category, contributing to building a circular economy.
Based on this commitment, Amorepacific aims to lead solving the plastic packaging problem in the makeup industry with its '4R Strategy,' which aims to pursue Recycling (improve recyclability of packaging materials and containers), Reducing (reduce the use of oil-based plastic and unnecessary plastic), Reusing (improve reusability of plastic containers), and Reversing (increase collection rate of cosmetic bottles and improve recycling rate), and it implements various relevant activities and projects.