Amorepacific Group released its 2020 Sustainability Report 'A MORE Beautiful World,' which contains the company's sustainability management activities of 2020.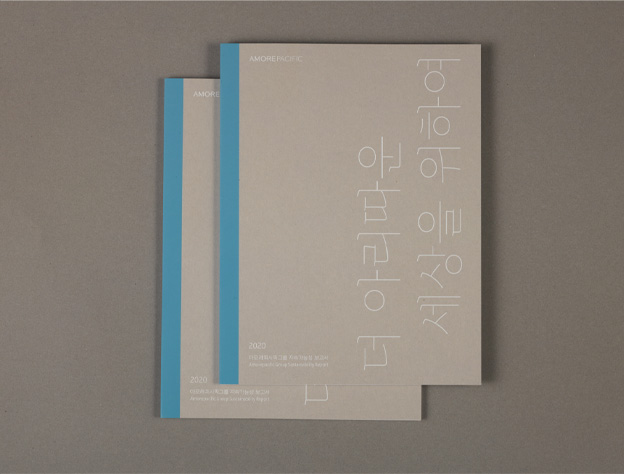 In the 2020 Sustainability Report, Amorepacific describes the activities and performance of 2020 based on the 'three pillars and eight commitments of Sustainable Operation Goals 2020 (▲ Sustainable Lifestyle ▲ Inclusive Growth ▲ Circular Economy)' declared in 2017.
Amorepacific Group achieved realizing sustainable properties in 61.1% of its new products in 2020 and reduced 304.6 tons a year in new plastics in packaging materials by using recycled or bio plastic and renewing the structures of cosmetic bottles.
Pink Run, the company's running festival to raise awareness on the importance of early detection in breast cancer, celebrated its 20th anniversary in 2020 and held Pink Run Plus, an 'untact' running event to prevent the spread of the COVID-19. Amorepacific, especially, exceeded its goal in the number of accumulated beneficiaries of its '20 by 20 Commitment,' a promise to support the health, wellbeing, economic empowerment, and financial self-reliance of 200,000 women by 2020, and recorded 508,545 in beneficiaries.
Amorepacific also implemented an 'environmental law compliance evaluation' project for the goal of pursuing shared growth with its SME partners. It provided support to key partners to evaluate their compliance to relevant environmental regulations and come up with improvement measures, which led to reducing 44% in environmental law violation risks of partners and 15% in greenhouse gas emissions in 2020.
Amorepacific Group also contributed to tackling climate change and building a circular economy through efficient use of resources, greenhouse gas emission reduction, and increasing new and renewable energy generation. The share of new and renewable energy generation, which was 0.3% in 2015, increased to 5.0% in 2020. And the basic unit of water consumption decreased by 7.6% from 8.059 tonnes per tonne of production in 2019 to 7.444 tonnes in 2020.
In addition, Amorepacific was the first company in the beauty industry to join the global renewable energy campaign 'RE100' that commits to increasing the share of renewable energy of companies to 100% by 2050. Furthermore, Amorepacific set forth a goal to achieve the RE100 objective by 2030.
The 2020 Sustainability Report contains the new long-term Sustainable Operation Goals '2030 A MORE Beautiful Promise' for the next decade. The key to the promise is five goals under two pillars of 'move forward together with customers and society' and 'coexist responsibly with nature.'
For 'move forward together with customers and society,' Amorepacific sets forth actionable goals of  instilling the values of environmental and social friendliness into 100% of new products and pursuing brand activities that encourage sustainable living for customers, and  promoting diversity and inclusion, while seeking harmonious growth with all stakeholders.
For 'coexist responsibly with nature,' the actionable goals are  achieving carbon neutrality and zero-waste-to-landfill across production sites worldwide,  reducing the use of plastics in product packaging and creating 100% reusable, recyclable, or compostable plastic packaging materials, and  investing KRW 10 billion in biodiversity conservation efforts and increasing the use of RSPO-certified palm oil to 90% or more by 2023.
Amorepacific Group's Sustainability Report 'A MORE Beautiful World' is the 13th report since it released the first-ever sustainability report in the Korean beauty industry in 2009.