Amorepacific (Chairman & CEO Suh Kyung-bae) discovered the role and epigenetic mechanism of EGR3, which regulates the formation of skin barrier, using bio big data analysis. It presented the research outcome under the title, 'Skin Barrier Formation by Epigenetic Regulation of EGR3,' at Society for Investigative Dermatology (SID) annual meeting, which was held online from May 3 to 8.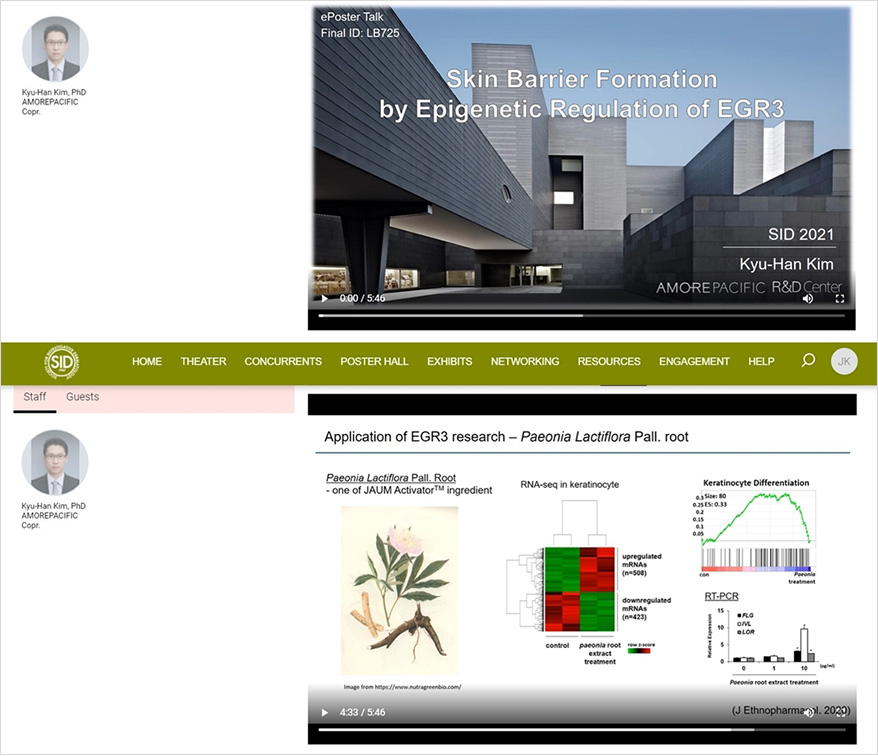 SID is the most prestigious society in the field of skin research. Amorepacific was the first cosmetics company to deliver an oral presentation at SID meeting in 2019, followed by the second presentation this year.
Skin barrier is the first line of defense that protects the body from various harmful substances in our surrounding environment. For skin barrier to form normally and function well, the role of keratinocytes in the granular layer of the epidermis, is critical. There had been many studies on the division and development process of keratinocytes, but it was not easy to find the gene that regulates it overall.
Dr. Kim Kyu-han at Sulwhasoo Heritage Science Center, Amorepacific, confirmed that the transcription factor EGR3 gene, which exists in the granular layer of the epidermis, is the gene that regulates skin barrier formation based on bio big data research. Dr. Kim observed that the expression of this gene significantly dropped in lesions such as atopic dermatitis and squamous cell carcinomas.
An observation based on reconstructed skin model showed that when EGR3's function is suppressed, it causes parakeratosis and cannot form healthy skin barrier. In addition, the study identified that EGR3 used epigenetic mechanism through an enhancer RNA in overall regulating the expression of key genes in the formation of skin barrier.
Amorepacific did not stop at revealing the role of EGR3 in skin barrier formation or identifying the epigenetic regulation mechanism. It also found that processing peony root extract selectively increased the expression of EGR3 in keratinocytes and that this strengthened the skin barrier. Furthermore, the company conducted research on materializing the ingredient for cosmetics.
Skin barrier is the foundation of healthy skin. The research bears significance in that it laid scientific grounds for relieving skin damage and manage healthy skin by identifying the ingredient that makes skin barrier healthy through selective regulation beyond just finding the gene that plays a key role in skin barrier formation and interpreting its mechanism.
Amorepacific R&D Center has been dedicated to product R&D and the development of skin science for the past seven decades. Based on the outcome of the research, the company developed a cosmetic ingredient and applied it to its product. Amorepacific will continue to study the developments in skin and skin genes with a mission to deliver health and beauty to customers and continue research that will provide better skin solutions.