Amorepacific's inner beauty solution brand VITAL BEAUTIE and wellness life brand CUBE ME obtained the 'Green Technology and Product certification (GTP-21-02299~02301, three certifications)' for products using the green technology 'Ultra-high pressure ginseng processing technology (Cheonsamhwa)'.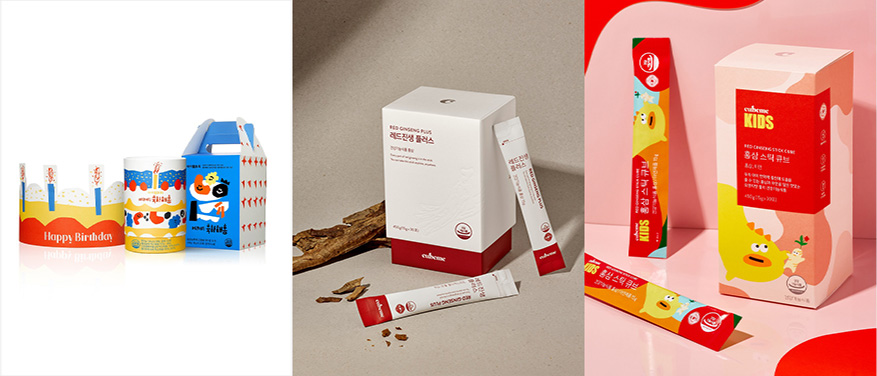 In September 2020, Amorepacific R&D Center obtained a 'Green Technology certification (GT-20-00928)' for its 'Ultra-high pressure ginseng processing technology (or Cheonsamhwa)'. The 'Green Technology and Product certification' officially certifies that the green technology has been applied to a product.
Cheonsamhwa technology, which Amorepacific obtained a green certification last year for, is a technology that processes ginseng with Ultra-high pressure, reducing ginseng processing compared to existing method. As a result, it reduces more than 10% in energy consumption and carbon emissions. In addition, the technology is eco-friendly as it effective removes soil microorganisms left on ginseng without using heat or chemical substances.
Amorepacific applied the green-certified Cheonsamhwa technology to new products of VITAL BEAUTIE and CUBE ME. VITAL BEAUTIE's product Berries and Red Ginseng for You, newly launched in May, is a red ginseng stick in the form of a birthday cake wishing for healthy congratulation. It obtained Hazard Analysis and Critical Control Point (HACCP) certification, allowing consumers to enjoy a tasty, yet healthy product. CUBE ME's Red Ginseng Plus is a stick product of liquid content that delivers energy to tired body, while boosting immunity and recovery from fatigue. CUBE ME's Red Ginseng Stick Cube is a health functional food for kids that comes in an orange-flavored jelly form in a stick to help boost the immune system and level of immunity. CUBE ME's Red Ginseng Plus and Red Ginseng Stick Cube were also recognized for their five benefits, including boosting immunity, improving fatigue, blood circulation by suppressing platelet agglutination, improving memory, and antioxidation, by the Ministry of Food and Drug Safety.
Park Chan-woong, Head of Healthcare1 Lab at R&D Center, Amorepacific, said, "obtaining the green certification is an achievement gained as the result of relentless research and development of the benefits of red ginseng to deliver healthcare solutions for healthy beauty to customers" and added, "Amorepacific will continue to identify sustainable ingredients for health functional foods by developing eco-friendly technology, and expand the scope of application to products."
'Green Certification' is a scheme certifying potential technologies or projects in accordance with the Framework Act on Low Carbon Green Growth declared in 2010. Certifications are given after the Green Certification Review Board reviews cases received by the Korea Institute for Advancement of Technology. Amorepacific obtained Green Technology and Product certifications last year as well for its technology manufacturing functional, biologically active substance from green tea byproducts and for its products applying Ultra-high pressure ginseng processing technology.