Amorepacific launched a service called 'bathbot', which makes customized bath bomb products. Bathbot service, which will be offered at Amore Store Gwanggyo in Yeongtong-gu, Suwon, Gyeonggi-do starting May 4, is a service that makes on-the-spot bath bomb products reflecting the fragrances and colors customers want.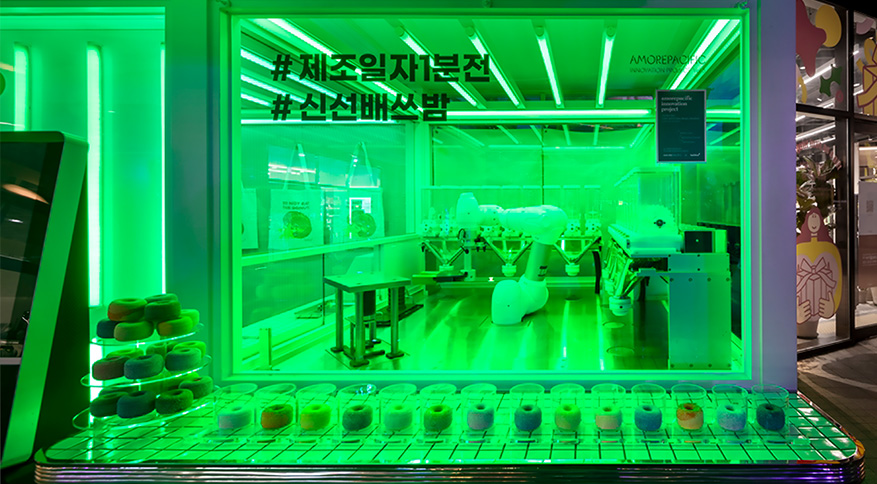 Customers who use 'bathbot' can get recommendations on 'bath bomb' they need based on a simple psychological test via a kiosk or choose the product they want. The process of making bath bomb recommendation reflects the result of a research on studying the effects of fragrances on easing the mind conducted by Amorepacific R&D Center.
Through the service, customers can choose the product they want out of 14 bath bombs with unique fragrances and colors, including Sweet Floral, Forest Herb, and Lavender Hill, and the robot makes the bath bomb product on the spot. It takes about 2 minutes to make, and customers can observe the robot making the customized bath bomb on the spot in a clean environment.
Customized bath bombs come in various shapes, colors, and fragrances, delivering both relaxation and fun during bath time. They also contain argan oil and sweet almond oil, providing moisturizing effect and energy to tired skin. The products are 9-free, excluding nine harmful substances, allowing customers with sensitive skin to use safely. And they are also eco-friendly using recycled paper as packaging material instead of plastic.
Amorepacific continues to deliver optimized solutions to customers such as customized lip products and customized foundation based on a longstanding research knowhow and development capability. It pursues to continue its effort to deliver the most perfect products and services to more customers in the future.