Amorepacific signed an investment agreement to strengthen collaboration on microbiome projects with HEM, a company that specializes in microbiome research. The investment agreement ceremony was held on April 9 with key stakeholders from both companies attending at the HEM Gwanggyo Research Center in Suwon, Gyeonggi-do.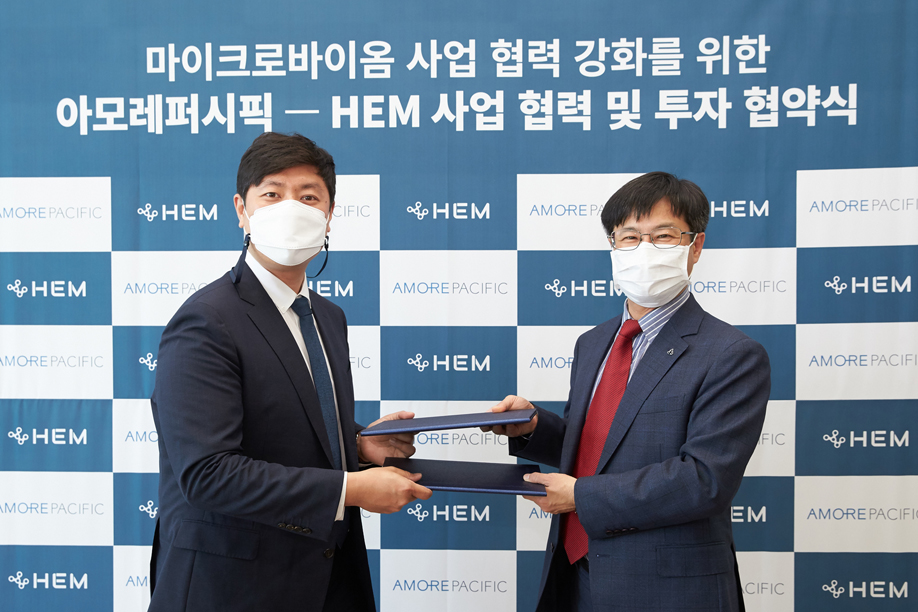 Microbiome, which refers to the microbiota that resides within the human body and its genetic data, is recently gaining special attention in the field of healthcare research, with the scope of research extending to skin microbiome. Since 1997, Amorepacific R&D Center has conducted various research at home and abroad on the properties of skin, scalp, and hair including microorganisms. In 2010, it has also solely discovered plant-based green tea probiotics (Lactobacillus plantarum APsulloc 331261) in organic green tea harvested from Jeju Dosun Tea Garden.
Amorepacific R&D Center has collaborated with HEM, a company specializing in microbiome research, in various aspects on discovering the excellent benefits of green tea probiotics. In the process, it has worked on various research projects with HEM CTO and Chairman of the International Committee on Food Microbiology and Hygiene (ICFMH), Professor Wilhelm H. Holzapfel, as well as HEM CEO Dr. Yosep Ji's research team. The investment agreement has been signed to further strengthen past collaboration and partnership. The two companies will ensure global competitiveness through Amorepacific's differentiated green tea probiotics research and development collaboration, jointly develop next-generation probiotics strains, and further strengthen collaboration in the field of skin microbiome.
Youngho Park, Executive Vice President of Amorepacific R&D Center, said, "the agreement is meaningful in that it will create synergy effect by bringing together Amorepacific's longstanding microbial research and product development capacity with HEM that is leading microbiome research" and showed commitment by saying, "Amorepacific R&D Center is dedicated to continuing to strengthen research on green tea probiotics and microbiome and developing innovative products in various areas, including health foods and cosmetics, to deliver to customers worldwide."