On Friday, April 2, Amorepacific and Hansol Paper signed an MOU on developing sustainable eco-friendly packaging and materials at Amorepacific headquarters in Yongsan-gu, Seoul.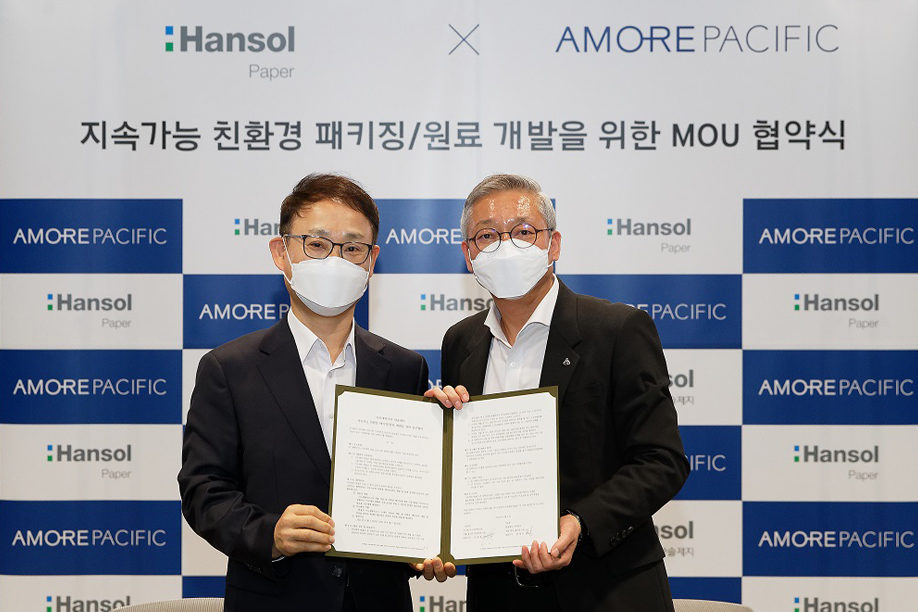 Based on the MOU, the two companies agreed to develop eco-friendly materials that can replace existing chemical-based materials and apply them to cosmetic packaging, pursuing a common goal of developing sustainable and eco-friendly alternatives. In addition, the two parties will be accelerating efforts in developing eco-friendly containers that are 100% biodegradable by using eco-friendly new materials for packaging.
Amorepacific has made efforts for a long time to replace chemical-based ingredients with natural-based ingredients. Many natural-based candidate ingredients Amorepacific reviewed failed to satisfy the company's own stringent standards in terms of stability and texture compared to existing chemical-based ingredients. Under such circumstances, meaningful achievement was gained in a preliminary joint research conducted by Amorepacific and Hansol Paper. The research confirmed that by replacing ingredients with cellulose from trees delivered high biodegradability and improved product stability and texture compared to previous natural-based ingredients. The technology that leverages the structural properties of cellulose is now one of the new material technologies gaining attention worldwide, delivering high biodegradability and hydrophilic property.
The two companies also plan to further reduce plastic use and jointly develop green packaging using eco-friendly materials. Amorepacific and Hansol Paper will be accelerating efforts to go 'plastic-free' by developing eco-friendly paper packaging that has high strength and blocks oxygen permeability by improving the durability and airtightness of existing paper containers.
The two companies have developed eco-friendly tangerine-based containers using tangerine peels of little use and applied them in cosmetic packaging. They plan to continue to pursue various joint projects as part of their effort in building a sustainable ecosystem.
Amorepacific President Ahn Sae-hong said, "we look forward to creating a synergy effect based on the eco-friendly business philosophy the two companies share," and added "Amorepacific will continue to work with Hansol Paper on studying ways to make nature and people healthy and beautiful together, leading the Environmental, Social, and Corporate Governance (ESG) management in the beauty industry."
Hansol Paper CEO Cheol Gyu Han said, "as industry leaders pioneering the era where considering the environment is essential, we look forward to both companies achieving sustainable growth by leveraging unrivaled green technologies," and added "Hansol Paper is committed to becoming a global eco-friendly materials company that delivers new values with best-in-class technologies."
The plastic problem is one of the most urgent and grave environmental issues that must be resolved globally today in 2021. Amorepacific actively joins efforts to resolve the plastic issue as a responsible corporate citizen. Along with the MOU with Hansol Paper, Amorepacific plans to unveil products that apply eco-friendly paper tubes developed based on joint R&D effort with partners such as Bookuk T&C and Standpack.