Amorepacific R&D Center published a research that green tea prevents fine dust from being absorbed in the body, while contributing to respiratory health. The paper, which identified and proved the effect and mechanism of green tea ingredients, was published on January 26 on the online edition of Scientific Reports, an international journal by the science journal Nature. (Paper Title: Application of green tea catechins, polysaccharides, and flavonol prevent fine dust induced bronchial damage by modulating inflammation and airway cilia)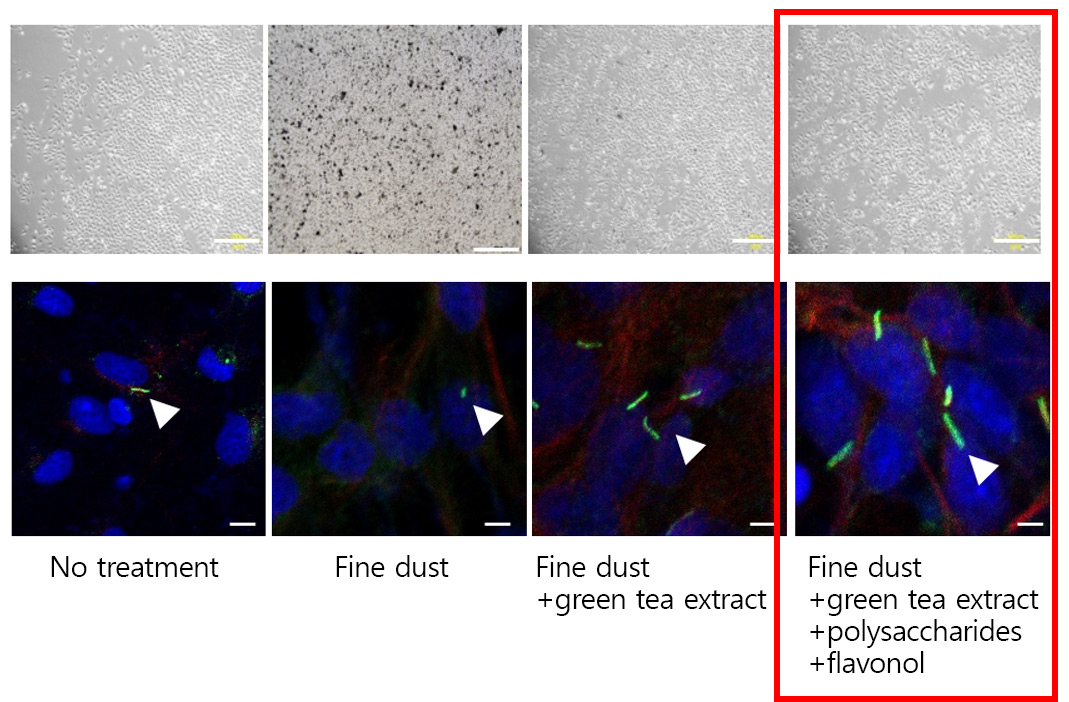 ▲Attached image explanation:
Fine dust absorption test result (above),
Lung cilia activation test result (below).
Cells exposed to fine dust + green tea extract + polysaccharides + flavonol (red box) showed reduced absorption of fine dust (above), and increased length and number of cilia (green) (below).
Dr. Kim Jue-won at Amorepacific R&D Center studied the effect green tea has on releasing fine dust. As a result, the research confirmed the anti-fine dust effect of green tea's catechins, polysaccharides, and flavonol.
A test of human bronchial tube cells showed that these ingredients significantly reduced the amount of fine dust absorbed into bronchial cells. This prevents fine dust from being absorbed into the body, and when the three ingredients were used together, their effect on preventing fine dust became more significant. The study also proved that the ingredients increased the amount and size of cilia, which filter external pollutants in the lung, contributing to respiratory health. The research findings will be applied to VITAL BEAUTIE's health functional products.
Head of Amorepacific R&D Center Park Young-ho said, "We were able to scientifically identify green tea's contribution to respiratory health through a meaningful research as we face more and more harmful elements that threaten our health such as fine dust" and added his commitment saying, "Amorepacific R&D Center will continue innovative research for the health and beauty of customers.
Amorepacific R&D Center's Green Tea Research Center has been studying green tea since the 1980s based on various cultivation and technology knowhows. In addition, Anti-Pollution Research Center has continued research on harmful environment such as air pollution or fine dust since 2007.