Amorepacific received the 2020 H2 Patent Technology Award, Chungmugong Award, for its patent on 'A cosmetic composition comprising an antioxidant' (patent registration no. 10-2008275). The awards ceremony was held as an 'untact' online ceremony on December 18 via video conferencing app, Zoom, as a way to prevent the spread of COVID-19.
With the recent growth of the dermocosmetics market, there is an increasing demand for safe, highly effective products. There is an increasing credibility around vitamin C among such highly effective ingredients, used and proven by experts including dermatologists. However, there has been issues regarding highly concentrated vitamin products such as skin irritation or precipitation. Amorepacific successfully developed and launched a highly concentrated vitamin C product with world-class oxidation stability by solving this issue in an innovative way.
Amorepacific R&D Center's patent on 'A cosmetic composition comprising an antioxidant' registered in 2019 is an invention of the technology that significantly enhances the oxidation stability of the unstable pure vitamin C by blocking exposure to outside oxygen. The patent was applied to IOPE The Vitamin C23 and IOPE A.C.E. Vitamin C25 launched in October 2019 and was proven for its effects, including improved glowing skin, improved skin resilience, and improved wrinkles, through clinical tests.
The pH level and temperature as well as dissolved oxygen play a key role in ensuring the stability of vitamin C. Amorepacific R&D Center focused on this and blocked exposure to outside air, developing a technology that significantly enhanced the oxidation stability of the unstable pure vitamin C. In addition, it applied a swift re-separating technology of the oil layer considering the actual environment in which the product is used. The vitamin C ampoule that applied this invention delivered outstanding oxidation stability as well as low skin irritation and recorded an accumulated sales of KRW 5.2 billion, 300,000 units sold, and 6 beauty magazine awards, solidifying its position as a product loved by many customers.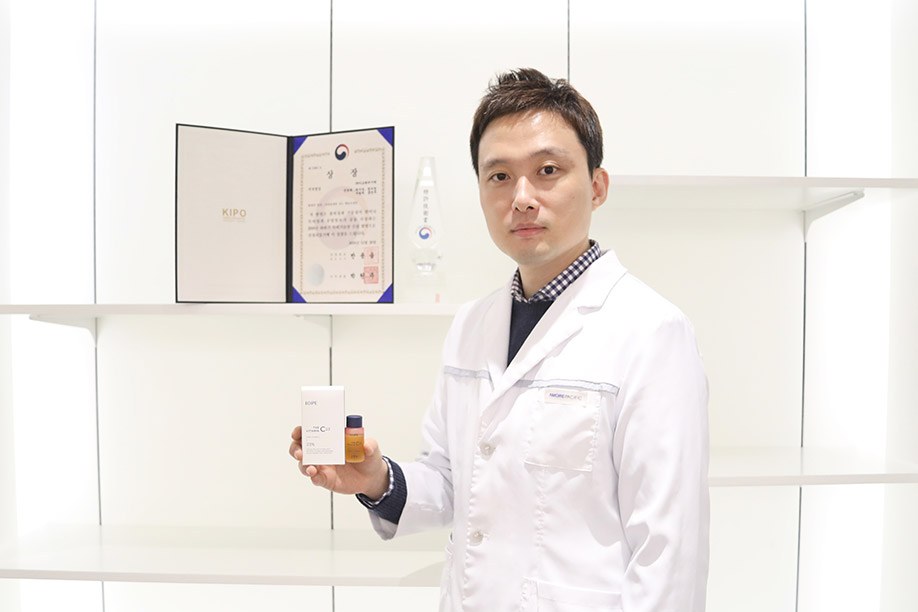 Head of Skin Care Research Division at Amorepacific R&D Center Brian Suh said, "The Patent Technology Award has significance as it is a recognition of our longstanding research on 'super divide' technology and effort in innovation and invention to further develop our dermocosmetics category" and added, "Amorepacific R&D Center will continue to pursue innovative research and technology development to deliver the first and the best products to customers worldwide based on our creative craftsmanship."
The Patent Technology Award was established in 1992 to create a nationwide environment encouraging innovation and invention to enhance technology competitiveness of industries and contribute to national economy. It selects and awards outstanding patents applied for and registered in Korea twice every year.