Amorepacific Foundation (Chairman Lim Hui-taek) selected researchers Choi Seung-rak(Ph.D. in philosophy, Korea University) and Park Mi-ran (Ph.D. in Korean language and literature, Seoul National University) as 'Jangwon Humanities Scholars' 2020 and held a ceremony awarding research funding certificates at the Amorepacific headquarters on Wednesday, December 9.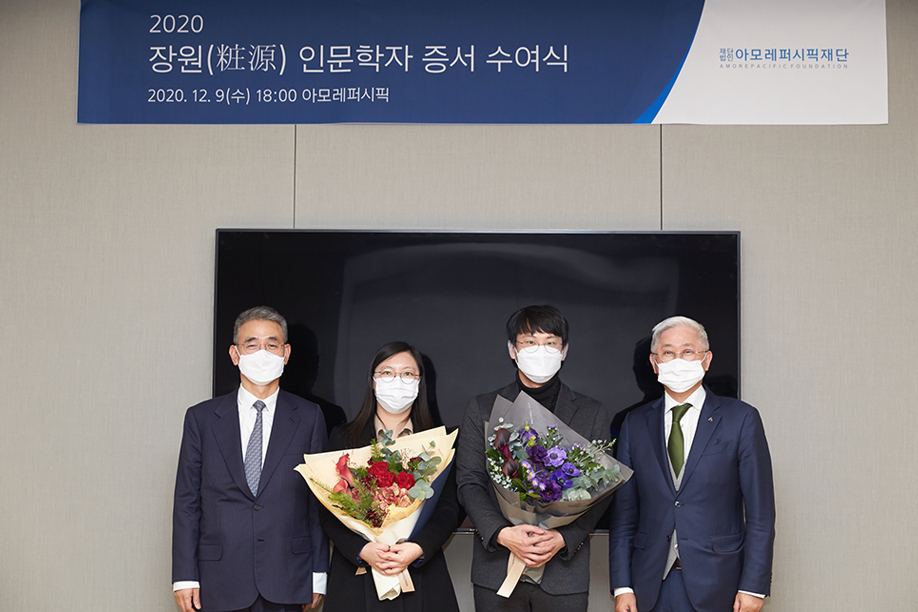 Amorepacific Group Chairman & CEO Suh Kyung-bae and directors of Amorepacific Foundation attended the certificate awarding ceremony, while Chairman Lim Hui-taek presented the certificates to the selected researchers of 2020.
Amorepacific Foundation received around 250 applications of participating researchers through an open call for Jangwon Humanities Scholars project in July 2020 and selected the final two researchers through eligibility evaluation (August to September), application review (October), and interview (November) by a planning committee comprised of scholars of humanities.
Amorepacific Foundation will be providing a research funding of KRW 3 million every month for the next 3 years to both researcher Choi Seung-rak(logic and logical philosophy) and researcher Park Mi-ran (Korean literature and theater) who were assessed to have great potential in contributing to academia by proposing a creative and new approach in their respective field of research.
In his welcoming remarks, Chairman Lim Hui-taek said, "The humanities, which is a field that cannot be measured against quantitative evaluation or draw short-term achievement, require a long-term interest and investment" and added "starting this year, we are especially committed to creating an environment where more humanities scholars can focus on research."
Jangwon Humanities Scholars project was named after the pen name 'Jangwon' of Amorepacific founder Suh Sung-whan who emphasized the importance of supporting basic studies and nurturing talent. There are no requirements for research achievements such as publishing a paper or book, and the selected researchers are free to decide the theme of research and conduct research during set period.
This is the first support by the private sector provided on the basis of not the result or outcome, but only the researcher's potential. The support has meaning in that it provides the opportunity to fully study the field or theme researchers wish to pursue during the time when their commitment and dedication toward research is the highest (researchers within 5 years since obtaining a Ph.D. in the humanities).