On Tuesday, November 17, Amorepacific Group's innisfree Moeum Foundation (Chairman Lee Jin-ho) selected Professor Hyun Hae-nam of Jeju National University as the winner of the '2020 Jeju Heritage Science Award' and delivered a plaque along with KRW 5 million in prize.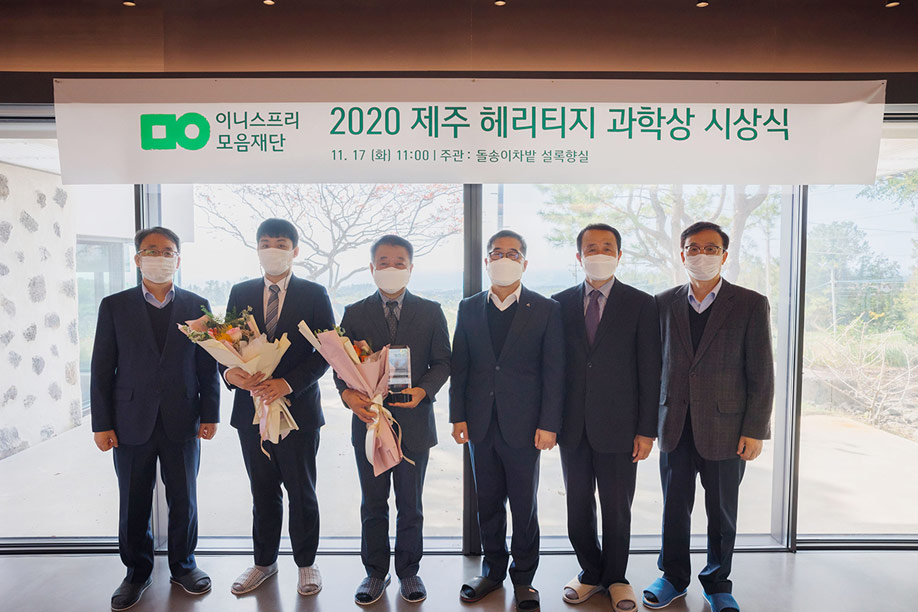 The 'Jeju Heritage Science Award' carries on Amorepacific founder Jangwon Suh Sung-whan's spirit and love for Jeju and is given to scientists who protect and heightens Jeju's valuable heritage in recognition of their effort. This year's awards ceremony took place at the 'Sullochyang room' at Dosun Tea Garden in Dosun-dong, Seogwipo-si, Jeju, where Amorepacific first cultivated its Jeju green tea and added more meaning to the award.
Awardee Professor Hyun Hae-nam worked at the Department of Biological Industry, College of Applied Life Sciences, Jeju National University for some 30 years, studying and identifying the characteristics of Jeju's volcanic ash soil. His key research achievements include the silicon (Si) specificity of volcanic ash soil and its relations to underground water, specificity of soil organic matter, and crop absorption of soil heavy metals using sequential extraction. In addition, he conducts agricultural education every year for about 10,000 farmers and is active in resolving the challenges of farmers such as by managing Naver Band called 'Story of Soil, Fertilizer, and Insects'.
At the awards ceremony, innisfree Moeum Foundation Chairman Lee Jin-ho said, "We recognize the distinguished service of Professor Hyun Hae-nam in his contribution to preserving the value of Jeju soil and enhancing the knowledge of farmers" and added "we look forward to his contribution to Jeju's high-quality agricultural production through continued soil research and educational activities."
Professor Hyun Hae-nam, in his acceptance speech, said "I will make further effort to deliver the most objective knowledge and technologies to farmers."
innisfree Moeum Foundation is a public foundation established in 2015 through a donation agreement of a total of KRW 10 billion over 5 years by Amorepacific Group's affiliated company innisfree. The foundation implements various public services to nurture and share Jeju's nature, culture, and talents, continuing various projects that 'add more value to Jeju'.