Amorepacific R&D Center took part in the 2020 KSID e-SYMPOSIUM hosted by The Korean Society for Investigative Dermatology (KSID) on October 30 and 31 and sponsored a symposium held under the theme of 'microbiome'.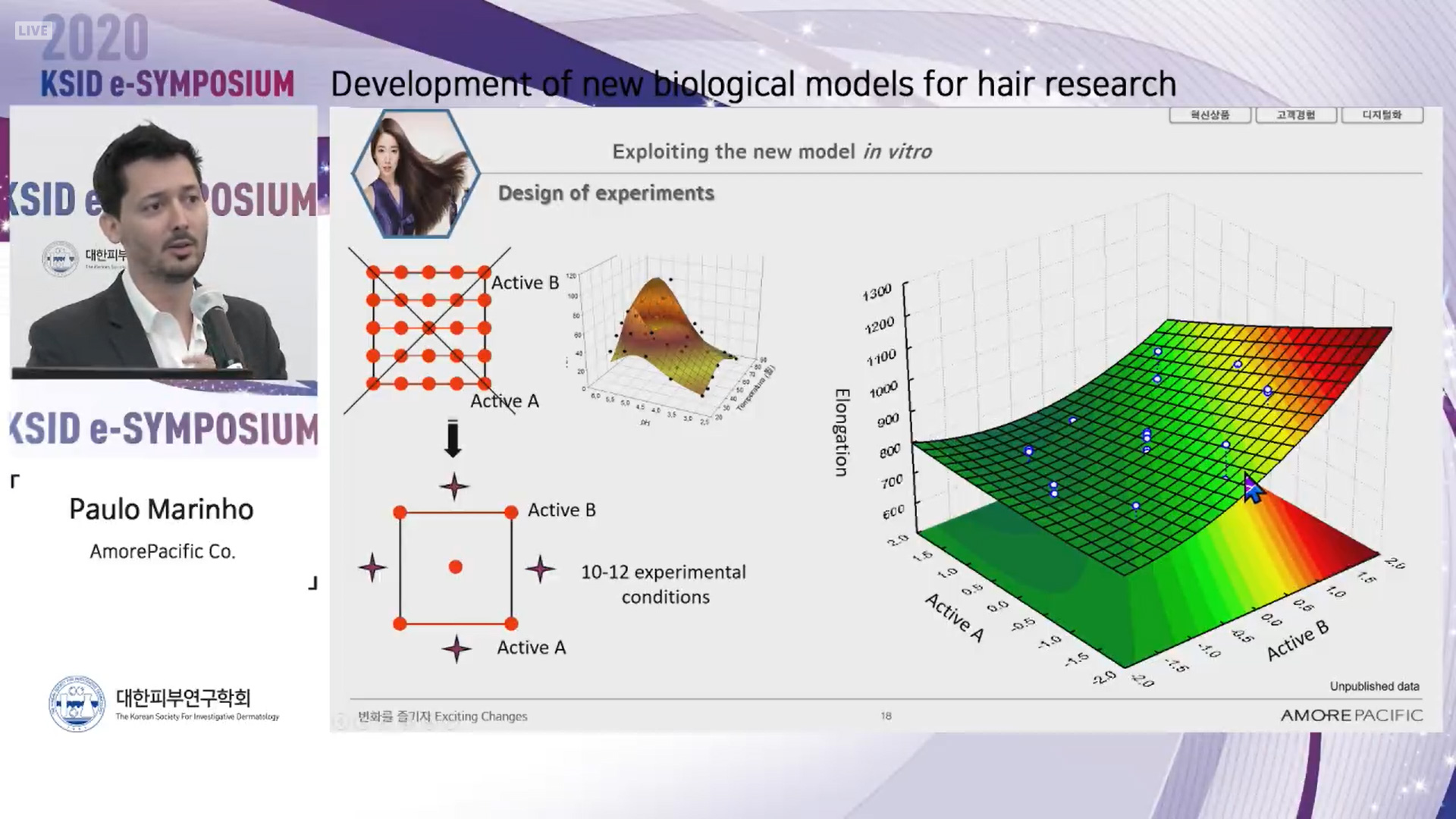 Microbiome, which refers to the microbiota that resides on or within the human body and their genetic data, is becoming an important trend in the beauty industry as well as the self-care industry. Microbiome research related to skin, especially, is a new area that has not been well-known before. Amorepacific conducts in-depth research on biomarkers or parameters that can help us further understand the science of skin. As we understand the microbial ecosystem that lives in the human body through microbiome research, the paradigm of the way we look at microorganisms is changing.
At the symposium held on the 31st, Amorepacific invited experts in microbiome research in Korea to share recent research trends and hold engaging discussions. Yonsei University Professor Yoon Sang-sun delivered a presentation on 'commensal-pathogen interactions in host tissues', while University of Ulsan Professor Lee So-yeon presented on 'What's the link between gut microbiota and allergic diseases?' Dr. An Su-sun at Amorepacific R&D Center's Safety & Microbiology Lab discussed 'Skin microbiome: application in cosmetics & future of customized cosmetics.' By introducing Amorepacific's research on the characteristics of microbiome per scalp conditions, age, and environment, as well as research on the changes of microbiome following product use, we confirmed the potential of microbiome as a new future customized cosmetic theme.
Amorepacific also took part in 'Hair' and 'Inflammaging' sessions of the 2020 KSID e-SYMPOSIUM and shared research findings and discussed new values. Dr. Paulo Marinho at R&D Center's Basic Research & Innovation Research Lab delivered a presentation on 'Development of new biological models for hair research' at the 'Hair' session. By developing new biological models for hair and proving the benefits of preventing hair loss of materials derived from ginseng using new models, the research proved that animal testing and trials using human tissue can be replaced even in hair research. Dr. Kim Ju-won at R&D Center's Basic Research & Innovation Research Lab discussed 'Role of longevity genes in skin aging: application of natural phytochemical' at the 'Inflammaging' session. The research investigated the impact of longevity genes on anti-skin aging and pigmentation due to aging. This proved the benefits of the functional ingredients contained in the brown pine leaves used in Sulwhasoo's Timetreasure line.
Head of Amorepacific R&D Center Park Young-ho said, "Amorepacific continues to announce leading research findings in microbiome, longevity genes, reconstructed skin areas, which are categorized as cutting-edge technology in the research areas of beauty and skin" and showed his commitment saying, "R&D Center will continue to develop products that protect the skin health of customers worldwide based on leading research in skin and bio areas."
The event, which was held as a webinar (online conference), was attended by experts in skin science research in Korea who presented on various themes. The conference also invited experts from Japan, Mainland China, and Taiwan to deliver special lectures and held real time Q&As and open discussions using ZOOM.