On Friday, October 16, Amorepacific (President Ahn Sae-hong) signed a shared growth agreement with nationwide ARITAUM Managers Association (President Nam Hyo-cheol) and nationwide ARITAUM Owners Association (President Kim Ik-su), which are associations of ARITAUM stores.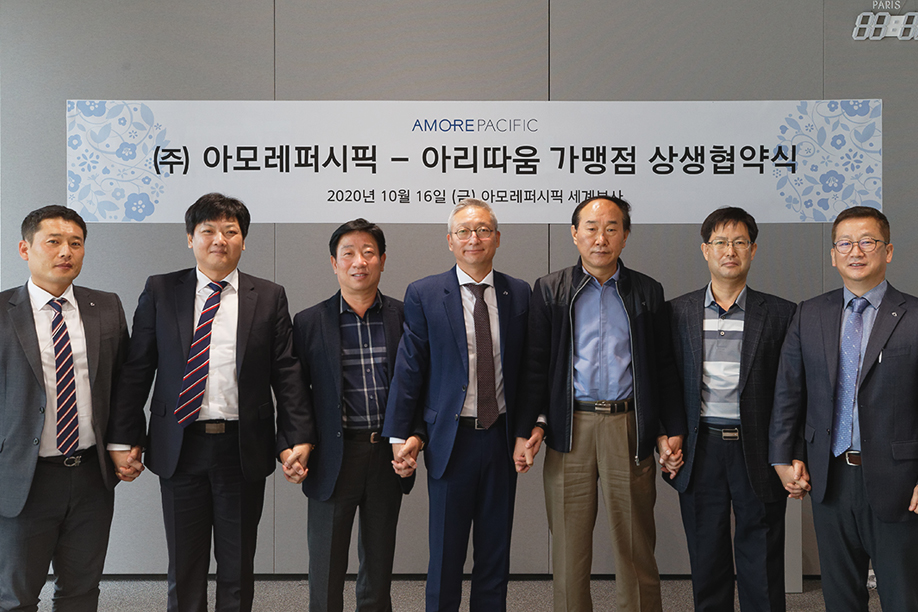 At the agreement ceremony held at the headquarters of Amorepacific, three parties – the stores headquarters, nationwide ARITAUM Managers Association, and nationwide ARITAUM Owners Association – agreed on 7 action plans including a support of KRW 6 billion in funds and committed to faithful fulfilment and shared growth efforts.
Key details of the agreement include special rent support for each store, special return of inventory, eased burden on store closures, expanded exclusive products, and increased online mall revenue sharing.
Specifically, the stores headquarters will provide rent support to stores and receive special return of inventory products by this year in support of the stores overcoming the crisis triggered by COVID-19. For any stores that close down by the first quarter next year, stores are exempt from returning the support fund provided for interior design and can return all remaining products, which is equivalent to a support of KRW 6 billion in total.
In the mid-to-long term perspective in enhancing stores' competitiveness, products exclusive to ARITAUM stores, which currently accounts for 20% of sales, will be expanded to 50%. The ARITAUM Mall 'My Store' scheme, which partially shares the sales of online mall, will be adjusted to increase the share of revenue given to store owners.
Amorepacific President Ahn Sae-hong said, "Our franchise business is struggling due to the spread of COVID-19, but our stores are our important channel and partner" and added, "we will build a strong shared growth partnership and fulfill our role and responsibility as stores headquarters to contribute to creating a shared growth culture in the cosmetics industry."
In addition to the agreement with ARITAUM, Amorepacific Group is preparing to sign shared growth agreements with store owner associations of innisfree and ETUDE. In the first half of this year, Amorepacific provided KRW 7 billion in support to the three associations of stores and is planning to extend more support amounting to KRW 10 billion in the second half.