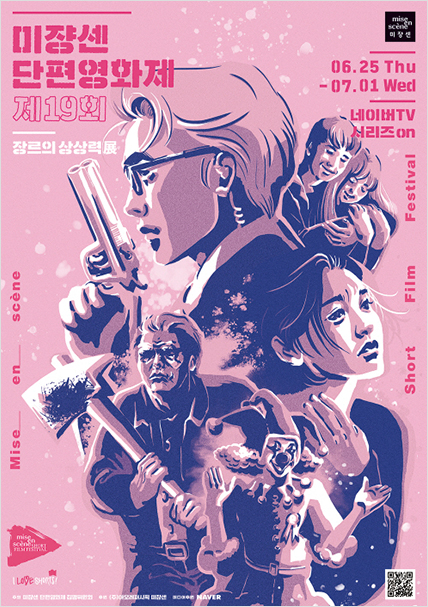 One of key mecenat activities of Amorepacific, mise-en-scène Short Film Festival (MSFF), will be held for 7 days from June 25 (Thursday) as an online film festival.
All programs held until the closing ceremony on July 1 (Wednesday) will be available to viewers through Naver TV's mise-en-scène Short Film Festival (MSFF) channel. Also, out of the nominated films of this year, 55 films will be released as paid content via Naver Series on, with the consent of directors.
MSFF, which celebrates its 19th anniversary this year, first began with the goal to expand the base of short films, which are the foundation of the Korean film industry, and to identify talented up and coming film directors. Under Amorepacific's unique sponsorship principle 'sponsor, but don't interfere', MSFF has become the core of true culture management.
Generally, corporate sponsorship activities in culture tend to focus on the blockbuster 'mainstream' areas. Amorepacific, however, has continuously sponsored short films, which is an area that receives less attention, building the foundation of the development of Korean film industry.
Star film directors of Korea, including Kim Han-min of 'The Admiral: Roaring Currents', Na Hong-jin of 'The Wailing', and Yoon Jong-bin of 'Nameless Gangster: Rules of the Time', debuted through MSFF. New actors and actresses, including Ryu Hye-young, Ahn Jae-hong, Choi Woo-shik, and Han Ye-ri, also debuted through MSFF.
Directors who debuted through MSFF take part in the festival again as judges. By creating a virtuous circle of previous members identifying the next generation of up and coming directors, MSFF provides a refreshing vitality and energy to the Korean film industry.
This year, Lee Kyoung-mi (winner of Best Film 2004), director of 'Crush and Blush' and 'The Truth Beneath' and Jang Jae-hyun (winner of Best Film 2014), director of 'The Priests' and 'Svaha: The Sixth Finger', will overlook the festival as Festival Directors. Won Shin-yun, director of 'Battle of Fengwudong', 'Memoir of a Murderer' and 'The Suspect', will be leading the selection of winning films as the Chairman of the screening committee.
Director Bong Joon-ho, who amazed the world in 2019 with his film 'Parasite', will also take part in MSFF as honorary committee member, reaffirming the prestige of MSFF, which aims to become the foundation of Korean film industry.
Actors and actresses representing Korea will also be taking part in the festival as honorary judges. This year, Lee Ji-eun (IU), Oh Jung-se, Im Yoon-ah (Yoona), Lee Jeong-eun, and Lee Je-hoon will be participating as honorary judges.
The competition program of MSFF has a total of five categories – A City of Sadness, A Short Film About Love, The King of Comedy, The Extreme Nightmare, and The 40000 Blows. Five Best Film Awards, one of each category, are chosen.
The names of each section were selected by renowned directors of the film industry. Director Park Chan-wook borrowed from director Hou Hsiao-hsien's 'A City of Sadness' to name the section of films that cover social perspectives, while directors Hur Jin-ho and Kim Dae-seung chose director Krzysztof Kieślowski's 'A Short Film About Love' for the name of the melodrama category. Director Bong Joon-ho borrowed director Stephen Chow's 'King of Comedy' for the comedies, while directors Kim Jee-woon and Jang Joon-hwan chose for horror and fantasy films the name 'The Extreme Nightmare'. Lastly, directors Kim Sung-soo and Ryu Seung-wan named the action and thriller category 'The 40000 Blows', a variation of director François Truffaut's 'The 400 Blows'.
The Grand Prize is only chosen with the unanimous vote of the entire panel of judges, and there were only 4 films that won the Grand Prize over the past 18 festivals.
Amorepacific plans to continue to sponsor and support the less popular genre of short films in support of identifying directors, actors/actresses, and films of unique personality. Find more information on the 19th mise-en-scène Short Film Festival, which delivers a wave of refreshing energy to the Korean film industry, on MSFF website (www.msff.or.kr) and Naver TV channel (https://tv.naver.com/msff).