Amorepacific Group (Chairman & CEO Suh Kyungbae) shared a meaningful time declaring and sharing a new set of principles of conduct, 'ABC Spirit', for all members across the world to practice together in face of the changing times.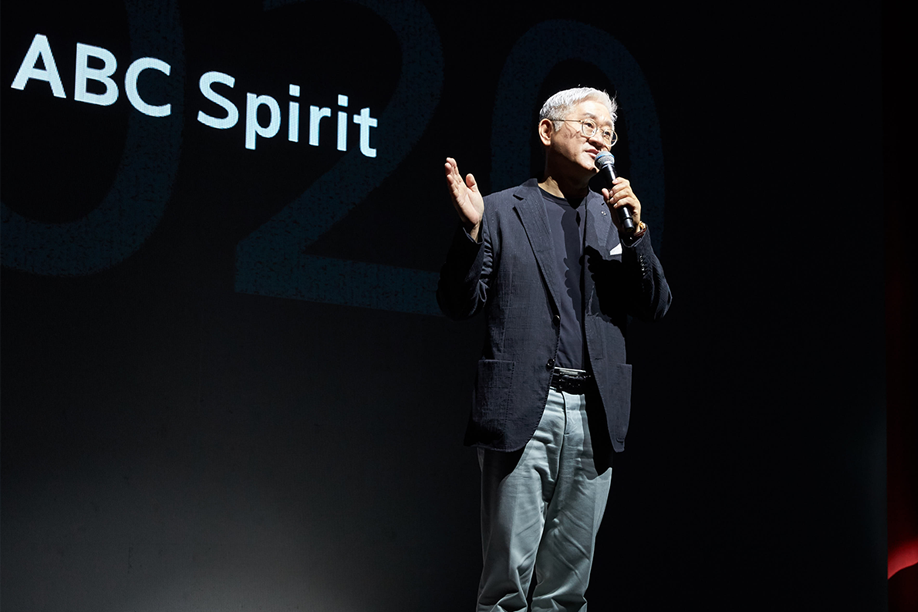 On the morning of June 1 (Mon), a declaration ceremony of ABC Spirit was held at the headquarters of Amorepacific. First, Chairman & CEO Suh Kyungbae greeted the members of overseas offices and members in Korea who took part in the ceremony online (YouTube Live). He delivered his greetings calmly and said, "We are committed to overcoming the times of change with an utmost priority on the health and safety of all of our members. The five principles we announce today, which have been deliberated on together for a long time, will shine a light on the direction we must head towards together as members of Amorepacific Group regardless of what we do, where we are, and who we work with. Let's make the principles come to life by practicing them together wherever we are."
Amorepacific Group's new principles of conduct announced at the ceremony are as follows.
[Amorepacific Group Principles of Conduct, ABC Spirit]
- Customers first
- Be the first and the best
- Collaborate with an open mind
- Respect differences
- Act with integrity
Each principle of conduct was announced with actual experiences members had. Members deeply related to the principles as they were delivered in a storytelling method of presentation on stage by a frontline staff who meet with customers, researcher, marketer, from overseas office (online video), and member of management .
Amorepacific Group President Bae Donghyun who presented the fifth principle, 'Act with integrity', said, "The first thing I thought of as I prepared for the presentation was in 1993 when we declared the Total Commitment Initiative. It was a bold declaration at that time as it was 'a commitment that the company and all its members will take full responsibility until our customers are happy. We also had a campaign that even exchanged cosmetics that were used. This was a commitment of sincerity to make our customers more beautiful rather than simply trying to sell more products to gain profit." President Bae commemorated founder Suh Sungwhan's message of 'a company only strives if its members are sincere' and shared stories of the 'Pacific Group' days with sincerity.
In the last presentation that followed delivered by Amorepacific President Ahn Saehong, he said, "Our vocation is 'We make A MORE beautiful world'. Amorepacific Group reaffirmed its priority of 'customers first' as the first principle that will never waver even in times of change. We exist for our customers and we must be the first and the best to make our customers happy. Being the first and the best cannot be done alone. We must collaborate with a strong respect towards each other beyond generation and gender as we recognize and respect differences. And we must pledge to start with the small things with sincerity in our honest efforts and actions." President Ahn introduced the systems and programs that will be adopted in line with ABC Spirit.
As the entire member of Amorepacific Group came together to look back on the company's management philosophy at a challenging and important turning point, the Group now prepares to take a new leap by declaring the new five principles of conduct – ABC Spirit.