On March 31, Amorepacific officially launched its new luxury skincare brand, SIENU, through Lotte Duty Free.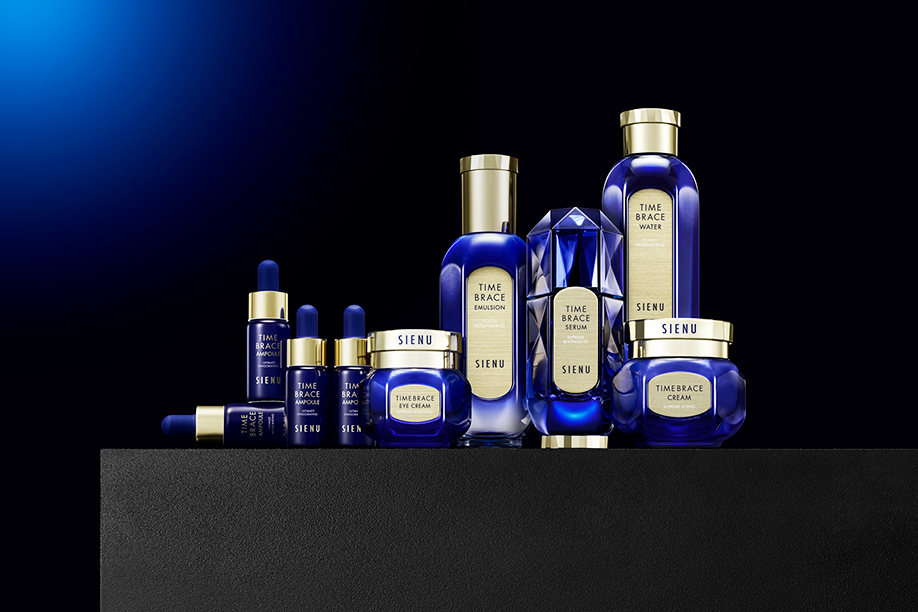 SIENU means 'the pinnacle of art that transcends time', holding a sentimental value of delivering anti-aging benefits that turn back the clock on aging skin. The brand focused on Asia's rare and precious plants and jewels with proven skin benefits and combined Amorepacific's exclusive technology to those materials to deliver products with the best anti-aging benefits.
The Time Brace line, unveiled along with the launch of the brand, comes in a total of six items – skin refiner, emulsion, serum, eye cream, cream, and ampoule. It contains plant-derived ingredients with skin improving benefits, such as pomegranate and lingzhi mushroom, as well as jewel components, including diamond and gold.
The innovative anti-aging technology, EpiactiveTM, was applied to the Time Brace line to deliver the benefits of the rare ingredients deep into the skin. The technology is a technology that combines Amorepacific's patented ingredient Geminoid, cutting-edge bioingredients that have anti-aging benefits and help strengthen the skin barrier and elasticity such as peptide and bifida ferment, as well as ingredients with skin-improving benefits found in plants and jewels.
The main product, Time Brace Serum, contains diamond components processed with advanced technology by a master craftsman, adding glow to the skin, while the vitality of the selected rare lingzhi mushroom strengthens skin firmness, delivering strong and tight skin. EpiactiveTM technology is applied, improving 8 skin aging indicators of moisture, density, clarity, glow, firmness, texture, wrinkles and moisture loss.
Time Brace Eye Cream contains matrimony vine, which improves skin elasticity, and pearl components that deliver nutrients to the skin, improving aged skin around the eyes and treating dark circles to bring back vitality and firmness.
A member of SIENU said, "We focused on the increasing customer needs for luxury anti-aging skincare and created a customized new brand" and added, "we are currently collaborating with Korean influencers, China's popular wanghong, celebrities and jewel designers, as we plan to continue many activities that will unveil the world of SIENU brand and its products."
SIENU plans to extend offering its limited-edition set, which gained huge response at the pop-up store at Lotte Duty Free Myeongdong Main Store opened for two months since January 31. The limited set that gained positive response from both local and foreign customers at the brand's pop-up store is a luxurious three-piece set of the Time Brace Serum, Eye Cream, and Cream as well as a one-carat sapphire necklace that symbolizes the rare value of the brand.
SIENU Time Brace line is available at the official store, Lotte Duty Free Myeongdong Main Store, as well as Amore Store on the 2nd floor of Amorepacific headquarters, Amore Seongsu, and through online Amorepacific Mall and Lotte Online Duty Free.