Amorepacific unveiled the cutting-edge innovative technology of Korea's beauty industry combined with IT at Consumer Electronics Show 2020 (CES 2020), the world's largest consumer electronics and technology show, held in Las Vegas, Nevada.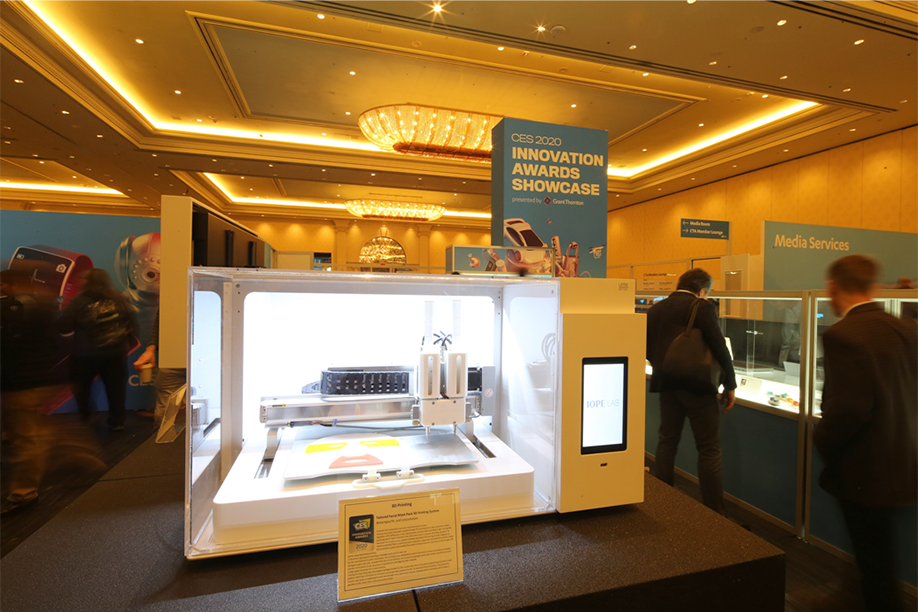 Amorepacific displayed its 'Tailored 3D Mask' in the Innovation Award Honoree showcase in Venetian Ballroom, CES Tech West. Here, the company also caught the eyes of visitors, unveiling other Innovation Award Honorees (cutting-edge technology and devices) of various fields such as 3D printing, AI, smart home, VR/AR, and IoT.
From January 7 to 10 (local time), Amorepacific provided a product experience zone at the Venetian for visitors to try the 3D-printed tailored mask pack and the Flexible LED Patch (tentative name). The Tailored Mask Pack 3D Printing System unveiled here is a technology that prints a personalized hydrogel mask pack that caters to individual facial features and skin conditions. Visitors, who experienced the service of receiving a personalized mask they can use right away that was made in less than 5 minutes after being designed on the spot, said "it was great to have the opportunity to experience a tailored mask pack made on spot just for me using cutting-edge technology." The service, established to offer personalized solutions through six different types of prescription for five facial areas, will be available in April this year at Iope's flagship store.
With regards to the (tentatively named) Flexible LED Patch unveiled for the first time to the public at CES 2020, visitors showed positive response saying, "it was a good opportunity to experience the beauty device that caters to individual skin concerns of different areas. The device is light and frees up the hands, making it convenient to use." The Flexible LED Patch (tentative name) is a flexible patch-type LED beauty device that fits close to the skin. It is a close-fitting programed LED patch designed with the concept to erase the traces of wrinkles formed around the facial expression areas through intensive care. It utilizes the flexibility of the material to deliver LED light directly on the skin. This allows a tailored and intensive care that caters to the skin concerns such as firmness, tone up and skin-soothing delivered to the deepest parts of the skin.
Park Wonseok, Head of the Basic Research & Innovation Lab at Amorepacific's R&D Center, said during a press conference on site, "We are dedicated to delivering the innovative solutions in the beauty industry combined with IT technology Amorepacific presented at CES 2020 to all of our customers across the world."
Around 4,500 companies and 180,000 visitors attended this year's CES from 161 countries. 390 Korean companies also took part, showcasing various innovative new technologies of different fields.