Amorepacific Group (Chairman & CEO Suh Kyung-bae) reaffirmed his commitment to continue the journey with members, setting the management policy for the Year of the Rat 2020 as 'Exciting Changes'.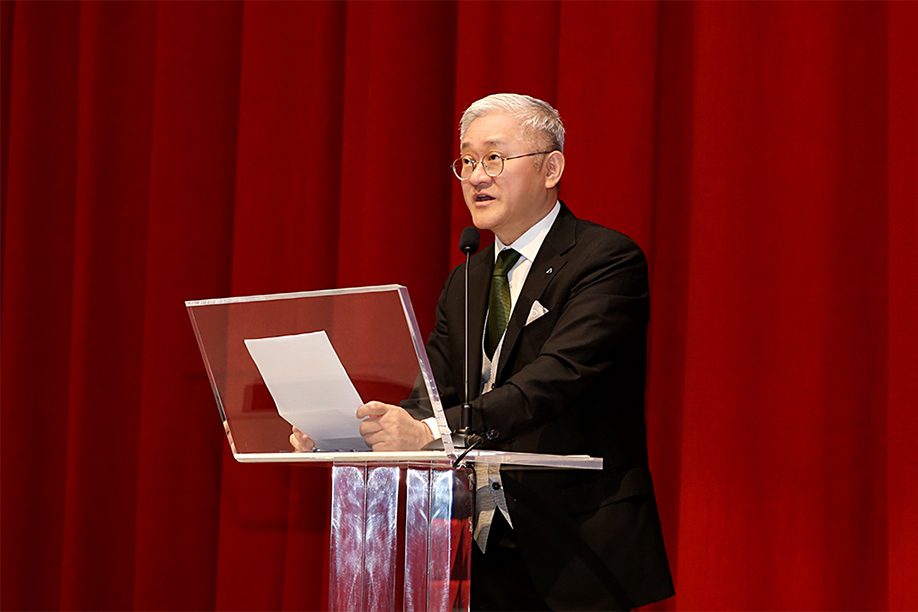 Amorepacific Group held its kick-off meeting for the year 2020 on the morning of Thursday, January 2, at the company's headquarters. Chairman & CEO Suh Kyung-bae said, in his New Year's address, "Let's continue to enjoy exciting changes and innovate by making big and small new changes for our customers in the year 2020 as well. Also, let us reaffirm our commitment to our 'customer-centric' principle as our unwavering value of the highest priority even in the face of a changing environment."
He then went on to add, "We must place customers at the center of all our thoughts and actions. All members must try new things from the smallest of actions one can make in an environment of deep respect towards one another regardless of age or gender" and emphasized that "through this, let's make this year a year of enjoying the journey of changing the world through beauty and making our customers and markets excited."
This year, Amorepacific Group plans to drive and pursue its management objectives and vision by focusing on core strategies including strengthening brand competitiveness, customer experience and realizing omni-digital loop.
First, the Group is committed to 'strengthening brand competitiveness'. The core to strengthening brand competitiveness is 'innovative products' and Amorepacific Group will aim to deliver products that are differentiated from others, excite the hearts of consumers and establish an unrivaled brand position through a unique story that reflects the spirit of times. The Group's objective is to provide a unique value for an appealing and special shopping experience amid an increasing competition among countless brands in a sea of pouring information and content as well as continuously changing customer needs.
Second, the Group will establish a channel strategy in line with the new distribution environment by trying out new experiments in order to 'strengthen customer experience'. It plans to provide shopping contents that cater to different characteristics and preferences by studying data secured over a long time, recognizing that the elements that excite customers are all different. Amorepacific Group is committed to delivering a differentiated and personalized experience unique to Amorepacific for today's customers who also play the role as creative producers and embed a value of a new lifestyle in the customer experience it delivers with a deep understanding of 'happiness' different customers desire.
Third, the Group will accelerate company-wide digitalization efforts in order to realize an 'omni-digital loop'. The company plans to build an original digital loop that can deliver diverse experience to customers in today's world where millennials and Generation Z live 'onlife' and amid the changes of 'hyper' digital technologies that have taken root in our lives such as social media, AI and blockchain. Amorepacific Group will organically connect big data and digital marketing and identify hidden customer needs in all value chain to create an omni-channel that goes beyond the online and offline channels. Also, it will pursue to secure omni-digital infrastructure and capabilities to lead the next new era by providing a platform that engages in customers' shopping experience through communication and sharing.
Lastly, Chairman Suh Kyung-bae encouraged members to join the journey in changing the company into an organization that grows with the individual by finding fun and meaning in each responsibility and in creating a 'great place to work'. Amorepacific Group will spare no support in providing the opportunity for millennial members who have the passion to grow to develop their potential and create new change in the forefront of leading the great digital transformation. Furthermore, it is dedicated as a 'responsible corporate citizen', which seeks a path of shared growth with customers, the environment and our society, in leading activities that build a more beautiful and healthier world that makes customers happy.
In welcoming the Year 2020, Amorepacific Group reaffirmed its upmost value of the 'customer-centric' principle and plans to continue its beautiful journey towards becoming a 'Great Beauty Company' in 2020 by pursuing the management policy of 'Exciting Changes' and core strategies.