Amorepacific Group, in partnership with Alibaba Group, agreed to establish 'Amorepacific X TMIC Innovation Plant'. Based on the joint project, the two companies plan to launch Laneige and Mamonde Tmall-only products in early 2020.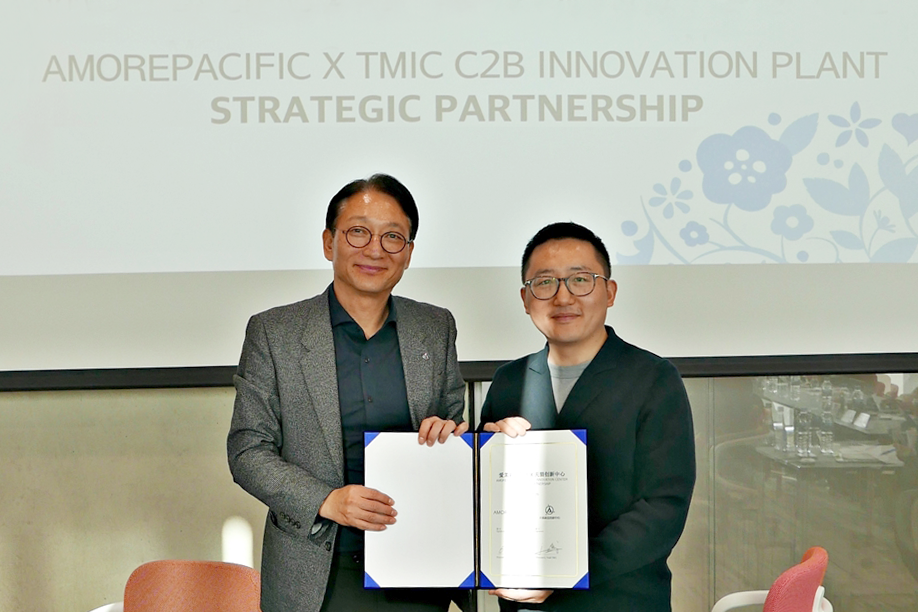 On December 5, Amorepacific President Ahn Saehong and Liu Bo, President of Tmall and Taobao Marketing & Operating Division at Alibaba Group, made an agreement of said matter at the agreement ceremony that was held at Amorepacific headquarters in Yongsan, Seoul.
In September, Amorepacific Group signed an MOU with Alibaba Group in Hangzhou. At the time, the two companies agreed to open 'A2 Hangzhou Camp', a collaboration office nearby Alibaba Group Corporate Campus in Hangzhou to closely collaborate on big data-based consumer research and new product development. Since then, the two companies have built a more specific collaboration process and came to agree on establishing 'Amorepacific X TMIC Innovation Plant' as their first outcome. The two companies will closely work together on the overall process of the development and distribution of products customized to China and communication.
Amorepacific Group will be provided with the most optimized data for product development and marketing strategy targeting Chinese consumers by Tmall Innovation Center. Based on the data, Laneige and Mamonde plan to launch Tmall-only products that reflect the needs of Chinese consumers by early next year. Following the two brands, Sulwhasoo, Hera and other various brands of Amorepacific will unveil products jointly developed with Tmall.
Amorepacific President Ahn Saehong said, "Amorepacific plans to respond to China's fast-changing digital market with innovative products developed in partnership with Tmall Innovation Center" and added, "we will deepen our digital business capability one step further through multifaceted collaboration such as in products that lead trend and developing content that appeals to the Chinese consumer."
Head of Tmall and Taobao Marketing, Liu Bo, said, "Tmall Innovation Center will support Amorepacific in delivering the most perfect products to Chinese consumers by providing various data and insights on the Chinese market" and added, "Alibaba Group and Tmall will continue to provide support to Korean companies in entering China."
Starting with Laneige in 2012, Amorepacific Group has entered 10 brands on Tmall including Sulwhasoo, Innisfree and Ryo. In August, luxury naturalism brand Primera opened its flagship store on Tmall, officially entering the Chinese market.