On Wednesday, September 11, Amorepacific Group signed an MOU with Alibaba Group.
The two companies agreed to closely collaborate on big data-based consumer research and new product development by signing the MOU. In addition, both companies opened 'A2 Hangzhou Camp', a collaboration office nearby Alibaba Group Corporate Campus in Hangzhou, agreeing to strengthening partnership with Alibaba Group's Tmall Innovation Center.
Charles Kao, Head of Amorepacific China, said "the importance of product innovation and digital marketing is further increasing in China's fast-changing beauty market" and added, "in partnership with Alibaba, we plan to launch products that perfectly reflect the needs of Chinese consumers as well as to, ultimately, digitalize the entire process from research and development to production and marketing."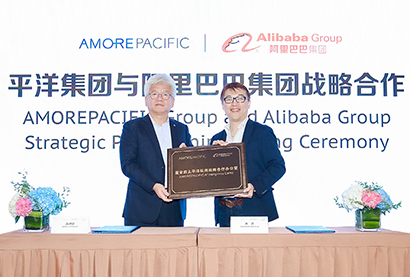 Amorepacific Group will collaborate with Tmall, China's largest B2C marketplace for global brands and retailers, on pre-launch of new products and expanding the reach of smart stores that connect online and offline channels. Through this partnership, Amorepacific Group aims to strengthen the role of Tmall from a simple sales channel into an integrated brand marketing platform that connects brands and consumers.
Mike Hu, General Manager of Tmall's Fast-Moving Consumer Goods Division at Alibaba Group, said "the MOU has opened new possibilities of collaboration for both companies" and added, "we will continue to pursue innovation through partnership to provide Chinese consumers greater products and consumer experience."
Amorepacific Group first entered Tmall in 2012 by launching its premium cosmetics brand Laneige, and currently offers 10 beauty brands, including Sulwhasoo, Innisfree, and Ryo, through Tmall. In August, luxury naturalism brand Primera officially entered China by opening a flagship store on Tmall.