For two days from August 10 (Saturday) to 11 (Sunday), Amorepacific held the 2019 summer environmental camp, 'Love the Earth'. The camp that invited 31 elementary school students from across the country was held in Amorepacific R&D Center in Yongin, Gyeonggi-do and Amore Beauty Park in Osan, Gyeonggi-do.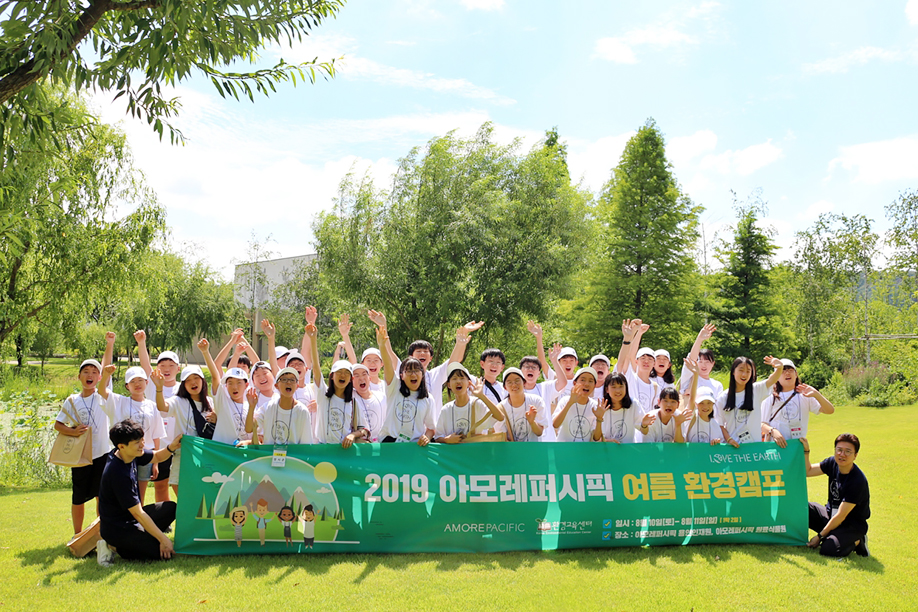 The summer environmental camp was held 'to provide the opportunity to customers to take part in sustainable consumption and to enhance the awareness of eco-friendly and community-friendly lifestyle', which is one of the eight commitments in achieving Amorepacific Group's 2020 Sustainability Commitments. The camp, especially, had the goal of talking about the severity of global environmental issues with children and discussing measures to ensure a sustainable future through various experience activities with environmental experts.
The summer environmental camp, which was held in partnership with Korea Environmental Education Center, was held for two days on August 10 and 11. A total of 31 fifth and sixth graders from across the country who were selected through an open recruitment participated in the camp. The camp began at Amorepacific R&D Center with a lecture delivered by Choe Pyeongsun, a producer specializing in environment who directed EBS programs 'Our Sole Earth' and 'Anthropocene'. On the first day, participants designed productions on environmental issues with a panel of mentors comprised of an environmental journalist, an environmental video producer and a green designer and held a game of Environmental Golden Bell Challenge. On the second day of the camp, participants visited Amore Beauty Park to take part in various programs such as the summer forest experience and the story of worldwide wetlands and reaffirmed their commitment to protecting our environment.
Camp participant Park Juwon (Yeonchon Elementary School, grade 5) said, "making a book out of scrap paper in the green design class left an impression on me. I promise to not waste paper to protect our tress." Another participant Byeon Yebin (Bucheon Elementary School, grade 5) said, "I enjoyed the camp because we experienced environmental issues in a fun way. I promise to do my part in protecting the environment by using a cup when I brush my teeth."
The environmental camp is a camp that succeeds the 'Pacific Summer Environmental Camp', which was held to practice the Total Commitment Initiative on environment among the Total Commitment Initiatives declared by Pacific Group (current Amorepacific Group) in September 1993. The then-summer environmental camp invited children who won the idea contest on environmental issues in order to promote and foster interest and awareness on environmental issues under the slogan, 'Love the Earth, Love the Environment'.